This post may contain affiliate links, which won't change your price but will share some commission.
This year for Cinco de Mayo, I wanted to make something fairly easy. I read through some of the comments on this recipe, and decided to simmer the sauce with a cinnamon stick in it, which added really nice flavor to the chicken. The other major change was that I used 3 chipotles from the can - a lot of comments said that a whole can made it way too spicy. The store was out of tostadas, so we used taco shells. We had some deliciously ripe mangoes on the side, as well as some homemade guacamole and of course, margaritas. It was a great dinner!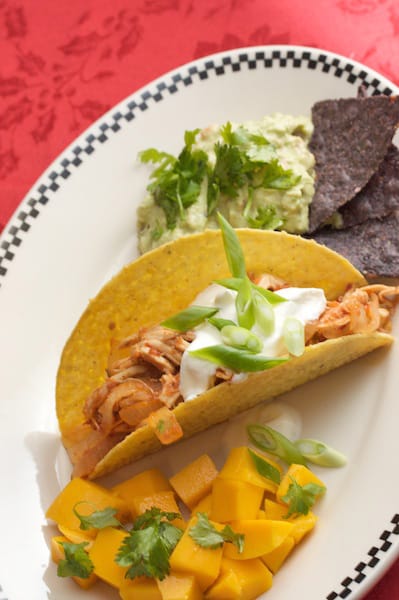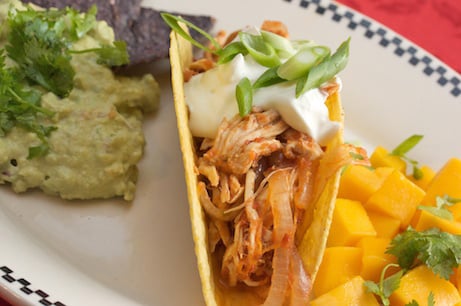 Mexican Tinga
Allrecipes.com - Fredda O.
"This is an authentic Mexican favorite! Shredded chicken and onions simmered in a thick chipotle sauce served on crunchy tostadas."
Prep Time: 10 Min
Cook Time: 25 Min
Ready In: 35 Min
2 tablespoons olive oil
1 large onion, cut into rings
1 (15 ounce) can stewed tomatoes
1 (7 ounce) can chipotle peppers in adobo sauce, or to taste
2 pounds shredded cooked chicken meat
16 tostada shells
½ cup sour cream
1. Heat olive oil in a saucepan over medium heat. Add the onions; cook and stir until softened and translucent, about 5 minutes. Meanwhile, puree the tomatoes with chipotle peppers and adobo sauce to taste. Pour into the onions, and add chicken. Cover, and simmer for 20 minutes.
2. To serve, mound the chicken onto tostada shells, and garnish with a dollop of sour cream.
Amount Per Serving
Calories: 402
Total Fat: 20g
Cholesterol: 91mg