Chocolate Chip Cookie in a Cup
This post may contain affiliate links, which won't change your price but will share some commission.
Today was exhausting. I had a teething baby on my hands all day, a lot of stuff to get done, and no energy left after he was in bed to do any of it. We had leftovers for dinner. Dino went upstairs to do some work, and I collapsed on the couch. And then it hit me. I wanted dessert, and I wanted it now. I didn't want to exert much energy, and I didn't have anything around that was already made. Then I remembered that I've seen several sites where you can mix a cake, brownie or cupcake in a mug, microwave it, and have dessert in less than 5 minutes. So I searched for a recipe.
This really hit the spot. It wasn't the best chocolate chip cookie in the world (partially because I think I microwaved it a few seconds too long), but it was really good. And it didn't take long to make. And it didn't make a huge mess in the kitchen. And I got to use the 2 egg yolks that I had leftover from when I made Orange Chicken with Scallions earlier this week. I'm already thinking up variations on this recipe in my head. This is dangerous!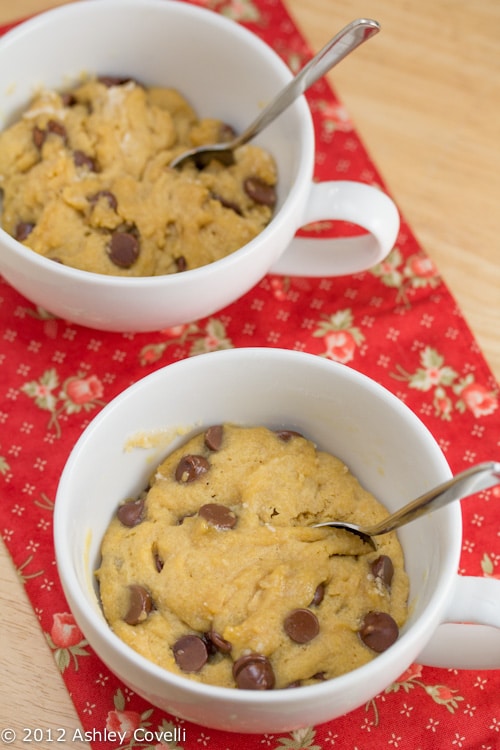 Chocolate Chip Cookie in a Cup
created by Melissa at No. 2 Pencil
1 Tablespoon Butter
1 Tablespoon Granulated White Sugar
1 Tablespoon of firmly packed Dark Brown Sugar
3 Drops of Vanilla Extract
Small Pinch of Kosher Salt
1 Egg Yolk (discard the egg white)
Scant 1/4 cup of All Purpose Flour
2 Tablespoons of Semi Sweet Chocolate Chips
Start by melting your butter in the microwave. Add sugars, vanilla and salt. Stir to combine. Separate your egg and add the yolk only to your cup. Stir to combine. Add flour, then stir again. Add the chocolate chips, and give a final stir. Cook in microwave 40-60 seconds, start checking for doneness at 40 seconds. Mine takes 50 seconds.
Serve warm.
Big Flavors Rating: 4 Stars