This post may contain affiliate links, which won't change your price but will share some commission.
I was planning on making something kind of complicated for dinner tonight, but after an intense day, I decided that I needed something nice and easy instead. This tofu recipe packs a lot of flavor (and heat!), and is surprisingly filling. I had heated up some leftover veggies to serve on the side of this, but I found it substantial enough that they were unnecessary. I sliced a whole block of tofu into 4 slices, which is a little more than what the recipe calls for (according to my unit converter - ha!). The cilantro is the perfect pair for the heat of this dish.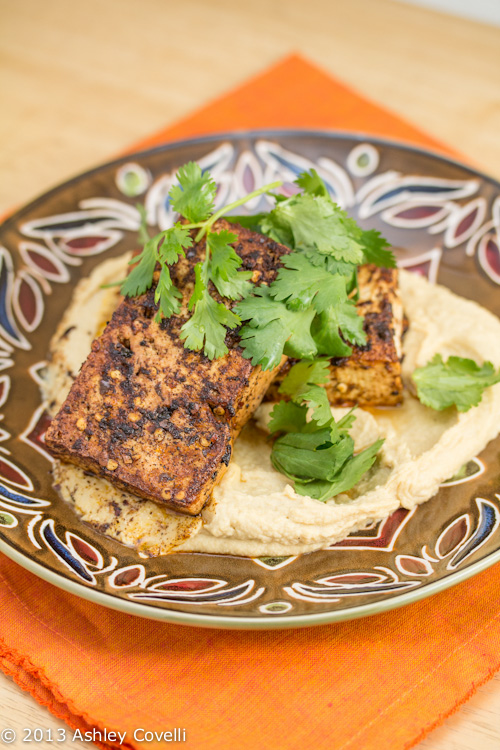 Chilli-Spiced Tofu with Hummus
5 Ingredients 10 Minutes: Delicious, Healthy Recipes for Tired and Hungry Cooks - Jules Clancy
Serves 2
1 teaspoon dried chilli flakes
2 teaspoons smoked paprika
4 slices firm tofu (about 300g)
6-8 tablespoons hummus
small bunch coriander, leaves picked
1. Combine chilli and paprika with 1 tablespoon olive oil. Season and toss tofu slices in the spiced oil to coat.
2. Heat a medium frying pan or skillet on medium-high heat.
3. Cook tofu for a few minutes each side, until crisp on the outside and heated through the middle.
4. Smear hummus over 2 plates. Top with tofu and sprinkle over coriander leaves.
Variations:
Carnivore: replace tofu with steaks and adjust the cooking time so the steaks are cooked to your liking.
No smoked paprika? Just skip and replace with 1 teaspoon each of ground cumin and coriander.
Different herbs: use mint or flat-leaf parsley instead of the coriander.
More substantial: serve with pita bread.
Big Flavors Rating: 4 Stars