This post may contain affiliate links, which won't change your price but will share some commission.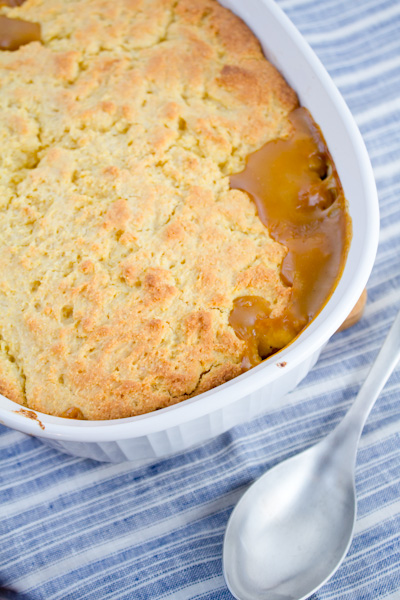 I saw this post at Eats Well With Others and was anxious to try it out! I've been on a frozen pot pie kick lately (not the ones I used to have as a kid, ones from Whole Foods or other tasty, organic versions). I've never made one of my own before, and I figured one that didn't involve meat would be easier to start out with. The ones I've seen that call for meat have you cook that part first, which just makes it feel like the recipe would take forever to get done. My tiny kitchen doesn't have enough storage space for more than a few ramekins, so I went the 2 quart dish route with this one.
We really enjoyed this, and I was surprised at how much less intimidating it was to make a pot pie than what I expected. Next time, I think I'll add a bay leaf and some thyme, and maybe try it with chicken to change it up a bit. I'll definitely be making variations of this in the future!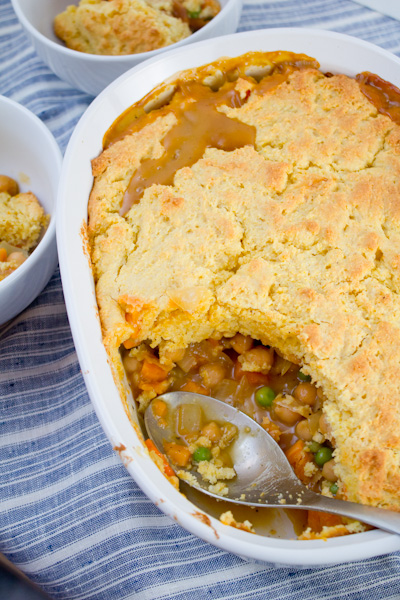 Chickpea Potpie with Cornbread Crust
Eats Well With Others, adapted from Big Bowl of Love
Serves 4-5
2 cups chopped sweet potatoes
½ cup chopped carrots
1 tablespoon olive oil
1 medium onion, chopped
¼ cup AP flour
2 cups vegetable broth
2 cups cooked chickpeas
½ cup frozen baby peas
1 teaspoon kosher salt
cracked pepper
dash of Tabasco sauce
¾ cup cornmeal
¾ cup AP flour
1 tablespoon baking powder
1 ½ tablespoon sugar
½ teaspoon salt
¾ cup almond milk or lowfat milk
2 tablespoon olive oil
1 large egg yolk, slightly beaten
Boil the potatoes and carrots until tender but not soft and set aside. Spray a 2-quart casserole with cooking spray (or ramekins!)
For the filling, heat a large saucepan until hot. Add the oil and onions. Saute onions until they are soft, about 5 minutes. Sprinkle in the ¼ cup flour and mix. Slowly pour in the vegetable stock whisking well with a wire whisk. Still using the whisk, cook the mixture over medium heat until thickened and bubbly, about 2 to 3 minutes. Add the chickpeas, peas, cooked potatoes and carrots, salt, pepper to taste, and Tabasco. Cook on medium heat until the mixture is heated through, about 2 to 3 minutes. turn into the prepared casserole dish, spreading evenly or divide evenly among ramekins.
Preheat the oven to 400.
For the crust, in a bowl combine the cornmeal, ¾ cup flour, baking powder, sugar, and salt. In a small bowl, combine the milk, oil and egg yolk. Add to the dry ingredients and mix until uniform but a bit lumpy. Spoon the batter evenly over the filling.
Bake until the top is golden brown, about 22 to 25 minutes for the casserole and 10 to 12 minutes for the ramekins.
Big Flavors Rating: 4 Stars