This post may contain affiliate links, which won't change your price but will share some commission.
I saw this recipe on an episode of Aarti Party, and I thought it looked like a comforting vegetarian dish. It had a ton of really good flavor, but the canned artichokes threw it off a little. I'm not sure if all canned artichokes are pickled, but the can I picked up didn't say that they were. Even with rinsing them, the pickle flavor overpowered the other ingredients. It was a shame, because otherwise it was a really wonderful combination. I haven't worked with fresh or frozen artichokes before, but maybe one of those would be a good substitute. This recipe definitely has potential to be much better with a little tweaking.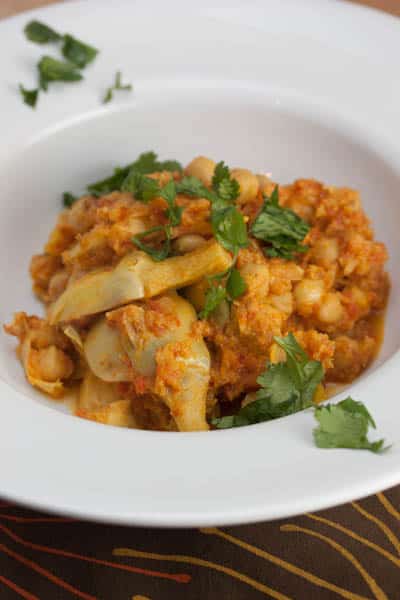 Chickpea and Artichoke Masala
Aarti Party - Aarti Sequeira
Cook Time: 20 min
Yield: 4 servings
Prep: 15 min
Cook: 20 min
Total: 35 min
1 large red onion, chopped (about 2 cups)
2 tablespoons Ginger-Garlic Paste, recipe follows, or 1 clove garlic
and ½-inch piece ginger, peeled and chopped
3 large Roma tomatoes, chopped
2 tablespoons canola oil
1 teaspoon cumin seed
1 teaspoon ground coriander
½ teaspoon garam masala
¼ teaspoon paprika
¼ teaspoon turmeric
¼ cup yogurt, whisked until smooth
1 tablespoon lime juice (about ½ a lime)
1 (14 ½-ounce) can chickpeas, drained and rinsed
1 (14 ½-ounce) can artichoke hearts, drained, rinsed, and halved
Kosher salt
½ cup water
Chopped fresh cilantro, for garnish
Process the onion, Garlic-Ginger Paste, and tomatoes in a food processor or blender until smooth.
Meanwhile, warm the oil in a large skillet over medium-high heat. Once the oil is shimmering, add the cumin seeds. Once they're done popping, add the onion-tomato paste you just made, and saute until it thickens and deepens in color, about 10 minutes.
Add the ground coriander, garam masala, paprika, and turmeric and saute about 30 seconds. Then add the yogurt, a little at a time so it doesn't curdle. Stir in the lime juice, chickpeas, artichokes, salt, to taste, and water. Cover and simmer 10 minutes. Taste for seasonings and serve garnished with cilantro
Ginger-Garlic Paste:
½ cup cloves garlic, whole
½ cup fresh ginger, peeled, ½-inch slices
¼ cup canola oil
Throw the garlic, ginger, and canola oil in a mini-food processor and let it go until it forms a semi-smooth paste. There will still be tiny little pieces in there, but overall, it should resemble a paste.
Save what you don't use in a small glass jar. It should last in the fridge for 2 to 3 weeks. It's a delicious addition to marinades, pasta sauces, stir fry sauces, slow-cooker recipes, gravy etc. We always had a jar of this stuff in our fridge growing up.
Big Flavors Rating: 3 Stars (with potential!)