This post may contain affiliate links, which won't change your price but will share some commission.
This is the second recipe I've made from this cookbook this week, and it was great! The chicken was really moist and there was a ton of flavor from all of the parts of the dish. The rice is definitely something I'll make again on the side of other dishes. I can see it as a good way to use up a few extra carrots. We thought it was a nice, solid meal.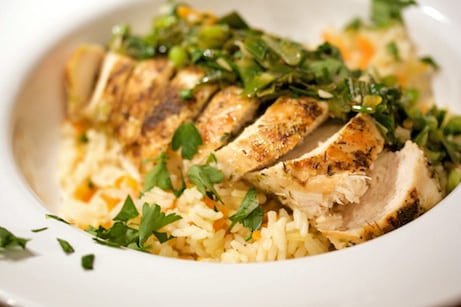 Chicken with Scallion-Lime Sauce and Sweet Carrot Rice
Express Lane Meals - Rachael Ray
4 Servings
4 tablespoons EVOO (extra-virgin olive oil)
3 large carrots, peeled and grated
Salt and black pepper
1 ½ cups white rice
3 cups chicken stock
1 teaspoon dried thyme, ⅓ palmful
Zest and juice of 2 limes
4 boneless, skinless chicken breasts
3 large garlic cloves, chopped
½ teaspoon red pepper flakes (eyeball it)
1 teaspoon ground coriander, ⅓ palmful
3 bunches of scallions, about 15, roots trimmed, sliced
¼ cup fresh flat-leaf parsley, a generous handful, chopped
2 tablespoons unsalted butter
Heat a medium pot with a tight-fitting lid over medium-high heat. Add about 1 tablespoon of the EVOO, once around the pan. Add the grated carrots and a little salt and pepper and cook, stirring, for 1 minute. Add the rice and stir to coat in the oil and distribute the carrots. Add 2 ½ cups of the chicken stock. Bring the stock to a boil, cover the pot, and reduce the heat to a simmer. Cook for 15 to 18 minutes, until the rice is tender.
Preheat a large skillet over medium-high heat. While the pan is heating up, combine 2 tablespoons of the EVOO, the thyme, lime zest, salt and pepper in a shallow dish. Add the chicken breasts and coat thoroughly in the mixture. Add the seasoned chicken to the skillet and cook for 5 to 6 minutes on each side, or until cooked through. Transfer the chicken to a plate and cover it loosely with aluminum foil. Return the skillet to the heat; add the remaining tablespoon of EVOO. Add the garlic, red pepper flakes, and coriander. Cook, stirring constantly, for about 1 minute, then add the scallions and cook for 1 minute, again stirring constantly. Add the lime juice and the remaining ½ cup of chicken stock and continue to cook for about 2 minutes. Turn the heat off and add the parsley and butter, stirring and shaking the pan until the butter is completely melted.
To serve, slice the chicken on a slight angle. Divide the rice among 4 serving plates and top each pile of rice with a sliced chicken breast. Pour some scallion-lime sauce over each chicken breast.
MacGourmet Rating: 4 Stars