This post may contain affiliate links, which won't change your price but will share some commission.
Need an excuse to drink beer? Here's one...make a recipe that calls for ½ cup! I cracked open a beer for myself and one for my father-in-law and used ¼ cup of each. Awesome. This recipe is really tasty and pretty simple! The shallots melt down into the sauce and make a great accompaniment to the chicken. It's sweet and a little tangy, and definitely goes well with that leftover beer 😉 I served this with Rainbow Waldorf Salad and some asparagus that I sautéed with low sodium teriyaki sauce.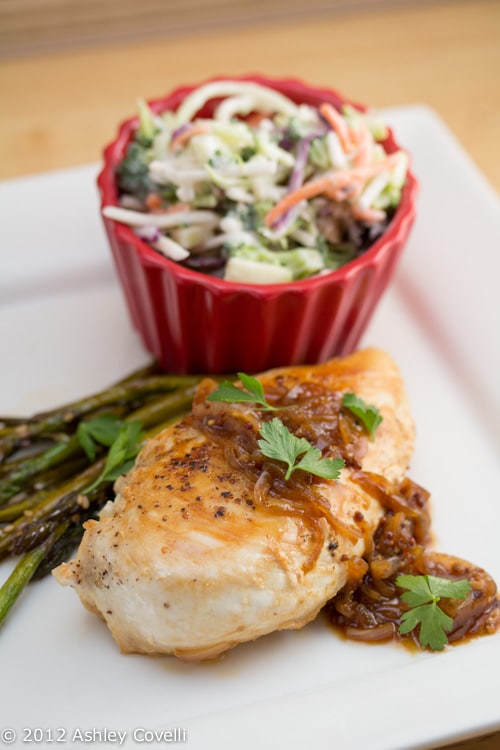 Chicken with Honey-Beer Sauce
Cooking Light September 2012
Opt for an inexpensive, full-flavored domestic beer, like Blue Moon wheat ale.
Yield: Serves 4 (serving size: 1 breast half and 2 tablespoons sauce)
Cost per Serving: $2.36
2 teaspoons canola oil
4 (6-ounce) skinless, boneless chicken breast halves
¼ teaspoon freshly ground black pepper
⅛ teaspoon salt
3 tablespoons thinly sliced shallots
½ cup beer
2 tablespoons lower-sodium soy sauce
1 tablespoon whole-grain Dijon mustard
1 tablespoon honey $
2 tablespoons fresh flat-leaf parsley leaves
1. Heat a large skillet over medium-high heat. Add oil to pan; swirl to coat. Sprinkle chicken evenly with pepper and salt. Add chicken to pan; sauté 6 minutes on each side or until done. Remove chicken from pan; keep warm. Add shallots to pan; cook 1 minute or until translucent. Combine beer and next 3 ingredients (through honey) in a small bowl; stir with a whisk. Add beer mixture to pan; bring to a boil, scraping pan to loosen browned bits. Cook 3 minutes or until liquid is reduced to ½ cup. Return chicken to pan; turn to coat with sauce. Sprinkle evenly with parsley.
Big Flavors Rating: 4 Stars