This post may contain affiliate links, which won't change your price but will share some commission.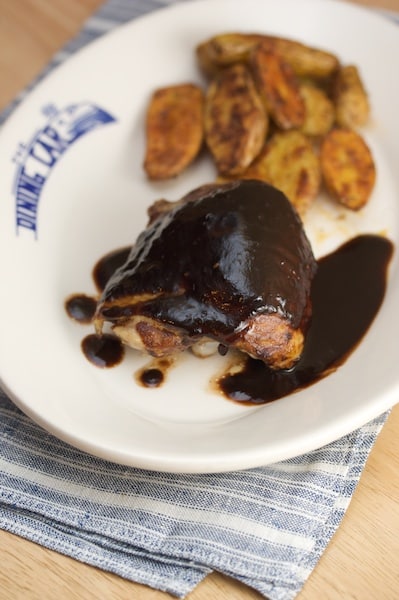 I saw this recipe online and was really intrigued by the combination of balsamic and BBQ. I baked mine, and it turned out great! It didn't look appetizing at all...but it tasted great! The sauce is rich and tangy, and the chicken stayed nice and juicy. I baked chicken thighs as instructed at the end of the recipe. It was a big hit! I served the chicken with some fingerling potatoes that I sliced and tossed with oil and some Penzeys Northwoods Seasoning. I baked them on a rack under the chicken, and stirred them around when I added the BBQ sauce. Dino made a chipotle aioli to go with the potatoes, and they were perfect!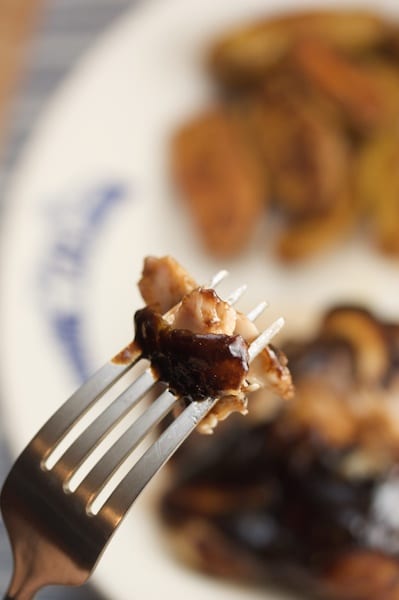 Chicken with Balsamic BBQ Sauce
Giada De Laurentiis
1 cup balsamic vinegar
¾ cup ketchup
⅓ cup brown sugar
1 garlic clove, minced
1 tablespoon Worcestershire sauce
1 tablespoon Dijon mustard
½ teaspoon salt
½ teaspoon freshly ground black pepper
4 pieces chicken (any combination of breast or leg-and-thigh pieces)
Salt and freshly ground pepper
Combine all the sauce ingredients in a small saucepan and stir until all the they are incorporated and the mixture is smooth. Simmer over medium heat until reduced by ⅓, about 15 to 20 minutes.
Place a grill pan over medium heat or preheat a gas or charcoal grill. Season the meat with salt and pepper. Lightly coat the chicken with olive oil, salt and pepper. Place the meat on the grill.
Cook the chicken about 8 minutes per side. Brush sauce over the chicken during the last 2-3 minutes of cooking time.
Remove the meat from the grill and let rest for at least 5 minutes. Serve with the BBQ sauce alongside.
NOTE: The chicken can be baked in the oven. Preheat the oven to 375 degrees F. Place the chicken skin side up in a baking dish and bake for 25 minutes. Remove the baking dish from the oven and spoon the BBQ sauce all over the top of the chicken. Return the baking dish to the oven and bake for another 15 minutes.
MacGourmet Rating: 4 Stars