This post may contain affiliate links, which won't change your price but will share some commission.
I love a good chicken cutlet. There are so many things you can do to dress them up! Meyer lemon adds brightness to the fresh, crispy salad atop this fried chicken cutlet.
This was another hit from Blue Apron. We really enjoyed this dish, even though I was distracted while cooking and forgot to dip the chicken in the mustard mixture before breading. Oops! I drizzled a little of the mixture over the cutlets while they were frying to try to make sure I got that flavor in the dish, but the breading was a mess. Gah!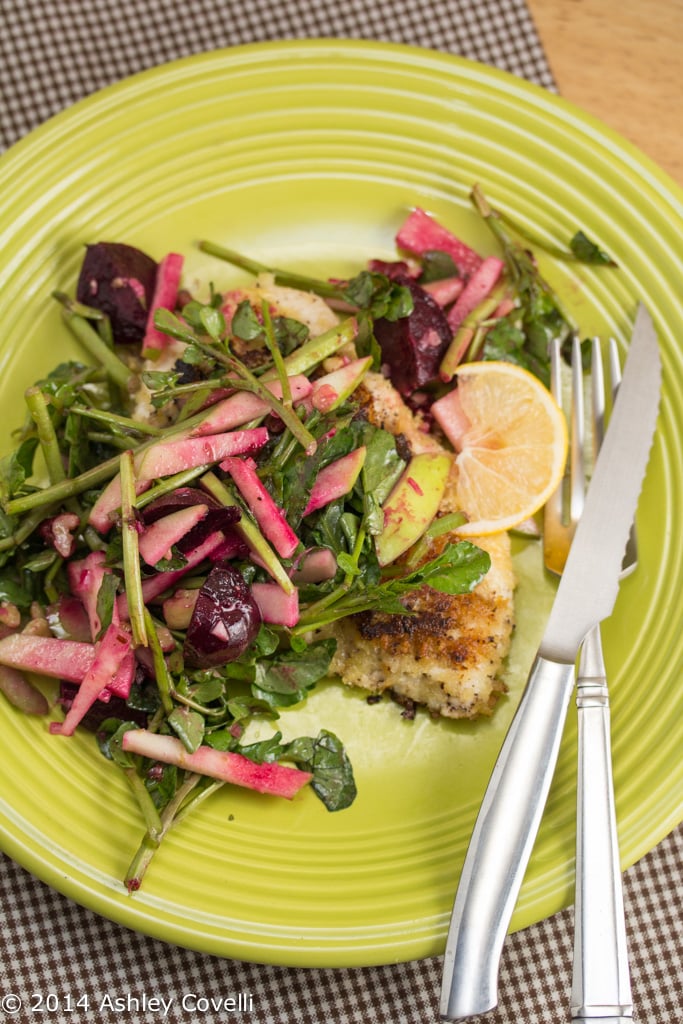 The salad makes a nice camouflage, eh? ;). It was still tasty and a bright and colorful meal on a cold, windy day.
This was my first time working with red walnuts. They were nice, but in this dish, I'm not sure I'd be able to tell them apart from regular walnuts, so don't go nuts (pun not intended, but not edited, because I totally made myself giggle at that one) trying to find them. Same with lemon vs. Meyer lemon.
2 Chicken Cutlets
1 Cup Panko Breadcrumbs
1 Bunch Baby Red Beets
1 Bunch Watercress
1 Granny Smith Apple
1 Meyer Lemon
1 Stalk Celery
3 Tablespoons Red Walnuts
1 Shallot
1 Tablespoon Sherry Vinegar
¼ Cup Dijon Mustard
See Blue Apron for the full recipe.