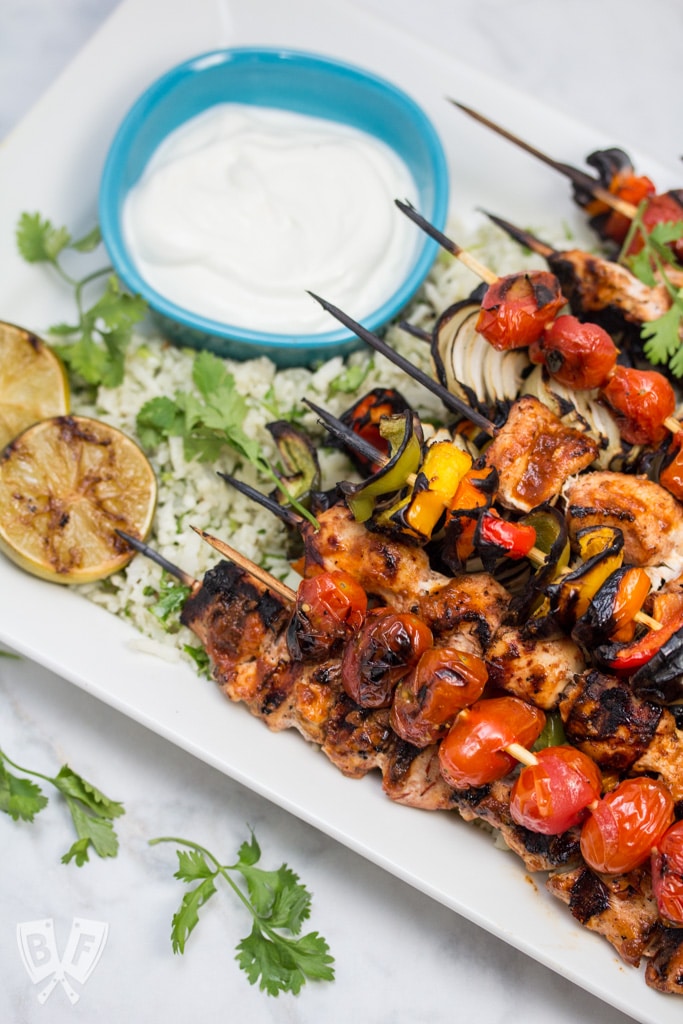 Chicken Fajita Skewers over Cilantro Cauliflower Rice
This post may contain affiliate links. Thank you for supporting the brands that keep me creative in my tiny kitchen!
This post has been compensated as part of my partnership with Mambo Sprouts and Simply Organic. As always, all opinions are 100% my own. Thank you for supporting the brands that keep me creative in my tiny kitchen!
A rich, flavorful marinade makes these fajitas on a stick the perfect excuse to fire up the grill! Add a paleo side for a low carb summer meal!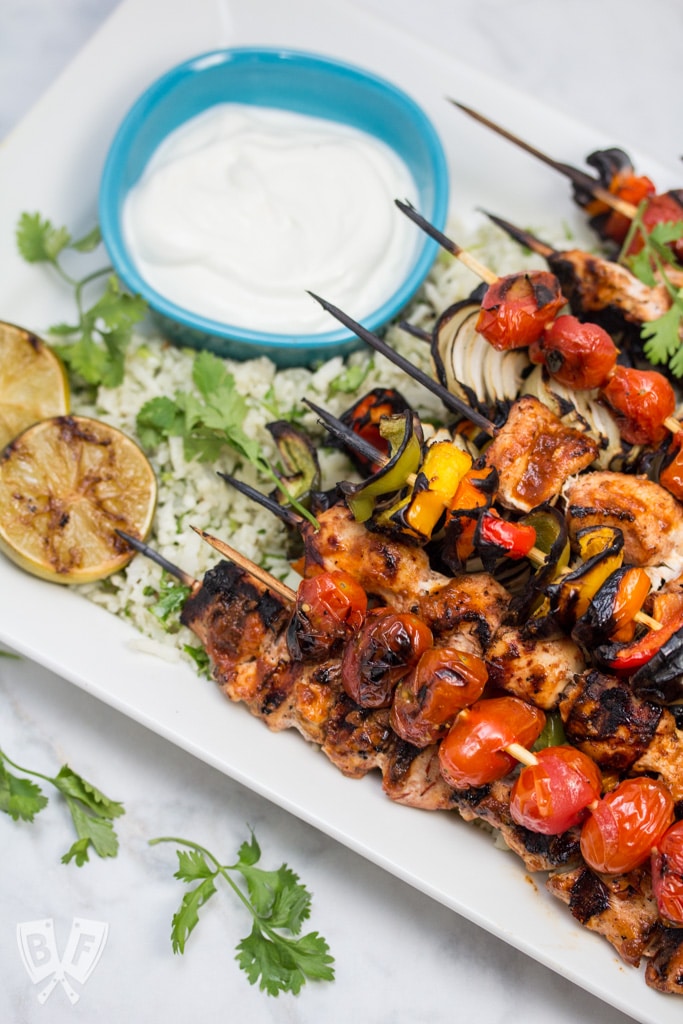 It's no secret that I am completely obsessed with a fan of fajitas. Chicken and steak are both on regular rotation in my house. It's one of the meals that my husband has perfected over the years, and it's my go-to request for him when he's cooking dinner.
I even revamped the recipe for Our Favorite Steak Fajitas recently to reflect their new and improved awesomeness.
But those fajitas… they take a while to cook and dirty quite a few dishes. Don't get me wrong, it's totally worth the extra time spent caramelizing the onions and cooking everything in batches in the cast iron skillet, but… some days you just need something simple.
Enter the new line of Simmer Sauces from Simply Organic.
I was really excited to try these sauces out to see how they'd compare to homemade spice mixes, and let me tell you – I was super impressed!
My family has been fans of Simply Organic for years now – their Adobo Seasoning is my go-to for nights when I don't know what to cook. It's good on e-v-e-r-y-t-h-i-n-g!
The Classic Fajita Simmer Sauce is meant to be used with beef or chicken. The flavor is rich, bold, and smoky with just a little bit of heat. It was just the right amount for my family, including my 5-year-old, to enjoy.
I thought it would be fun to try something a little different than our traditional fajitas cooked in a cast iron skillet for my first attempt using this sauce, and my mind went straight to the grill and food on a stick!
I had cubed the chicken earlier in the day and used 3/4 of the packet of Simmer Sauce as a marinade.
I soaked some skewers in water right before I went to pick my husband up from the train station so they'd be ready when I got back for assembly time. After we got home, he prepped the grill while I skewered all of the ingredients.
Now I realize that it looks fancy to have meat and veggies on the same skewers, but in my experience it's best to separate those items. The meat and veggies cook at different times, so separating things really helps you make sure everything is cooked evenly and properly.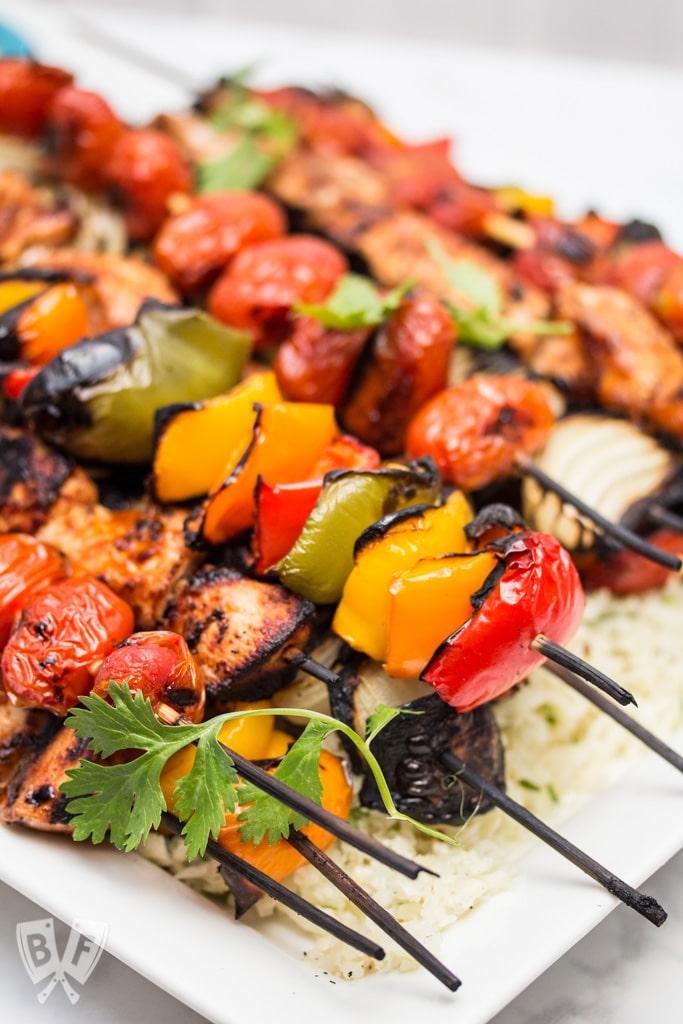 I'm always looking for an excuse to throw tomatoes on the grill, and I figured they'd go great with the fajita skewers, and they totally did. Feel free to use any veggies you like or have on hand here though.
My husband has been doing a keto diet for swimsuit season the last few months, so I've been trying to keep carbs at a minimum for him. (What exactly is a Ketogenic Diet, you ask? This article was super helpful helpful for me in figuring out what types of foods I could cook that would fit into his diet).
I decided to forego the standard tortillas or Mexican rice in favor of a jazzed up, yet simple, cauliflower rice. We all enjoyed it, and I didn't even miss eating "regular" rice!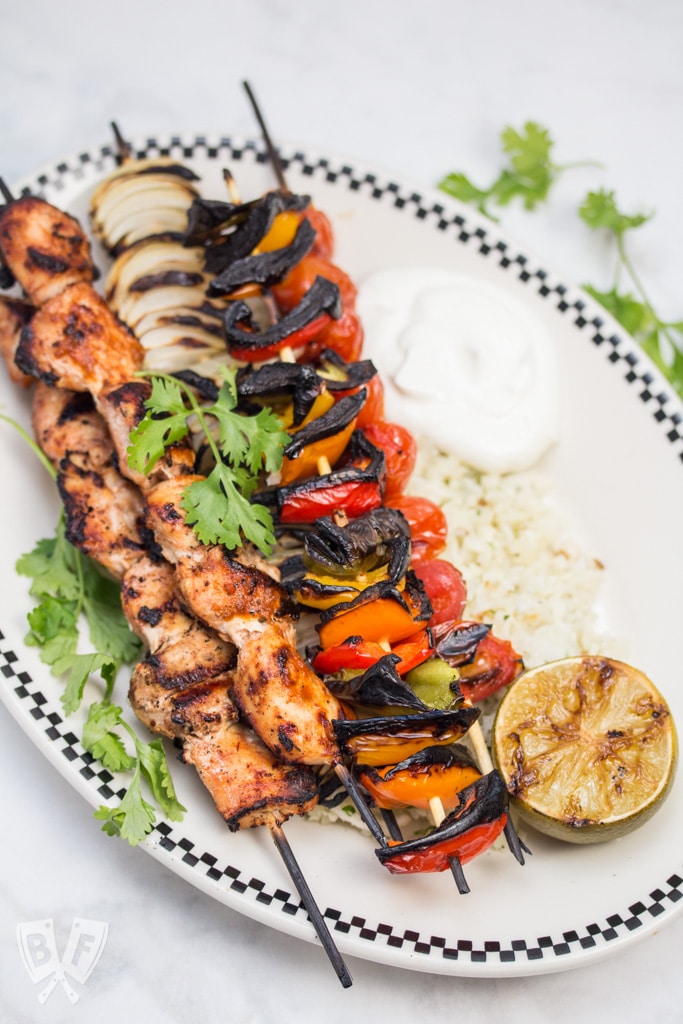 This cauliflower rice comes together really quickly, and you can make it before, during, or after you cook the skewers. I made it ahead and just left it sitting covered on the stovetop, off the heat, until we were ready to eat.
Use whatever type of butter you like here. I'm obsessed with this butter flavored coconut oil lately, and it worked beautifully here. Plus, if you're using tofu or strictly veggies on your skewers, this meal would be totally vegan.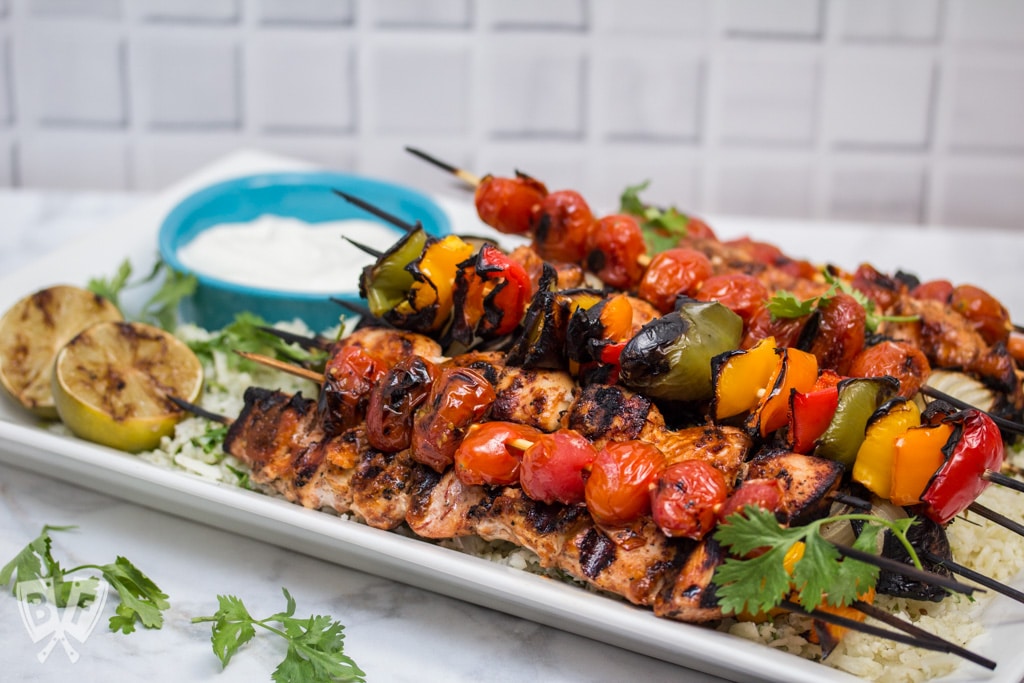 Another thing that makes this dish really special is grilled lime. It's tooootally optional, but very much encouraged. You just pop lime halves, cut-side down, onto the grill for a few moments until they get a little charred. Squeeze that juice over your skewers for a really nice pop of flavor at the end.
I've been known to slather tortillas with plain Greek yogurt when I eat fajitas, so I served these skewers with a big ol' bowl for dipping.
If you happen to have leftovers, this dish works great in a bowl! I reheated all the components in the microwave (with some water splashed over the chicken to prevent it from drying out), brushed it with some Simmer Sauce, and had a beautifully colorful Tex-Mex fajita bowl for lunch the next day.
I highly recommend it!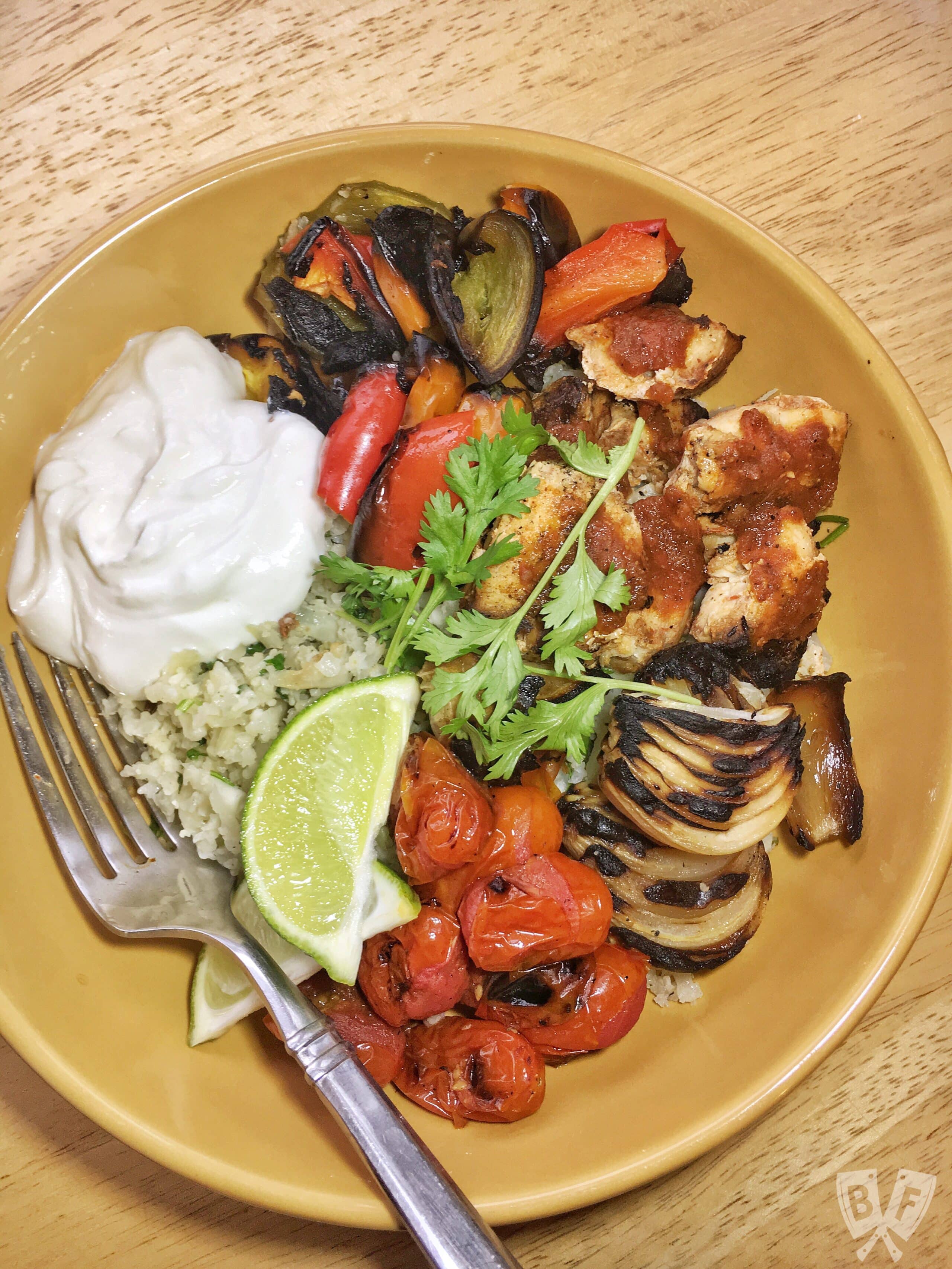 And, for the record, I did also try some standard chicken fajitas simmered pretty much according to the package directions, and they turned out deliciously as well! I'm thrilled that we can get the deep flavor of fajitas in such a short amount of time. Perfect for when you need to get your weeknight fajita fix!
Looking for more reasons to fire up your grill? Check out some of our favorite recipes:
Print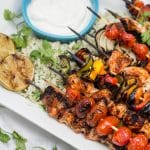 Chicken Fajita Skewers over Cilantro Cauliflower Rice
Prep Time:

10 minutes

Cook Time:

20 minutes

Total Time:

2 hours 30 minutes

Yield:

4

to

6

Servings

1

x
---
---
---
---
Recipe Card powered by
Note: This post includes affiliate links for items that I genuinely enjoy. Big Flavors will receive a tiny commission from purchases made through affiliate links on this site at no added cost to you. This allows us to cover site-related expenses and helps to keep us cooking up a storm!