This post may contain affiliate links, which won't change your price but will share some commission.
I had some tomatoes from my father-in-law's garden to use up, as well as a few from my own. When I came across this recipe, I thought it sounded like the perfect thing to make to utilize them. This is a pretty easy dish to make - perfect for a weeknight. The sweet cherry tomatoes melt down into a thick, delectable jam-like sauce that's perfect with the chicken. I adore fresh tomatoes, and this was a great way to showcase them. I served the chicken alongside some couscous that I mixed with a can of chickpeas. It was a nice, filling meal.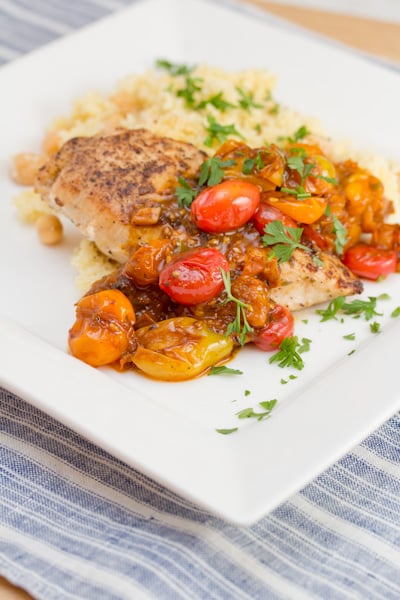 Chicken Breasts with Tomato-Herb Pan Sauce
The Bon Appétit Test Kitchen July 2011
yield: Makes 2 servings
active time: 30 minutes
total time: 30 minutes
The key to this sauté: Cook the tomatoes with the bits of chicken left over after you've seared it in the pan. When the tomatoes burst, swirl in the remaining marjoram butter to finish the pan sauce.
2 tablespoons (¼ stick) unsalted butter, room temperature
1 garlic clove, minced
1 ½ teaspoons chopped fresh marjoram or oregano
½ teaspoon sweet paprika
Kosher salt and freshly ground black pepper
2 skinless, boneless chicken breasts
2 cups mixed cherry tomatoes (11-12 ounces)
1 tablespoon chopped fresh flat-leaf parsley
Mash butter, garlic, marjoram, and paprika in a small bowl to blend. Season marjoram butter to taste with salt and pepper.
Melt 1 tablespoon marjoram butter in a medium heavy skillet over medium heat. Season chicken with salt and pepper. Add chicken to skillet, cover, and cook until no longer pink in center, about 5 minutes per side. Transfer chicken to a plate. Tent chicken with foil to keep warm.
Increase heat to high. Add tomatoes to skillet and cook, stirring occasionally, until they begin to char and burst, about 5 minutes. Add remaining marjoram butter to skillet. Crush tomatoes slightly to release juices; stir 1 minute. Season sauce to taste with salt and pepper. Spoon tomato sauce over chicken. Garnish with parsley.
Big Flavors Rating: 4 Stars