This post may contain affiliate links, which won't change your price but will share some commission.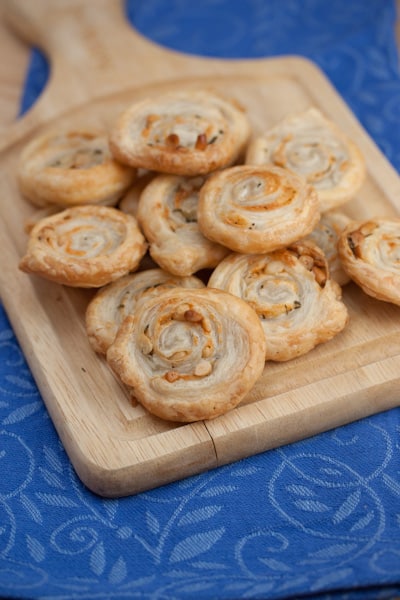 I got an advance copy of The Lazy Gourmet: Magnificent Meals Made Easy to check out, and let me tell you, it came at the perfect time. I've been really busy lately, and I haven't been cooking a ton, so a book that has easy yet elegant recipes inside is just what I need right now. I decided to try out this appetizer recipe, and it was great! I love how versatile it can be - I can imagine putting any combination of ingredients in it to make beautiful hors d'oeuvres for a dinner party. I love that you can make it ahead of time and store it in the refrigerator until you're ready to bake them, too. These are nice and crispy, and the pine nuts toast up beautifully in the oven. I used fresh rosemary from my herb garden, and it really added great flavor. The only change I made was to bake them on a Silpat instead of parchment paper.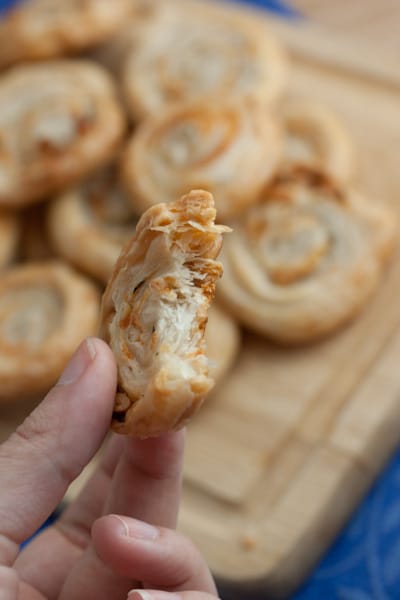 Cheese Crisps
The Lazy Gourmet: Magnificent Meals Made Easy - Robin Donovan & Juliana Gallin
These pretty little pastries make a festive appetizer on their own, or use them as a fancy garnish for soups or salads.
1 sheet of frozen puff pastry, defrosted
1 ounce (about ⅓ cup) grated Parmesan cheese
2 tablespoons pine nuts
2 teaspoons minced fresh rosemary (optional)
Lay the pastry out on a work surface and sprinkle the cheese, nuts, and rosemary (if using) evenly over the top. Starting with one of the long sides, roll the pastry into a tight log. Wrap the log in plastic wrap and refrigerate at least 1 hour and up to 2 days.
Preheat oven to 400°F.
Lay a piece of parchment paper large enough to cover the bottom of a baking sheet on your work surface. Unwrap the pastry log and, using a sharp or serrated knife, cut into ½-inch-thick slices. Lay the slices on the parchment paper about 3 inches apart. Place another piece of parchment paper over the pastry slices and roll with a rolling pin until each slice is about ¼ inch thick. Slide the parchment with the pastry slices onto a baking sheet and remove the top piece of parchment. Bake in preheated oven until cheese is bubbly and pastry is golden brown, 15 to 20 minutes. Remove from oven and let cool on the pan for a few minutes before removing with a spatula. Serve warm or at room temperature.
Makes about 15 to 20 crisps.
Make it ahead: The pastry log can be assembled and kept, wrapped in plastic, for at least a couple of days in the fridge. When you're ready to cook the crisps, just slice, roll, and bake.
Serve it with:
-Caramelized Onion Soup or Parsnip and Apple Soup
-Roasted Beet and Arugula Salad or any salad of mixed greens with vinaigrette dressing
-As an alternative to plain croutons with a classic Caesar salad
Change it up: Instead of Parmesan, pine nuts, and rosemary, try:
-4 ounces crumbled blue cheese and 1 tablespoon of chopped walnuts
-4 ounces crumbled feta cheese and ½ to 1 teaspoon crushed red pepper
-¼ cup Olive and Sun-Dried Tomato Tapenade
-¼ cup store-bought pesto and 2 tablespoons pine nuts
Big Flavors Rating: 4 Stars