This post may contain affiliate links, which won't change your price but will share some commission.
This side dish turned out to be a huge hit at dinner! The cauliflower gets a nice crust on the outside, and the sharp saltiness of the cheese is great in the crust. I did unintentionally learn a big lesson in the kitchen with this dish - if you're boiling a pot of water at the same time as heating oil in a skillet, steam from the water can end up making moisture hit the oil, causing major splattering. This is NOT fun. Next time, I'll put a lid on the skillet until the cauliflower is done. I'll definitely be making this again - it was fantastic.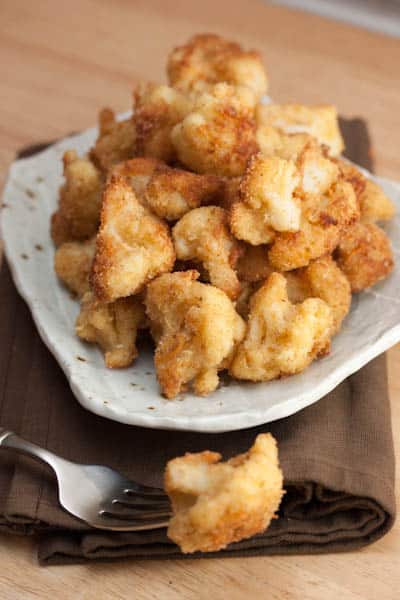 Cavolfiore Impanato (Fried Cauliflower)
My Calabria - Rosetta Costantino
Serves 4 to 6
Large head cauliflower, about 2 pounds (900 grams)
Kosher salt
3 large eggs
Freshly ground black pepper
1 ½ cups (225 grams) fine dry breadcrumbs, homemade or unseasoned store-bought
⅓ cup (35 grams) freshly grated pecorino or Parmigiano-Reggiano cheese
Extra virgin olive oil for frying
Separate the cauliflower into large florets about 2 inches (5 centimeters) across the top. Bring a large pot of water to a boil. Add 3 tablespoons salt and the cauliflower. Cook until the florets are tender, about 3 minutes after the water returns to a boil. Drain and cool.
In a shallow bowl, beat the eggs with a generous pinch of salt and several grinds of pepper. In another shallow bowl, mix the breadcrumbs with the cheese.
Working with one floret at a time, dip it in the beaten egg, making sure the exterior is well coated. Lift it out with a fork, letting the excess egg drain off. Then dredge the floret in the breadcrumbs, patting the breadcrumbs in place. Set the floret on a tray and continue until all the florets are covered.
Put ½-inch (12 millimeters) of olive oil in a 10-inch (25-centimeter) skillet and heat over moderately high heat. When the olive oil reaches 375°F (190°C), add as many florets as will fit loosely in a single layer. Don't crowd the pan. Leave the florets undisturbed until they form a nice golden crust, then turn them with two spoons and fry on the other side, about 3 minutes total. Transfer to a tray lined with paper towels and continue until all the florets are fried. Serve hot.
Big Flavors Rating: 5 Stars