This post may contain affiliate links, which won't change your price but will share some commission.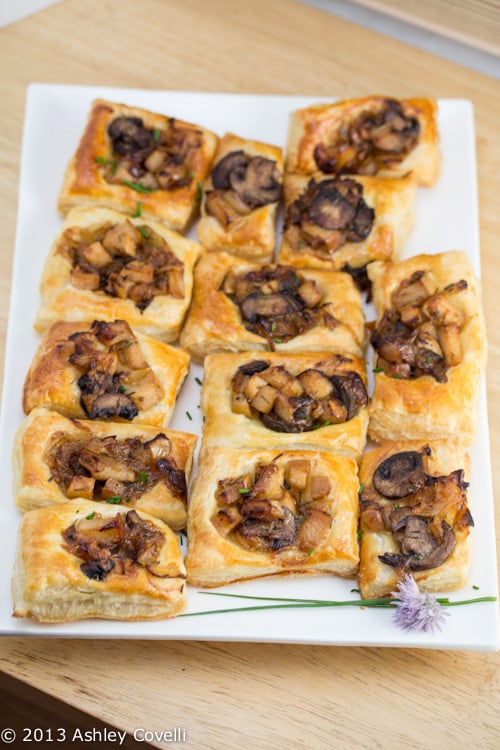 We had some friends over for dinner, and I was itchin' to try out a new appetizer recipe. This took some time to put together, but it was oh so very worth it! I made the filling in the morning, covered it and put it in the fridge, and a few minutes before our guests arrived, I cut the pastry and assembled them. It worked out great! The sweetness from the caramelized onions and apples went so well with the cheese and onions. These are dangerous - they're nice and light and flaky, and just oh so perfect. I'll definitely make them again! They were a big hit with everyone at the table - even my toddler!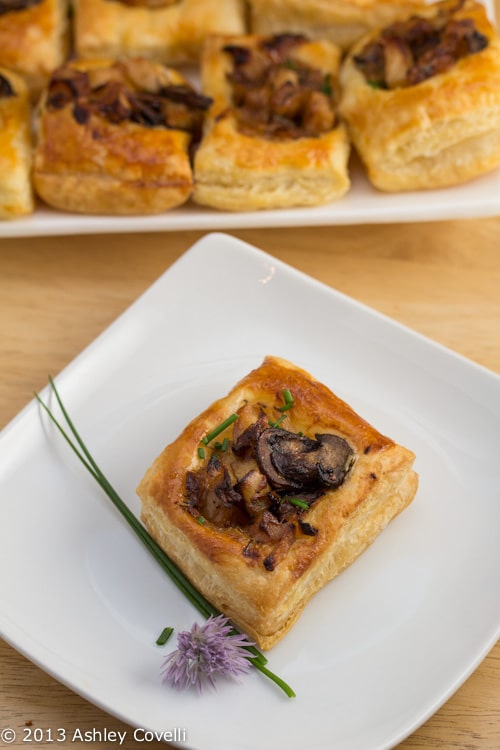 Caramelized Onion, Mushroom, Apple & Gruyere Bites
Table for Two (adapted from Williams-Sonoma)
Yield: approx. 30-32 bites | Prep Time: 10 minutes | Cook Time: 65 minutes
2 tbsp. vegetable oil
1 large onion, thinly sliced
4 oz. baby bella mushrooms, sliced
2 tbsp. unsalted butter
1 ½ granny smith apples, cubed into ½" cubes
1 tsp. granulated sugar
1 ½ oz. grated gruyere cheese
2 tbsp. chives, minced
½ tsp. dried thyme
1 package (1 pound) of frozen puff pastry, thawed
1 egg, beaten
Preheat oven to 400 degrees. Line baking sheets with silicone baking mats. Set side.
In a large skillet, heat the vegetable oil and cook the onions (with 1 tsp. of salt) until they're golden brown, about 30 minutes. Remove and set aside in a large bowl. In the same skillet, sauté mushrooms until tender, about 5 minutes. Remove and set aside in the bowl with the onions.
In the same skillet, melt the butter and add in the apples with the sugar. Cook until softened, about 10 minutes. Remove from pan and add to the large bowl with onions and mushrooms.
Add the cheese, chives, and thyme to the bowl and stir to combine the mixture well. Season with salt and pepper, to taste.
With a pizza cutter, cut the puff pastry into 2-inch squares and place them on the lined baking sheets. Using a pastry brush, brush beaten egg on the squares.
Using a tablespoon, place filling in the middle of each puff pastry.
Bake for 25 minutes, rotating the pans halfway through and switching the baking sheet on the top rack to the bottom and the bottom to the top, until the pastry is golden brown and crisp.
Let the tarts cool a bit before serving, you don't want people to burn the roofs of their mouths!
Big Flavors Rating: 5 Stars