This post may contain affiliate links, which won't change your price but will share some commission.
I bookmarked this recipe from a beautiful Burmese cookbook a while back, and recently got around to making it. It was simple to prepare, and very light and refreshing.
I used cayenne pepper instead of a fresh chile, and didn't find that it needed any more salt at the end. I loved the contrast of the crunchy cucumbers with the tender shrimp.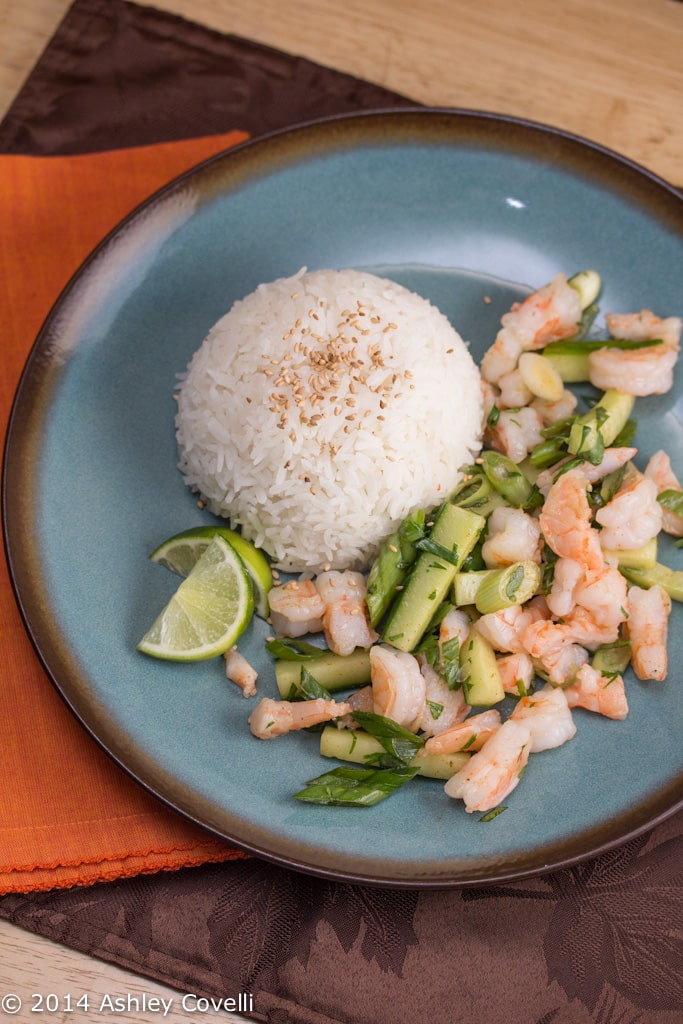 I served it with some steamed jasmine rice, topped with toasted sesame seeds to make it a meal. It was just the right amount of food for the 2 of us.
Shrimp Salad
Burma: Rivers of Flavor - Naomi Duguid (via Asia Society)
This shrimp salad makes an enticing appetizer. The shrimp are briefly fried and then dressed with minced chiles, chopped scallions, and a blend of fish sauce and lime juice. Cucumber gives a refreshing crunch.
2 tablespoons peanut oil or Shallot Oil
About 1 pound medium to large shrimp, peeled, deveined, and rinsed
3 scallions, halved lengthwise and thinly sliced
½ medium English cucumber
2 tablespoons chopped coriander
1 green or red cayenne chile, minced, or ¼ to ½ teaspoon Red Chile Powder
1 teaspoon fish sauce
About 2 tablespoons fresh lime juice
Salt (optional)
Place a wok or large skillet over medium-high heat. Add the oil, then toss in the shrimp and stir-fry just until they turn pink, a minute or two.
Transfer the shrimp to a cutting board. Slice on the diagonal and place in a shallow bowl. Add the scallions.
Cut the cucumber into 11/2-inch lengths and slice each length into julienne (you should have a scant cup). Add the cucumber, coriander, and chile to the shrimp and toss lightly. Add the fish sauce and lime juice and toss to mix well. Taste and add a little salt if you wish, then toss and serve immediately.
Big Flavors Rating: 4 Stars