This post may contain affiliate links, which won't change your price but will share some commission.
This year, I planted a few varieties of lettuce in my tiny garden. When I saw how full the plants were getting, I decided that a salad was in order.
I wanted to make it heartier, so I decided to add a scoop of cooked bulgur to the greens (I made a batch using the directions on the package - 1 cup bulgur & 2 cups cold water in a saucepan, bring to a boil, cover and simmer 12-15 minutes, till tender. Drain out excess liquid).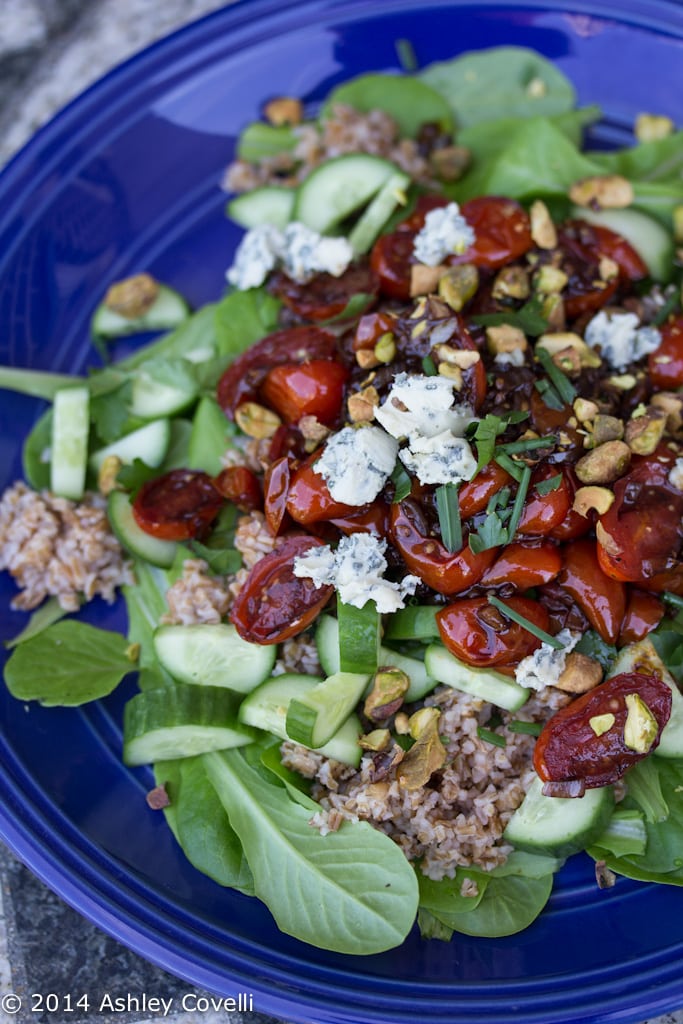 While the bulgur was cooking, I reduced some tomatoes with balsamic, garlic and shallots to make a warm and tangy topping that would also serve as a salad dressing. It turned out great, and I really liked the contrast of warm and cool.
I sprinkled in some fresh herbs from my garden as well, and cucumber and pistachios for crunch. I had some Danish blue cheese that I added to the top, but it was overpowering, so I pushed it aside. I think goat cheese or feta would be great options here, but you could totally leave the cheese out and this is a great vegan meal.
This salad is a nice mix of cool, warm, tangy, crunchy and fresh. It's hearty yet light - a perfect summertime lunch. And it felt awesome to eat something that I grew from seeds. Hooray!
Bulgur Salad with Balsamic Tomatoes
Big Flavors from a Tiny Kitchen - Ashley Covelli
⅓ cup quick cooking bulgur wheat, cooked according to package directions
1 tablespoon extra-virgin olive oil
2 tablespoons shallot, diced small
1 clove garlic, minced
1 cup grape tomatoes, halved
2 tablespoons balsamic vinegar
¼ teaspoon kosher salt
⅛ teaspoon freshly cracked black pepper
A few handfuls of lettuce
½ cup seedless cucumber, chopped
1 tablespoon fresh flat-leaf parsley, chopped
1 tablespoon chives, chopped
1 tablespoon roasted, salted pistachios, roughly chopped
1 tablespoon crumbled cheese, if desired (goat cheese or feta would be good choices)
Heat oil in a small skillet over moderate heat. Add shallot and garlic and heat until fragrant. Add tomatoes, balsamic, salt and pepper and sauté until it reduces and the balsamic glazes the tomatoes, about 5 minutes.
Place lettuce leaves on a plate. Top with cooked bulgur and balsamic tomatoes. Sprinkle on cucumber, parsley, chives, pistachios and cheese (if using). Enjoy!
Big Flavors Rating: 4 Stars