This post may contain affiliate links, which won't change your price but will share some commission.
I really enjoy the depth of flavor that bourbon adds to recipes (like when I made Butternut Squash Gnocchi with Whiskey Cream Sauce, Bourbon Cranberry Sauce, or Bourbon-Mango Pulled Pork). I'm also a fan of BBQ sauces that aren't full of chemicals, which is why I buy Stubb's if I'm not making my own. But this was one of the occasions that I wanted to make my own BBQ sauce. When I came across this recipe, I was intrigued. It didn't take a lot of time, and the combination of ingredients was great. I cut it in half when I made it, because 4 cups of sauce is a lot, and I wasn't sure how long it would keep in the refrigerator. I used it on top of some pan-fried tempeh, and it was great! The author of the recipe says that it's even better after it's been in the fridge for a few days, so I'm excited to try it again! This sauce packs a punch, so be sure to taste it before you go pouring it all over things.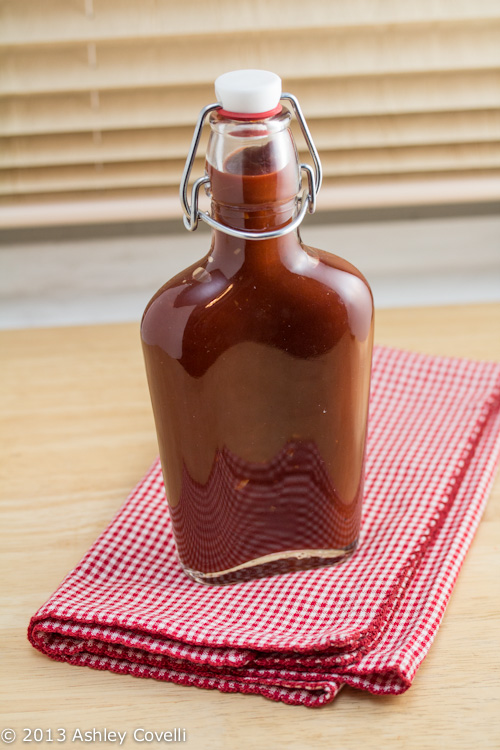 Bourbon Whiskey BBQ Sauce
Allrecipes - Kevin
"This is a barbecue sauce recipe using Kentucky bourbon whiskey. For best results, refrigerate for a day or two, allowing the flavors to blend."
PREP 15 mins
COOK 30 mins
READY IN 45 mins
Makes 4 cups
½ onion, minced
4 cloves garlic, minced
¾ cup bourbon whiskey
½ teaspoon ground black pepper
½ tablespoon salt
2 cups ketchup
¼ cup tomato paste
⅓ cup cider vinegar
2 tablespoons liquid smoke flavoring
¼ cup Worcestershire sauce
½ cup packed brown sugar
⅓ teaspoon hot pepper sauce, or to taste
In a large skillet over medium heat, combine the onion, garlic, and whiskey. Simmer for 10 minutes, or until onion is translucent. Mix in the ground black pepper, salt, ketchup, tomato paste, vinegar, liquid smoke, Worcestershire sauce, brown sugar, and hot pepper sauce.
Bring to a boil. Reduce heat to medium-low, and simmer for 20 minutes. Run sauce through a strainer if you prefer a smooth sauce.
Big Flavors Rating: 5 Stars