This post may contain affiliate links, which won't change your price but will share some commission.
I really love using my slow cooker in the summer. We don't have central air conditioning, and there's only so much that fans can do to cool off a room in full-on dinner mode. So I came across this recipe, which got a ton of good reviews. I used Stubb's Spicy BBQ Sauce, and it was great! It was spicy and sweet, and the meat was super tender. Dino said this may be his favorite version of pulled pork yet (in my mind, the gold crown stays with this recipe). It was really tasty, and I definitely recommend trying it.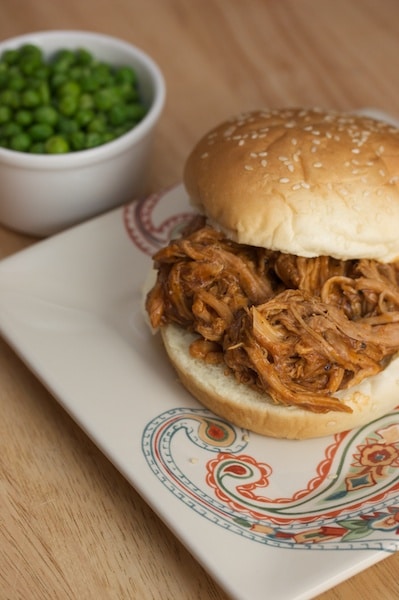 Bourbon-Mango Pulled Pork
Allrecipes - RuggerDucky
"Spicy, smoky, and sweet. This is the perfect addition to that crusty roll you've been trying to figure out a sandwich filling for!"
Prep Time: 20 Min
Cook Time: 6 Hrs
Ready In: 6 Hrs 20 Min
Yield 10 servings
2 mangoes
1 (4 pound) pork shoulder roast
2 tablespoons ground black pepper
1 teaspoon kosher salt
1 teaspoon chipotle chile powder
¼ cup balsamic vinegar
2 cups water
1 teaspoon chipotle chile powder
2 teaspoons honey
1 (1.5 fluid ounce) jigger bourbon whiskey
2 (12 ounce) bottles barbeque sauce
1. Peel the mangoes and remove the pits. Place the pits into a slow cooker, then roughly chop the mango and set aside. Place the pork shoulder into the slow cooker, and season with the black pepper, kosher salt, and 1 teaspoon chipotle powder; pour in the balsamic vinegar and water.
2. Cover, and cook on Low 5 to 8 hours until the meat is very tender. Once done, drain the pork, discarding the cooking liquid and mango pits, and shred with two forks.
3. While the pork is cooking, puree the chopped mango in a blender until smooth, then pour into a saucepan along with the honey, 1 teaspoon chipotle powder, and whiskey. Bring to a simmer. Reduce heat to medium-low, and simmer, stirring frequently until the mango has reduced and darkened slightly, about 10 minutes. Stir in the barbeque sauce, and remove from the heat.
4. Return the shredded pork to the slow cooker, and stir in the mango barbeque sauce. Cover, and cook on High 1 to 2 hours until the pork absorbs the barbeque sauce.
Nutritional Information:
Amount Per Serving Calories: 319 | Total Fat: 8.1g | Cholesterol: 68mg
MacGourmet Rating: 5 Stars