This post may contain affiliate links, which won't change your price but will share some commission.
I had planned on making this recipe for Easter, but that morning, when I went to roast the squash, I noticed that it had a bunch of rotten spots on it.
On one hand, I was really bummed. I wanted to try this recipe out pretty badly (hellooooo, whiskey!) but I was also kind of glad to have the extra free time, since the Deviled Eggs, Golden Cornbread and Chocolate Peanut Butter Nests with Toasted Coconut were all pretty easy to prepare.
So I decided to just wait it out, buy another squash in the morning, and make this during the week.
Well...this week has been intense. My toddler has been waking up super early, which is not something that I'm ready to deal with yet!
I usually try to make things during the week that aren't too time consuming to prepare and clean up (especially since my husband does the dishes after a long day at work), but this was an exception.
I had cream that I needed to use up, and I didn't want a second squash suddenly going bad in my kitchen.
This recipe takes quite a bit of time to prepare. Thankfully, it's super tasty, so it's worth it. I just don't recommend making it on a day when you have a lot of other things going on.
The whiskey cream sauce is wonderful - but I think that you should have it almost finished before you start cooking the gnocchi.
I did it in the order listed in the recipe and found myself with half a batch of cooked gnocchi and a sauce that wasn't quite ready for them yet. It wasn't a huge deal, but I had to dirty yet another dish to hold them while the sauce reduced.
I used freshly grated nutmeg in the gnocchi, and it really added a lot of great flavor. My squash was about twice the size recommended in the recipe, so I roasted both halves and will use the other half later this week at some point.
All in all, this is a good recipe, just make sure you're prepared to deal with all of the preparation, cooking, and clean up time that is involved.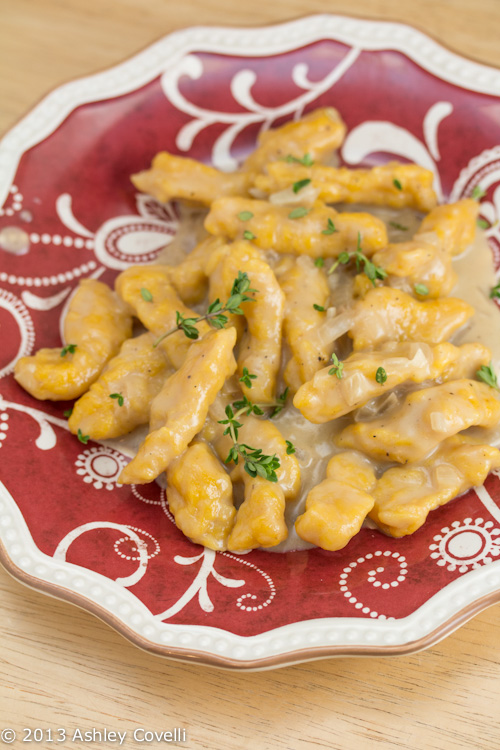 Butternut Squash Gnocchi with Whiskey Cream Sauce
A Spicy Perspective
YIELD: 4-6 SERVINGS PREP TIME: 1 HOUR COOK TIME: 55 MINUTES
1 small butternut squash, about 1 lb.
½ cup Parmesan cheese
¾ tsp. nutmeg, cinnamon, or ginger
1 tsp. salt
Pepper to taste
2 eggs
2+ cups flour
3 Tb. butter
2 Tb. flour
2 shallots, finely diced
4 cloves garlic, minced
2 cups chicken stock
1 cup bourbon
⅓ cup heavy cream
Salt and pepper
Fresh thyme leaves for garnish
Directions:
Preheat the oven to 450 degrees F. Cut the squash in half. Remove the seeds and lay on a oiled, rimmed baking sheets. Roast the squash until soft—30-40 minutes.
Scoop the flesh of the squash out and place it in the food processor. Puree until completely smooth.
Mix the pureed squash with parmesan cheese, nutmeg, salt, pepper and eggs. Then add the flour into the mixture and work together by hand. It will be very sticky.
Once smooth, flour a work surface and a large piece of parchment paper. Flour your hands and grab a handful of dough. Roll into a long strip, about ½ inch wide. Cut the strip into ½ pieces.
~This is the tricky part~ Place each piece in the palm of your hand (or on the cutting board) and gently roll with a fork to create ridges. Place each piece on the floured parchment paper and repeat with the rest of the dough.
Bring a large pot of water to boil. Boil half the gnocchi, then remove and repeat. With each batch, boil until all the gnocchi floats—about 5 minutes.
Meanwhile, heat another large skillet over medium heat. Add the butter and flour, whisk until smooth. Then add the shallots and garlic. Saute for 3 minutes. Then add the bourbon and chicken stock.
Whisk and raise heat. Bring the sauce to a boil. Allow the sauce to reduce down to a thin gravy-like consistency. Then lower the heat to medium-low and add the cream. Salt and pepper to taste—usually about 1 tsp. of salt.
Once the gnocchi are finished cooking, remove them with a skimmer and place them directly into the cream sauce. Stir to coat.
Serve the gnocchi warm and garnish with fresh thyme leaves! *If the cream sauce thickens too much, add a little water from the gnocchi pot to thin it out!
Big Flavors Rating: 4 Stars