This post may contain affiliate links, which won't change your price but will share some commission.
Tonight was the first time we had a "real" dinner party at our house (other than our Supper Club) since we started the kitchen remodel (which is almost finished, I swear!). I decided that I wanted to make my good ol' standby Balsamic Marinated Pork Tenderloin for the main course, but definitely wanted to try a few new appetizers. I was instantly intrigued when I saw this recipe on the Epicurious iPod app. It turned out phenomenal! I made the sauce last night, so the prep today wasn't too bad. I used some of the Five-Chile Vodka that I infused a little over 2 years ago. It gave the sauce a nice kick, along with the horseradish. This one was a real stand out dish, and I'll most definitely be making it again!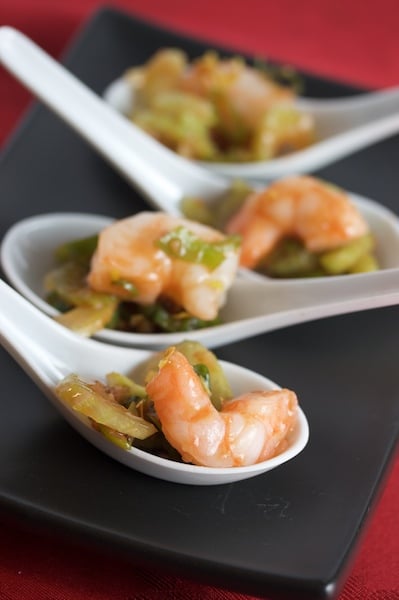 Bloody Mary Shrimp
Gourmet December 2007
For shrimp
1 pound medium shrimp in shell, peeled and deveined
1 ½ cups thinly sliced celery (3 to 4 ribs)
1 cup thinly sliced scallions (about 6)
For sauce
½ cup ketchup
¼ cup vodka (preferably Absolut Peppar)
¼ cup fresh lemon juice
2 tablespoons bottled horseradish (not drained), or to taste
1 teaspoon Worcestershire sauce
1 teaspoon Tabasco
Equipment: Chinese soupspoons
Garnish: diced avocado (optional)
Prepare shrimp: Bring a large saucepan of salted water (2 tablespoons salt for 2 quarts water) to a boil. Add shrimp, then remove from heat and let stand in water until cooked through, about 5 minutes. Drain in a colander and cool to room temperature, about 30 minutes. Cut shrimp into thirds and transfer to a large bowl with celery and scallions.
Make sauce: Whisk together all sauce ingredients, ¼ teaspoon pepper, and ¾ teaspoon salt, or to taste.
Just before serving, stir sauce into shrimp mixture. Spoon 2 shrimp pieces with vegetables and sauce into each soupspoon and arrange spoons on a platter.
Cooks' notes:
· Shrimp can be cooked and tossed with vegetables 4 hours ahead, then chilled in a sealed bag. Bring to room temperature, about 30 minutes, before tossing with sauce.
· Sauce can be made 1 day ahead and chilled, covered.
MacGourmet Rating: 5 Stars