This post may contain affiliate links, which won't change your price but will share some commission.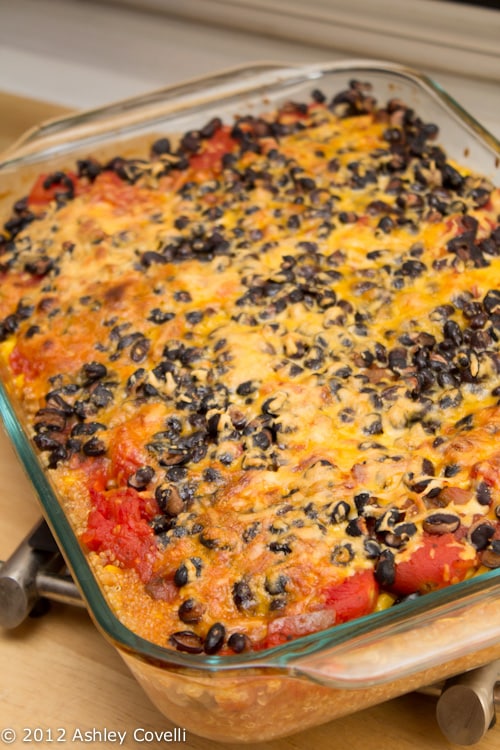 Wow. I can't believe it's already been 6 years. This blog has become a huge part of my life, and I've made a ton of awesome friends through it. I've also experimented with a lot of new foods, which has been an amazing experience. Thanks to everyone who has been so supportive of my food journey, and to the endless people who taste, comment and share recipes with me. My kitchen has come a long way since I started this blog, and I'm hoping it keeps going strong in the years to come.
I found this recipe and thought it would be a great way to celebrate with a theme of 6. It's a healthy and tasty recipe that is sure to please a crowd. I had a friend come over to help us eat this casserole, and she really liked it. Me and Dino were big fans, too, and I can see making it again. Probably not until I have a few people over, though, as it makes a lot of servings. The technique with the quinoa was new to me, but it worked really well! I found the casserole a bit runny from the tomato liquid, so maybe next time I'll drain some off. All in all, a nice, healthy way to ring in year 6!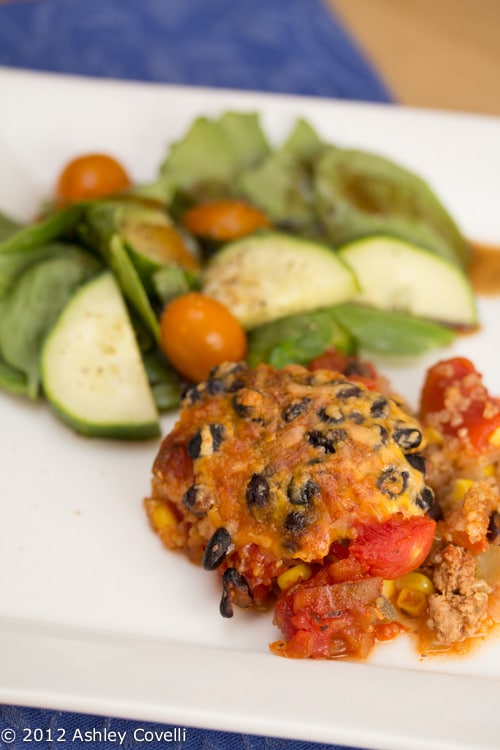 Quinoa Mexi 6 Layer Casserole
SparkRecipes - BUN3KIN
5 WW points per serving
Minutes to Prepare: 2
Minutes to Cook: 30
Number of Servings: 8
1 cup quinoa
2 teaspoons olive oil
1 lb ground turkey (93/7)
1 small onion, chopped
1-2 garlic cloves
1 teaspoon coriander
2 teaspoons chili powder
2 teaspoons oregano
4-6 dashes hot sauce
2 cups frozen corn, thawed
1 (19 ounce) can black beans, rinsed
1 (28 ounce) can whole tomatoes, broken up by hand
1 cup salsa
¾ cup shredded cheddar cheese
Prepare Quinoa: Rinse in a sieve under running water. Dry Roast in a skillet for approximately 7 minutes until a crackling sound is heard. Boil 1.5 cups of water in a small saucepan, add the dry roasted quinoa. Turn down the heat to low, cover and simmer for 20 minutes.
While quinoa is simmering, heat oil in large skillet. Add garlic and chopped onions, cook 2 or 3 minutes.
Add turkey, spices and hot sauce. You may want to add a little salt and pepper here also. Brown.
Spread quinoa in a large baking dish.
Layer remaining ingredients in this order: Turkey, corn, tomatoes, salsa, black beans and finally the grated cheese.
Bake at 450°F for 20 minutes.
Broil for an additional 3-5 minutes to turn the cheese golden.
Big Flavors Rating: 4 Stars