This post may contain affiliate links, which won't change your price but will share some commission.
Finding new and exciting ways to keep kids interested in eating wholesome snacks and meals can be tricky. My 4-year-old is a pretty good eater, but he definitely has his picky moments.
And those moments can.be.exhausting.
I've found that he tends to be more excited about eating when we approach meals and snack times as times where he can make his own dishes. He absolutely loves creating things!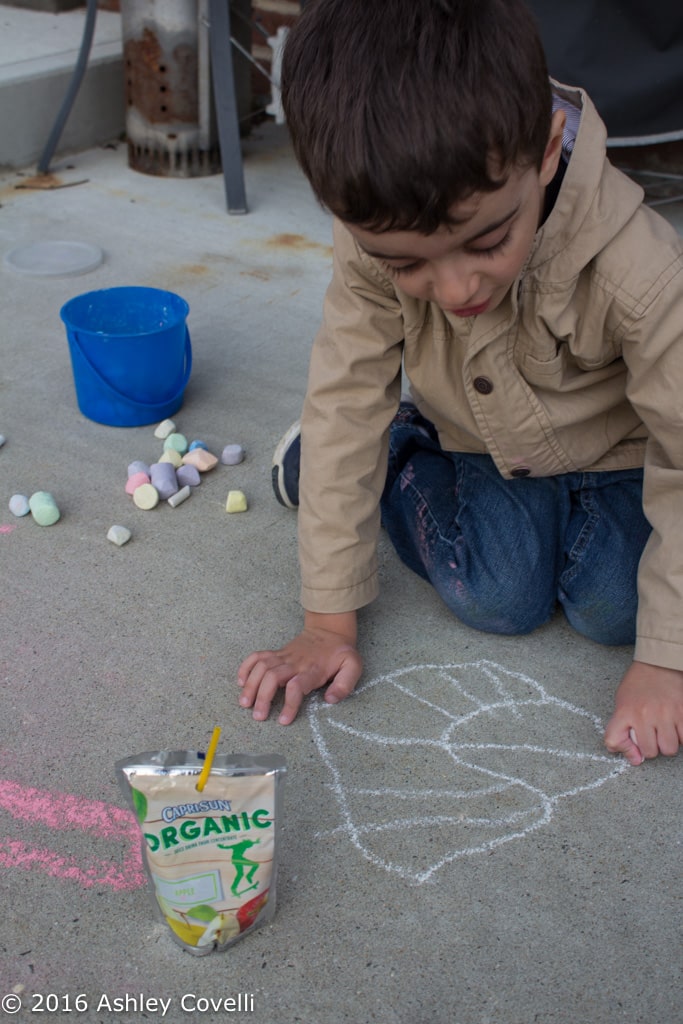 A few months ago, I took a bunch of random leftovers from the fridge, gave him a few flour tortillas and told him he could make his own tacos.
He loooooved it.
He felt like he had total creative freedom over how his food looked and tasted, and I knew that the things he was eating were good for him.
Since then, this nontraditional taco method has been a total game changer. I just place a few piles of ingredients on a plate and let him go to town!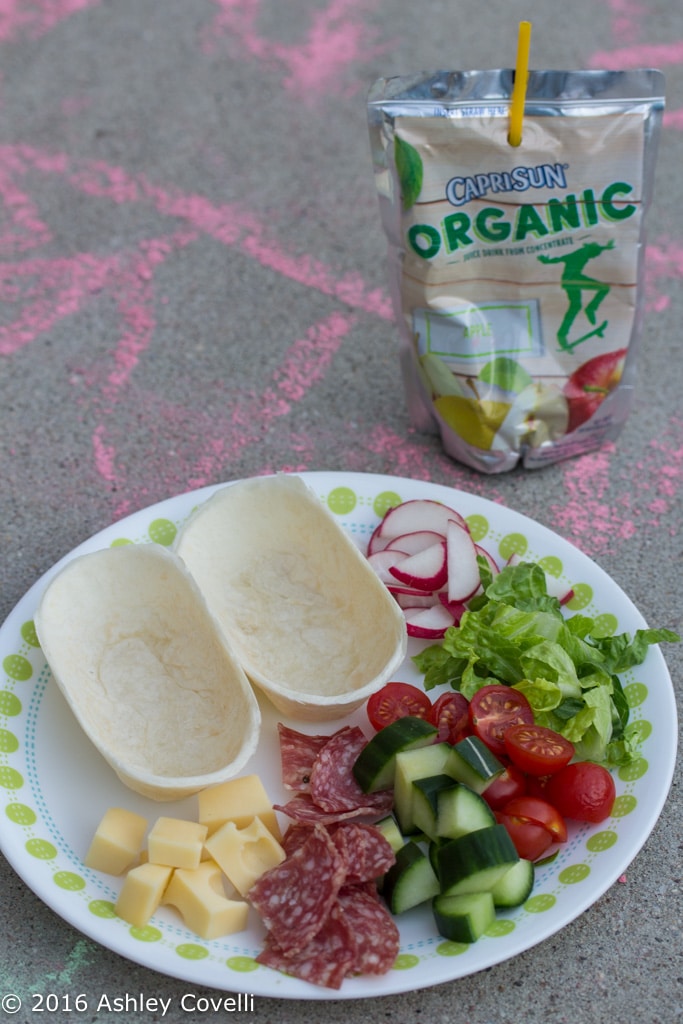 Another thing that tends to help is eating outside, whether it's right out on our patio or taking a walk to the park for a picnic. A change of scenery really does wonders!
So one evening, I sent my husband outside with my son to draw with sidewalk chalk while I got dinner ready.
The combination I used on this particular day was some Swiss cheese, salami, cucumbers, tomatoes, lettuce and radishes. I cut everything up quickly, grabbed a Capri Sun Organic juice drink and was outside with his dinner in no time.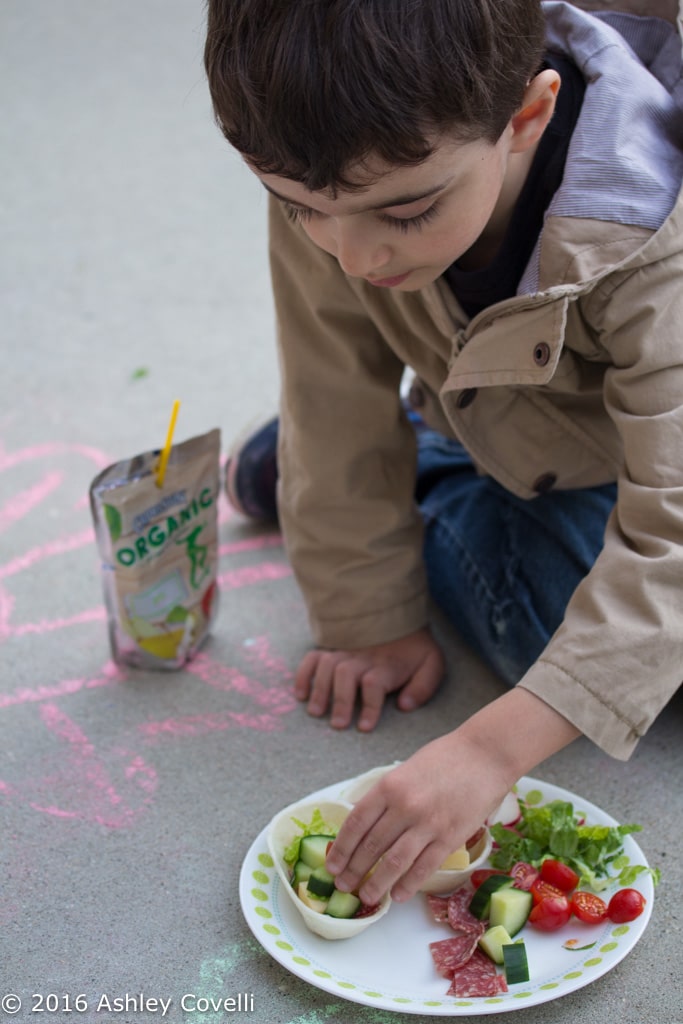 He was thrilled that it was taco night, and even more thrilled to eat outside! One of the neighbor kids came over and asked what he was doing, and he was so excited to share his taco method. He even encouraged his buddy to go pick some chives from our garden to enjoy with the tacos.
And of course, we shared drinks with him, too!
I have to say, I was really excited to find that Capri Sun was coming out with an organic line. They're sweetened only with fruit juice - no high fructose corn syrup here! They're Certified USDA Organic and have no artificial colors, flavors or preservatives.
Capri Sun Organic is available at retailers nationwide for $4.29 per 10 pack of 6-oz. pouches and comes in 4 flavors: Fruit Punch, Tropical Punch, Apple and Grape.
My son was all about the Apple. He kept telling his friends, "this is SOOOO delicious!" - and of course, he also had a great time using the straw to blow up the pouch like a balloon after he had finished drinking it all. I totally did the same thing as a kid. It's not just me, everyone does that, right?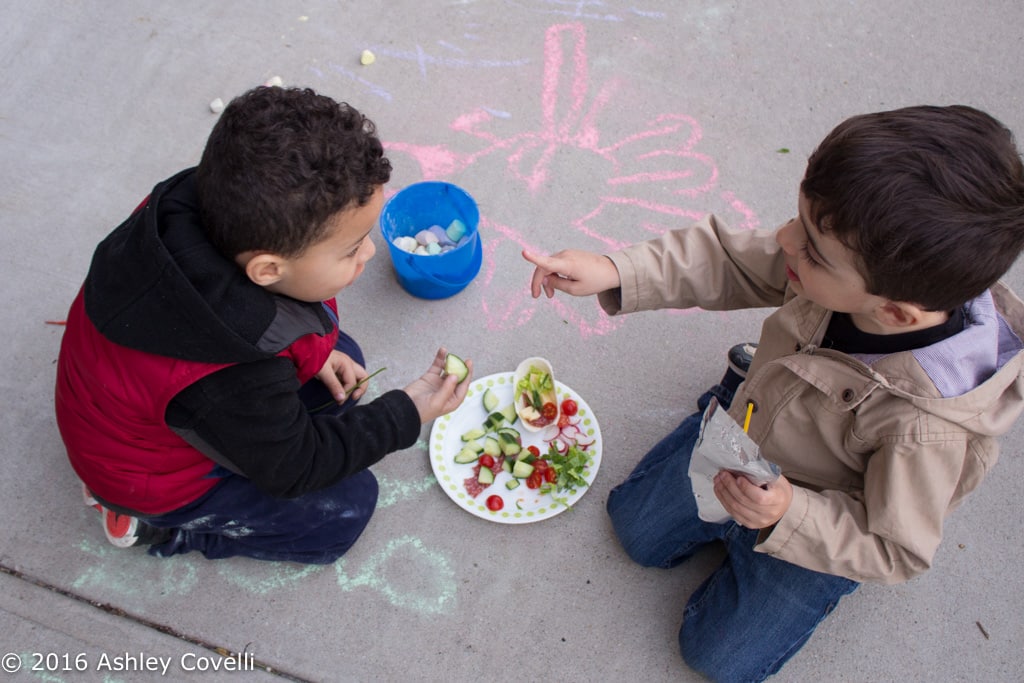 After seeing the "taco method", my neighbor ran home and put together a little assortment for her son to enjoy al fresco with mine.
And while we were out there, 2 more friends stopped by. Everyone was drawing with chalk, laughing and enjoying their drinks and snacks. And they were all encouraging each other to try new foods.
It was kind of incredible.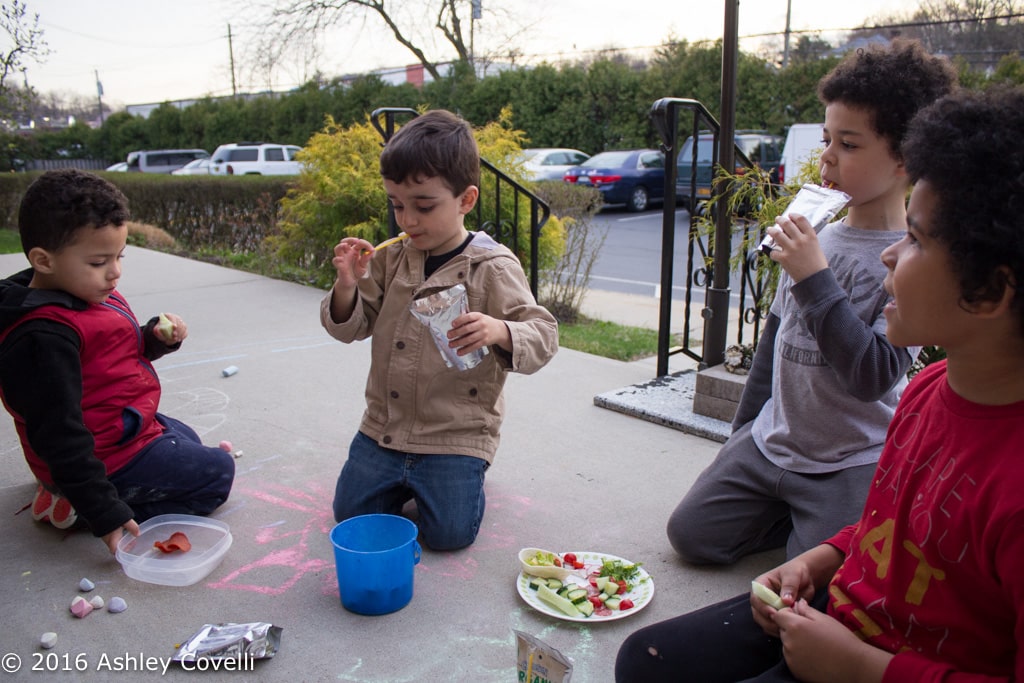 I never thought I'd be sitting outside watching a bunch of kids have fun taste-testing things like radishes and chives, but it happened. And it was a blast!
How do you encourage your kids to eat wholesome foods? I'd love to hear your tips and tricks in the comment section below!
I was selected for this opportunity as a member of Clever Girls and the content and opinions expressed here are all my own.