This post may contain affiliate links, which won't change your price but will share some commission.
This recipe was disappointing. It was really bland. It sounded like it was going to pack a lot of flavor based on the ingredients, but it really left us wanting more. Luckily, I don't pick duds very often, but this was one of them.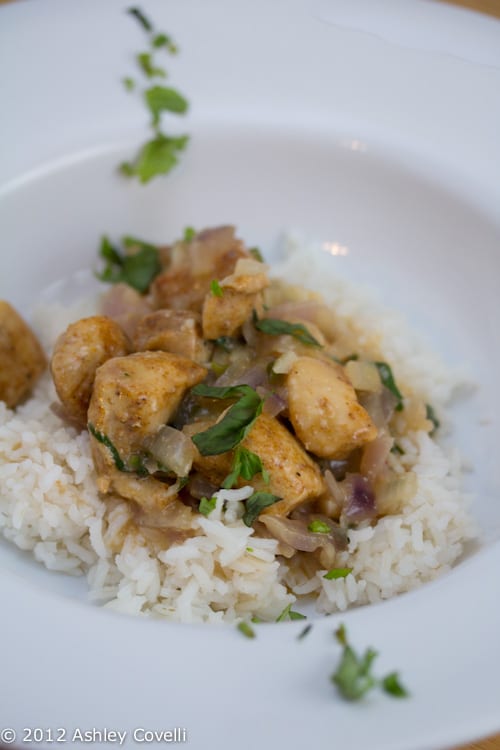 Basil Chicken in Coconut-Curry Sauce
Better Homes and Gardens
Makes: 4 servings
Serving size: 1 cup + ¾ cup rice
Prep: 25 mins
Chill: 1 hr
Cook: 20 mins
2 teaspoons curry powder
½ teaspoon cracked black pepper
½ teaspoon salt
¼ teaspoon chili powder
4 skinless, boneless chicken breast halves
1 tablespoon olive oil
½ large red onion, cut into thin wedges (1 cup)
2 fresh jalapeno chile peppers, seeded and finely chopped
5 cloves garlic, minced
1 13 ½ - 14 ounce can unsweetened coconut milk
1 tablespoon cornstarch
3 tablespoons snipped fresh basil
1 teaspoon grated fresh ginger
3 cups hot cooked rice
1. In a medium bowl combine curry powder, black pepper, ¼ teaspoon of the salt, and the chili powder. Cut chicken into 1-inch pieces. Add to spice mixture in bowl; toss to coat. Cover and chill for 1 to 2 hours to allow spices to penetrate meat.
2. Pour oil into a wok or large nonstick skillet; heat over medium-high heat. Add onion, jalapeno peppers, and garlic to wok; cook and stir about 8 minutes or until crisp-tender. Remove onion mixture from wok. Add half of the chicken to wok. Cook and stir for 4 to 6 minutes or until chicken is no longer pink. Remove from wok. Repeat with remaining chicken.
3. Stir together coconut milk, cornstarch, and remaining ¼ teaspoon salt until smooth. Carefully add to wok. Cook and stir until slightly thickened and bubbly. Return chicken and the onion mixture to wok. Stir in basil and ginger. Cook and stir about 2 minutes or until heated through. Serve over hot rice. Makes 4 servings.
from the test kitchen
Note *Hot peppers contain oils that can burn eyes, lips, and sensitive skin, so wear plastic gloves while preparing them. Be sure to wash your hands thoroughly afterward.
nutrition facts (Basil Chicken in Coconut-Curry Sauce)
Servings Per Recipe 4, Calories 520, Protein (gm) 32, Carbohydrate (gm) 44, Fat, total (gm) 23, Cholesterol (mg) 66, Saturated fat (gm) 17, Monosaturated fat (gm) 3, Polyunsaturated fat (gm) 1, Dietary Fiber, total (gm) 2, Sugar, total (gm) 2, Vitamin A (IU) 243, Vitamin C (mg) 6, Thiamin (mg) 0, Riboflavin (mg) 0, Niacin (mg) 11, Pyridoxine (Vit. B6) (mg) 1, Folate (µg) 85, Cobalamin (Vit. B12) (µg) 0, Sodium (mg) 382, Potassium (mg) 367, Calcium (DV %) 50, Iron (DV %) 4, Starch () 3, Other Carb () 1, Very Lean Meat () 4, Fat () 4, Percent Daily Values are based on a 2,000 calorie diet
Big Flavors Rating: 2 Stars