This post may contain affiliate links, which won't change your price but will share some commission.
I wanted to find something simple to make for dinner after a busy day at work, so I found this recipe. I had everything on hand, and I figured I could convince Dino to make a dipping sauce or two to go alongside. He made a spicy honey mustard sauce and a sweet and sour chili sauce. Both were awesome! This recipe was easy and tasty - the chicken is super moist, and the breading is flavorful. I think it would be good without the cheese, too, which would work better with some sauces. I substituted Pecorino Romano for Parmesan, and it was great!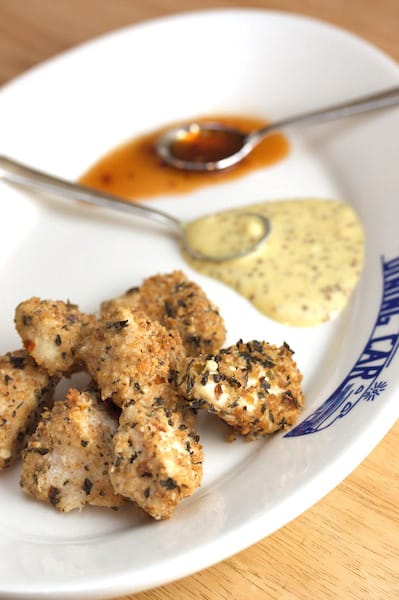 Baked Chicken Nuggets
Allrecipes - Teresa
"A real kid pleaser! Adults will enjoy this recipe for a tasty appetizer, too! Serve warm with your favorite dipping sauces if desired."
Yield 30 nuggets
3 skinless, boneless chicken breasts
1 cup Italian seasoned bread crumbs
½ cup grated Parmesan cheese
1 teaspoon salt
1 teaspoon dried thyme
1 tablespoon dried basil
½ cup butter, melted
1. Preheat oven to 400 degrees F (200 degrees C).
2. Cut chicken breasts into 1 ½ inch size pieces. In a medium bowl, mix together the bread crumbs, cheese, salt, thyme and basil. Mix well. Put melted butter/margarine in a bowl or dish for dipping.
3. Dip chicken pieces into the melted butter/margarine first, then coat with the breadcrumb mixture. Place well coated chicken pieces on a lightly greased cookie sheet in a single layer, and bake in the preheated oven for 20 minutes.
Nutritional Information:
Amount Per Serving Calories: 280 | Total Fat: 17.2g | Cholesterol: 75mg
MacGourmet Rating: 4 Stars