This post may contain affiliate links, which won't change your price but will share some commission.
I love this type of Persian rice, but I've always made it with canned lima beans and dried dill. This time around, I found a recipe and wanted to give it a try. This was a bit of work, and I ended up skipping the part where you skin the lima beans and split them in half, because it was a huge hassle. It was just fine with the skins on (I used frozen beans). I haven't seen ground saffron, so I used saffron threads and pinched them a bit to grind them up when I added them to the rice. This turned out wonderfully aromatic, and very authentically Persian. I even got the crust on the bottom of the rice to turn out right for the first time ever!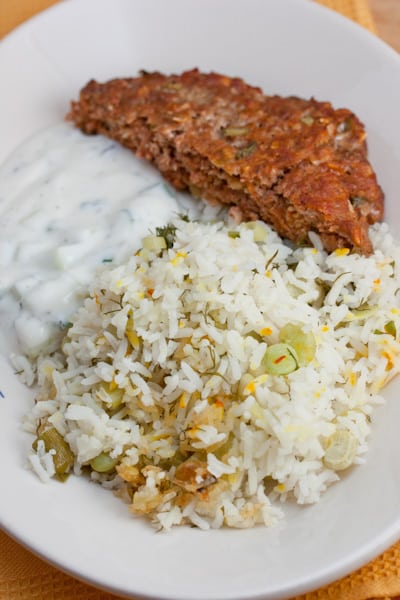 Baghali Polo (Iranian Style Rice with Dill-Weed and Lima Beans)
Mystic Persia
Baghali means 'lima beans' and Polo means 'pilaf of rice' in the Persian language
This is one of my favorite Persian dishes, and not just me! Baghali Polo is a very popular Iranian dish made with steamed rice, lima beans or fava beans and seasoned with dill weed.
Eating Lima beans, like many other legumes, is a good source of dietary fiber, which they are high in. They also provide a virtually fat free source of high quality protein. Lima beans contain both soluble fiber, which helps regulate blood sugar levels and lowers cholesterol, and also insoluble fiber, which prevents constipation, digestive disorders, irritable bowel syndrome and diverticulitis.
Basmati rice - 2 cups
Lima Beans - 2 cups
Dill-weed - ½ cup
Green onions - 2 stalks
Salt - 1 teaspoon
Pepper - ½ teaspoon
Ground saffron - ¼ teaspoon optional
Butter - 2 tablespoons
Water
Wash and Boil Rice
Rinse rice in warm water several times to remove excess starch.
Fill large pot with water (two to three times the amount of rice), add salt, add 1 teaspoon of oil, add rice, and bring to a boil.
Stir occasionally to prevent kernels from sticking together. Cook until rice is no longer crunchy but still very firm.
Drain rice in a colander, then rinse with cold water and set aside.
Wash and Boil Lima Beans
Wash Lima Beans in warm water.
Fill large pot with water (two to three times the amount of beans), add lima beans and bring to a boil.
Do not overcook Lima Beans, remove from heat while beans are still firm. Use a colander to drain water from Limas beans.
Remove outer membrane (unless dried or canned), cut lengthwise or into pieces and set aside.
Steam Rice, Dill-weed and Lima Beans
Chop dill-weed and onions then mix thoroughly with rice, lima beans and seasonings in a large bowl.
Place 2 teaspoons of oil in a large pot, if you like, melt some butter for extra flavoring, then sprinkle rice into pot using a large spoon. Form a mound shape by avoiding the sides of the pot.
Use the handle of a wooden spoon to perforate the mound all the way to the bottom of the pot, in several places.
Before covering the pot, wrap a clean dry towel around the lid which will absorb excess moisture to prevent the rice from becoming soggy.
Cook rice and bean mixture over very low heat for 30 to 40 minutes before serving.
To ensure a golden crust will form at the bottom of the pot, cook rice on medium-low heat for 10 minutes, then reduce heat and cook for another 30 minutes before serving.
Serve hot alongside kuku sabzi and fried fish.
Big Flavors Rating: 5 Stars