This post may contain affiliate links, which won't change your price but will share some commission.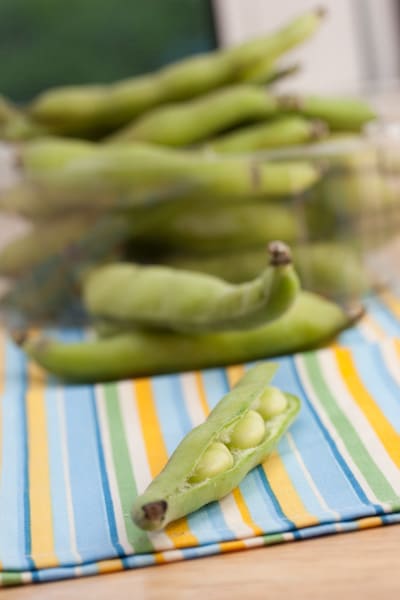 This week, the Garden Fairy brought me some fresh fava beans. WOW! They were superbly fresh. I just love how they feel, too. The insides are fuzzy...such a weird sensation!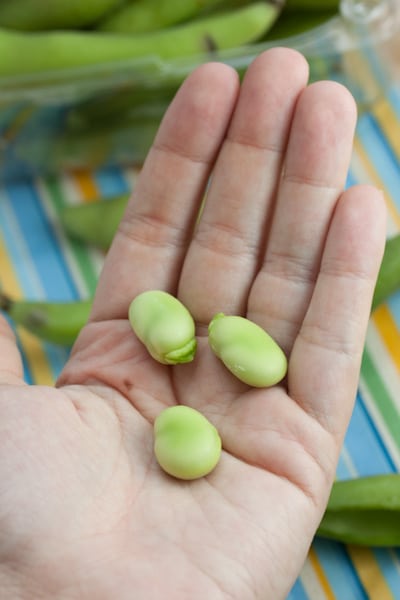 I decided to try out an appetizer recipe with the favas, and wow...it was awesome! Dino took one bite and said (with a mouth full of food), "FIVE STARS!". These are fresh and delicious, and would be a perfect, elegant appetizer for any dinner party. I'll definitely be making these again. I love that you can make them with edamame if you don't have favas on hand, too. It makes me sad to see how many great recipes came from Gourmet since they're no longer around, though.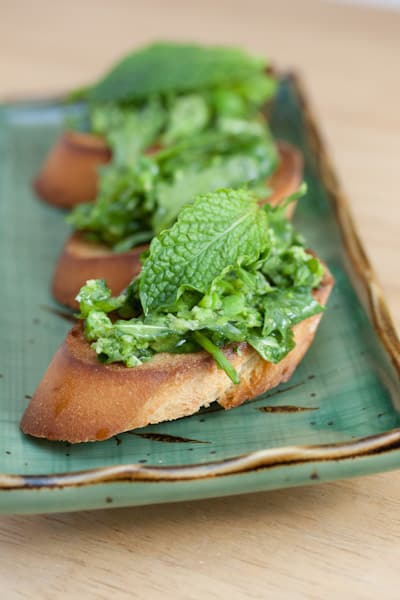 Arugula and Fava-Bean Crostini
Gourmet May 2009
1 cup shelled fresh fava beans (1 ¼ pounds in pods) or shelled fresh or frozen edamame (soybeans; ¾ pounds in pods)
¼ cup plus 1 tablespoon extra-virgin olive oil, divided, plus additional for drizzling
1 ½ cups packed baby arugula (1 ½ ounces), divided
3 tablespoons grated Pecorino Toscano or Parmigiano-Reggiano
¼ teaspoon grated lemon zest
½ teaspoon fresh lemon juice
1 baguette
1 garlic clove, halved crosswise
16 mint leaves
Preheat oven to 350°F with rack in middle.
Cook fava beans in boiling water, uncovered, until tender, 3 to 4 minutes, then drain and transfer to an ice bath to stop cooking. Gently peel off skins (if using edamame, don't peel).
Pulse fava beans in a food processor until very coarsely chopped, then transfer half of mixture to a large bowl. Add ¼ cup oil, ½ cup arugula, cheese, lemon zest and juice, ½ teaspoon salt, and ⅛ teaspoon pepper to favas in processor and purée until smooth. Add to bowl. Coarsely chop remaining cup arugula and gently fold into fava-bean mixture.
Cut 16 diagonal slices (⅓ inch thick) from baguette and put in a 4-sided sheet pan. Drizzle with remaining tablespoon oil. Bake until pale golden and crisp, 8 to 10 minutes. Rub with cut side of garlic.
Spoon fava-bean mixture onto baguette toasts, then drizzle with oil and top with mint.
What to drink: Fontaleoni Vernaccia di
San Gimignano '07
Cooks' notes:
•Topping, without chopped arugula, can be made 8 hours ahead and chilled. Fold in arugula before using.
•Toasts can be made 1 day ahead and kept in an airtight container at room temperature.
Big Flavors Rating: 5 Stars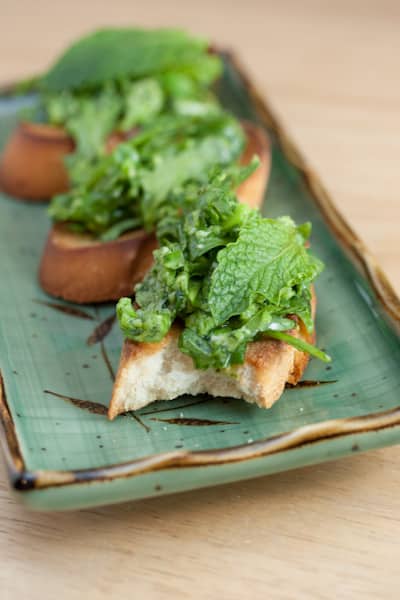 Yum!