This post may contain affiliate links, which won't change your price but will share some commission.
One of my coworkers is an avid mushroom hunter. He gave me some dried maitake mushrooms a while back, and I've been wanting to use them in a recipe. So this afternoon, I decided to try to make a pasta sauce out of stuff that I had in the pantry and this is what I came up with. It tasted pretty darn good, and the flavor of those mushrooms is wonderful! I was a little shy with them because I didn't want to overdo it. I still have some more to use up - maybe in a stir-fry or something. This was my first time making pasta sauce from scratch without a recipe, so I was pretty proud of myself! If I had fresh parsley or basil it would have been even better!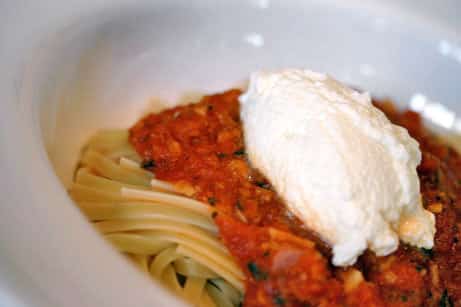 Linguine with Tomato Sauce and Maitake Mushrooms
6 pieces dried maitake mushrooms, rehydrated and chopped
2 cloves garlic, minced
½ white onion, chopped
1 14.5 ounce can no salt added diced tomatoes
1 5.5 ounce can vegetable juice, (such as mini cans of V8)
½ pound linguine
extra-virgin olive oil
1 teaspoon oregano
½ teaspoon thyme
1 teaspoon parsley
1 teaspoon salt
½ teaspoon freshly cracked black pepper
1 fresh bay leaf
part-skim ricotta cheese
Sauté onions and garlic in olive oil until soft. Add rest of ingredients and simmer until the mixture starts to thicken. Remove bay leaf and puree to your desired texture with an immersion blender. Serve on top of linguine and top with a dollop of ricotta.
MacGourmet Rating: 4 Stars