This post may contain affiliate links, which won't change your price but will share some commission.
Looking for the best of the best? This roundup of the 12 most popular recipes from the past 12 years on Big Flavors from a Tiny Kitchen has you covered!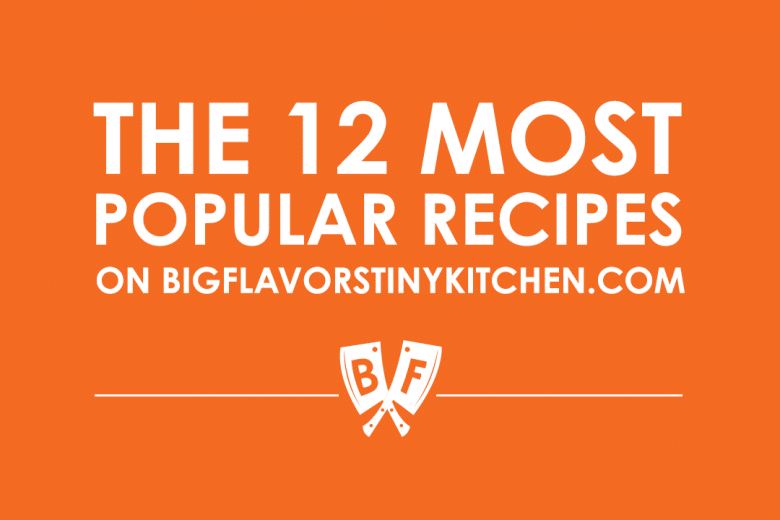 This post may contain affiliate links.
12 years ago today, I published my very first post here on Big Flavors from a Tiny Kitchen. Actually, back then, I was over on LiveJournal and I called my site "Chopaholic".
The very first thing I posted was my Mom's sloppy joe recipe. I revamped that post a while back and even shared some of the photos I had taken over the years in an attempt to make sloppy joes look less... sloppy.
You can see how it turned out over on the post for Our Favorite Sloppy Joe Sandwiches.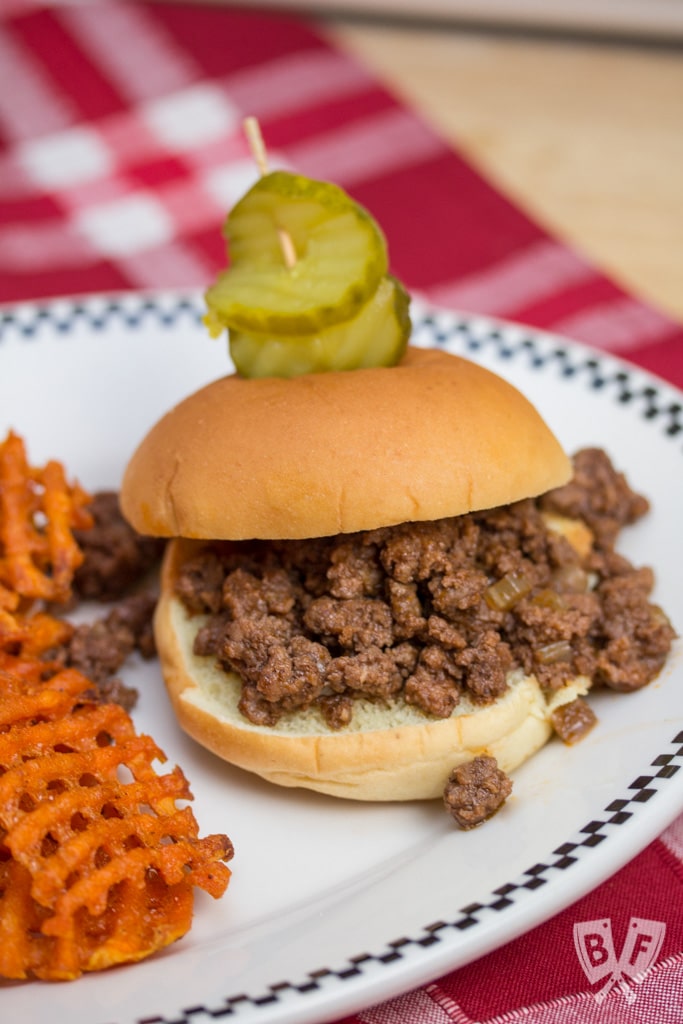 Chopaholic moved over to Blogspot a while later, and with that move, it became known as Big Flavors from a Tiny Kitchen.
The Big Flavors name has stuck, and since moving to its own domain, bigflavorstinykitchen.com several years ago, it's become a bigger part of my life than I could have ever imagined.
What started out as a creative outlet and a way of sharing what I was cooking with my friends and family has turned into a career that I absolutely love! I could talk about food 24/7, and this venue has been a great way for me to share that love with the world.
I've grown so much in the kitchen - I cook things now that I would have been terrified to try years ago. And I'm no longer scared of high-heat frying - I've pretty much retired the giant 16-inch long tongs that I used to use whenever I was afraid that the oil would splatter and burn me.
Thank you so much for all the support over the past 12 years. I've savored every tasty conversation, been thrilled to meet some of you in person, and have enjoyed helping people find their next favorite recipe more than words can say.
To celebrate 12 years, I dug through my Google Analytics and determined the all-time 12 most popular recipes here on Big Flavors. Some of my own favorites are on this list (hellooooo, fajitas and chickpea flatbreads!), and there were a few surprises here as well.
Let's dig in!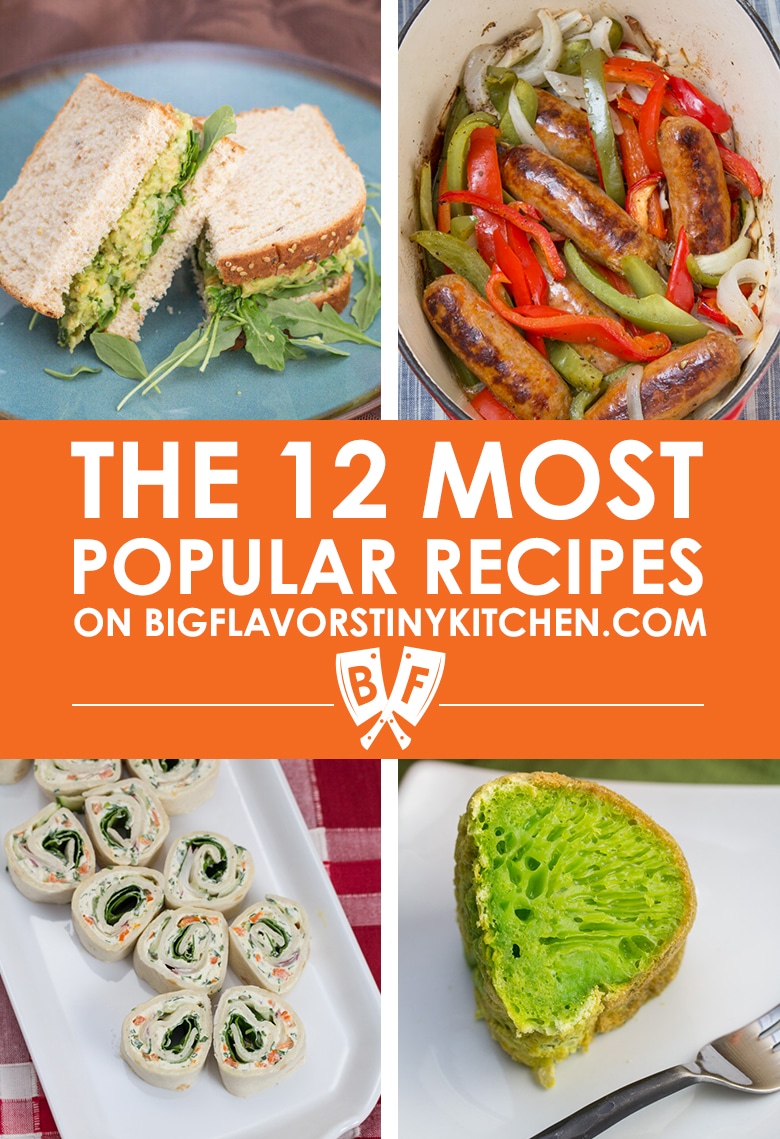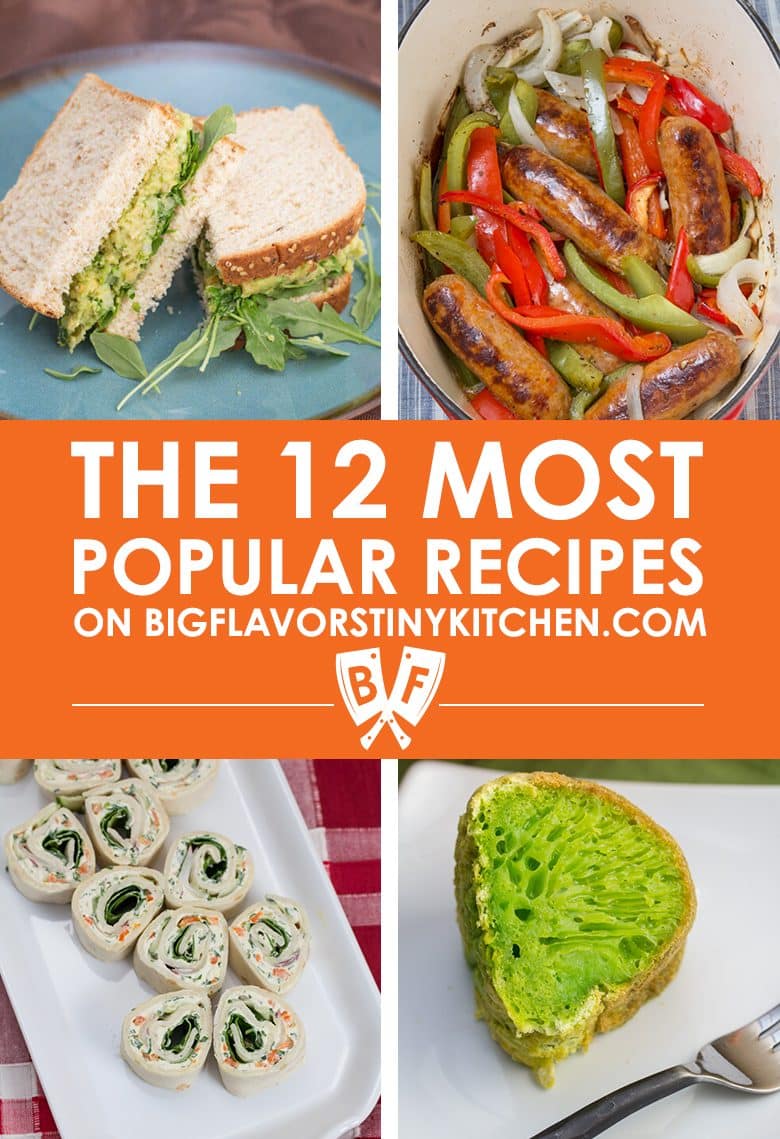 12. Veggie Cream Cheese Roll-ups - Eat the rainbow with these colorful, veggie-packed bites! Serve 'em up as a dinner party appetizer, or let them brighten up your lunch box.
11. Sausage and Peppers - This simple, classic Italian comfort food recipe makes a perfect weeknight meal and is easily scaled up to feed a crowd. Inspired by my Calabrese father-in-law!
10. Bánh Bò Nướng: Vietnamese Honeycomb Cake - Pandan extract gives this traditional Vietnamese cake a vibrant, green hue.
9. Smashed Chickpea & Avocado Salad Sandwich - This fresh, hearty, healthy vegan lunch option is guaranteed to please meat-eaters and vegetarians alike! It's a rich and creamy sandwich filling that you can feel good about eating!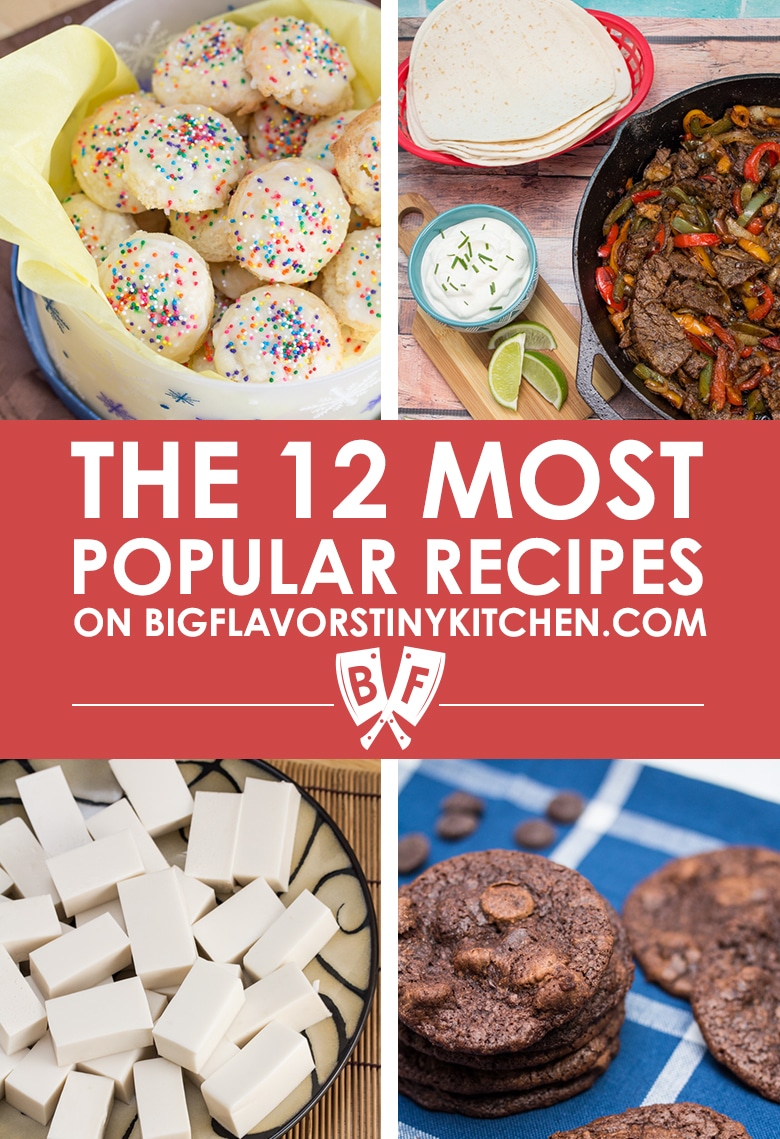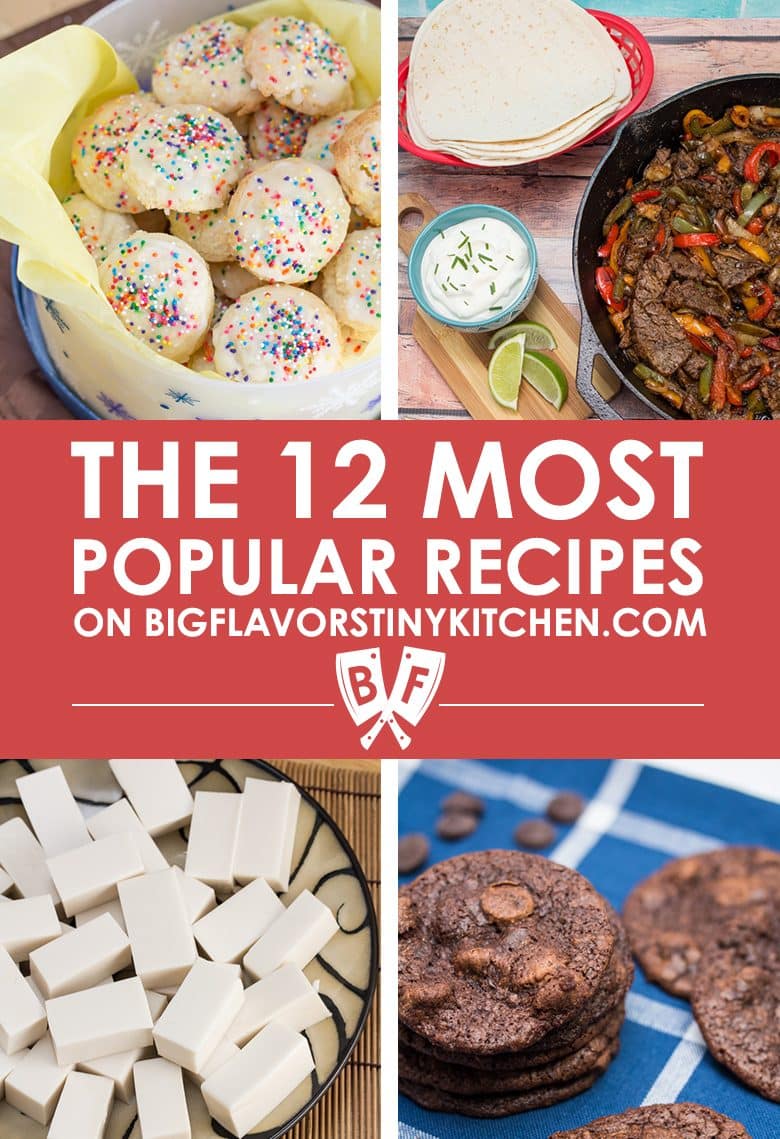 8. Coconut Jelly - A silky smooth, slightly sweet way to end any dim sum party! These luxuriously smooth treats take only 5 ingredients and 10 minutes on the stovetop, then just stash them in the fridge until party time!
7. Our Favorite Steak Fajitas - These tender steak fajitas are one of my family's very favorite meals – a perfect Tex-Mex dinner made in a single cast iron skillet.
6. Melt-in-Your-Mouth Buttermilk Chocolate Cookies - These supremely chocolatey cookies are a great way to use a partial container of buttermilk – guaranteed to satisfy even the strongest chocolate cravings.
5. Ricotta Cookies - This simple dessert recipe makes lots of pillowy soft, tender cookies that are sure to be a family favorite! Perfect for cookie exchanges & holiday parties.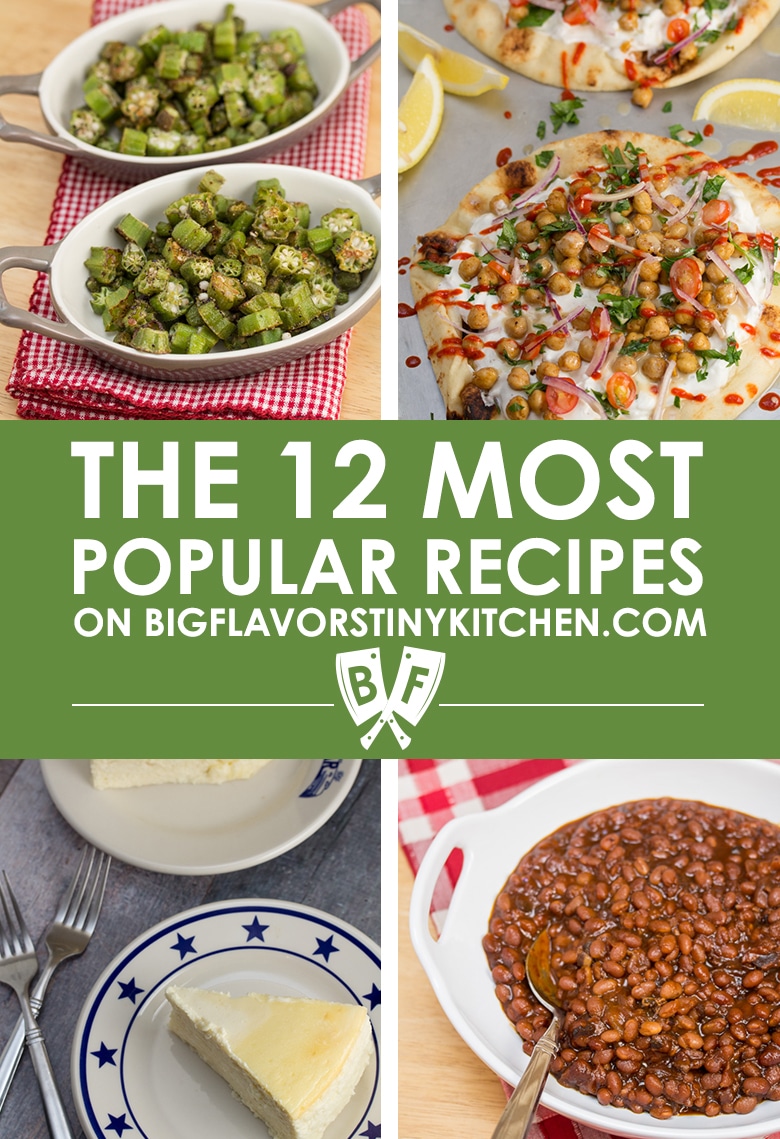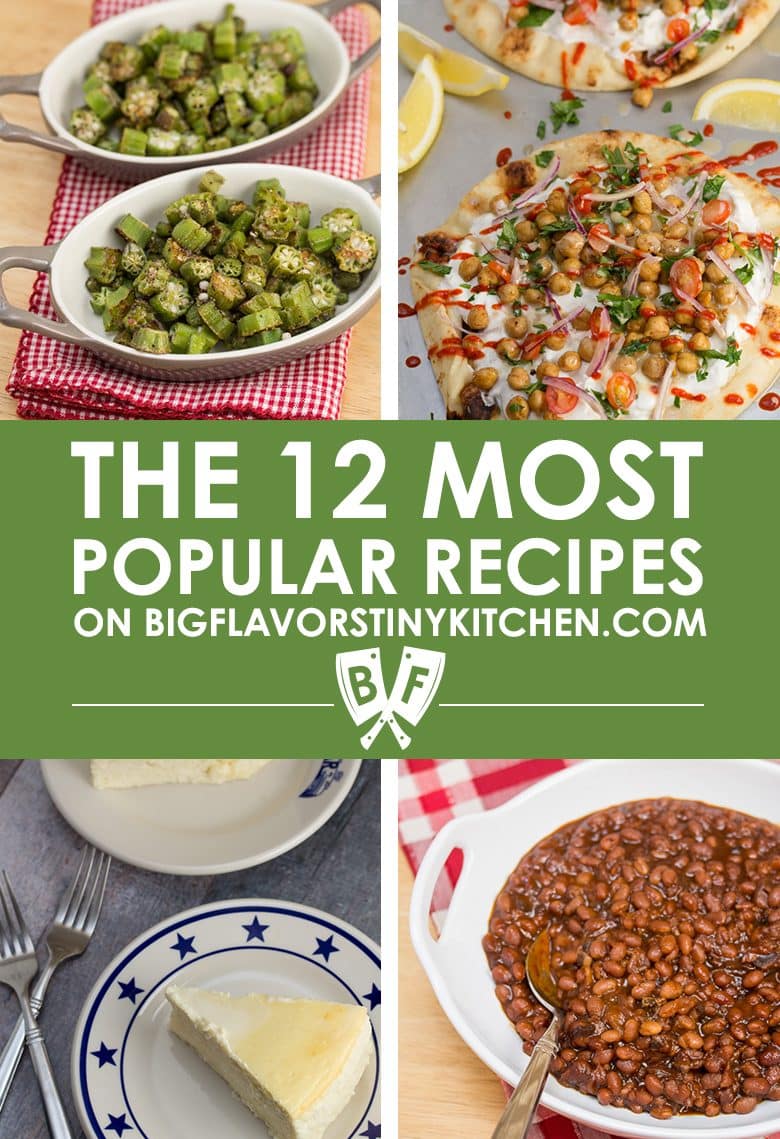 4. Instant Pot "Baked" Beans - Bacon and molasses take this sweet-and-salty side dish to the next level!
3. Falafel-Spiced Chickpea Flatbreads - Naan is covered in garlicky tzatziki sauce and covered with Middle Eastern-spiced chickpeas, tahini, fresh herbs and Sriracha in this street food/comfort food mashup.
2. Italian Cream Cheese and Ricotta Cheesecake - This super rich, creamy, tangy, no frills, crustless Italian-style cheesecake is easier than you'd think to prepare at home! It's always a HUGE hit with everyone at the table. Perfect for holiday desserts, dinner parties, and celebratory meals.
1. Roasted Okra - Just 3 pantry staples turn fresh okra into a deliciously golden, nutty side dish or snack. This roasted okra recipe is simple, quick, and delicious.
I was excited to see the okra recipe take the top slot here - I have a video in the works that will be posted on my new YouTube channel once it's ready to go! I'll also embed it into the recipe post when it's ready. I also have some updates in the works for the cheesecake post as well.
Looking for some of my personal favorites from the past 12 years? You can find all of my family's top-rated recipes here.
Thanks again for all the delicious memories! If you have any recipe requests for future posts, leave a comment below!