This post may contain affiliate links, which won't change your price but will share some commission.
Guys...I was >thisclose< to missing World Nutella Day!
It's been a super busy week, and I didn't realize what day it was until I picked my husband up from the train after work and was on my way home to heat up some leftovers for dinner.
I didn't have time to stop at the store or find a recipe ahead of time, so I just trusted that I'd be able to put something together with ingredients that I had on hand at home.
Let me tell you...these cookies are DANGEROUS. Oh man...they were SO good. Super easy to put together, and I normally have all of the ingredients at home.
The addition of peanut butter makes them extra rich and delicious. I had just enough Nutella at home to make these, so now I have to go buy another vat!
I will definitely be making these beauties again. YUM!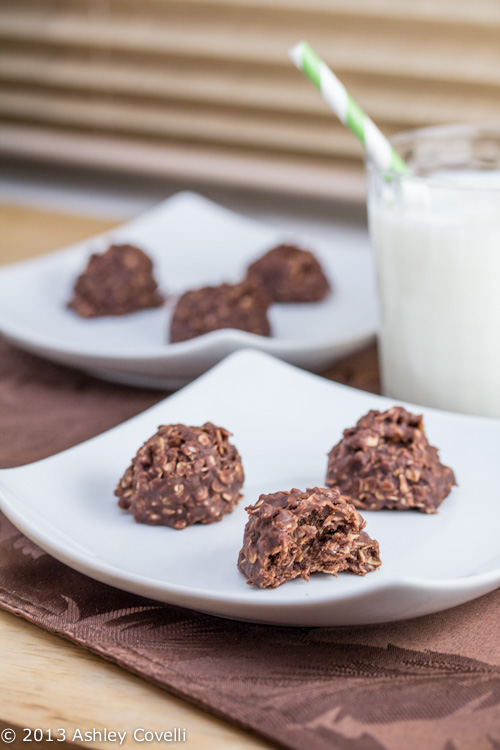 Nutella No Bake Cookies
The Vintage Mixer
Makes 2 dozen
3 tablespoons butter
½ cup granulated sugar
¼ cup milk
1 tablespoon unsweetened cocoa powder
¼ cup peanut butter
¾ cup Nutella hazelnut spread
2 cups rolled oats*
In a medium to large saucepan, melt the butter over medium to medium-low heat. Add the sugar, milk, and cocoa powder and mix until combined. Stir in the peanut butter and Nutella until melted, followed by the oats. Remove from stove. Continue mixing until all of the ingredients are incorporated.
Working quickly, use a small ice cream scoop to shape balls of dough and place them on a parchment-lined sheet pan. Refrigerate for thirty minutes until firm. Store in an airtight container.
*Optional: use Gluten Free
Big Flavors Rating: 5 Stars
Check out Ms Adventures in Italy, Bleeding Espresso, and World Nutella Day for more Nutella fun!