This post may contain affiliate links, which won't change your price but will share some commission.
This herby, luxurious soup is great on a cold night, which, unfortunately we are still experiencing here on the East Coast in mid-April. Eew.
A mix of mushrooms, onions, garlic and fresh herbs roast in the oven while the soup starts to simmer. Puréed beans thicken this soup and make it feel decadent without the addition of any cream or butter, which is wonderful, especially if you live with someone who is lactose intolerant. And it's healthier, too!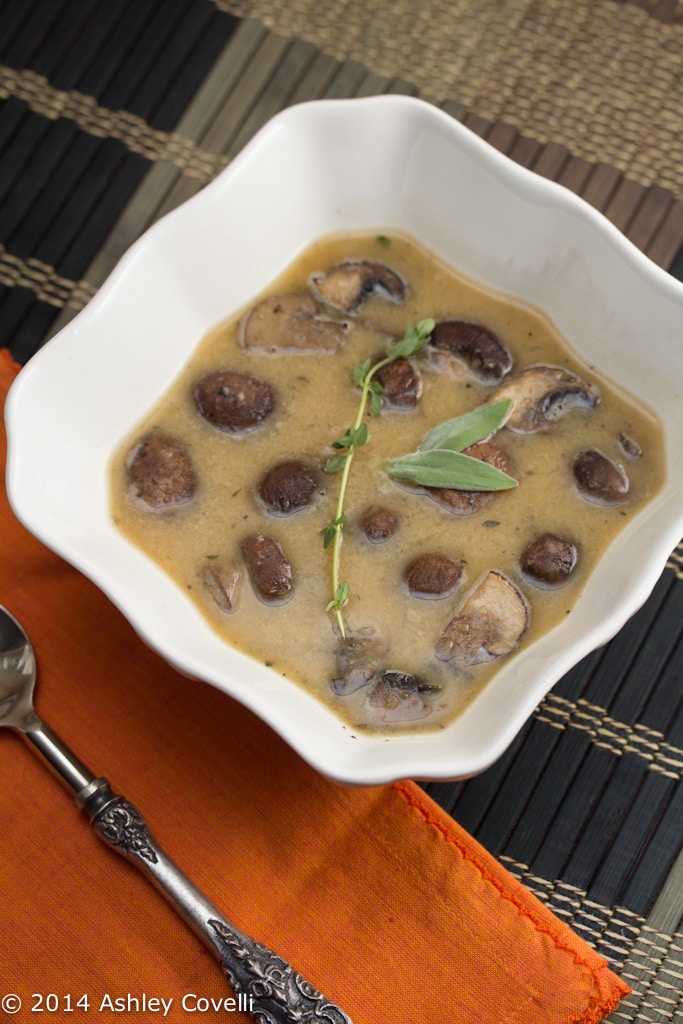 White Bean and Roasted Mushroom Soup
She Wears Many Hats - Amy Johnson
A satisfying soup, that uses a healthy pureed white bean and broth base instead of cream, so it can be enjoyed often, guilt-free.
Makes about 8 servings.
16 oz. mushrooms, halved or quartered
2 large sweet onions, quartered
3 garlic cloves, slightly crushed
1-2 tablespoons olive oil
1½ teaspoon salt, divided
1½ teaspoon pepper, divided
8-10 fresh sage leaves*
8-10 stems + 1 tablespoon leaves fresh thyme*, divided
48 oz. chicken broth (vegetable broth can be substituted for a vegetarian version)
3 – 15 oz. cans white beans, not drained (I prefer cannellini beans)
Additional salt and pepper for seasoning
Preheat oven to 450°F.
Toss mushrooms, garlic and onion in olive oil, 1 teaspoon salt, and 1 teaspoon pepper. (You may want to keep mushrooms separate on baking sheet for roasting, because you'll have to separate later. So, separate now, or later.) Spread on baking sheet. Add sage leaves and stems of thyme. Roast in 450° F oven for 10 minutes, toss and roast for additional 15 minutes.
While vegetables are roasting, add broth, beans, ½ teaspoon salt, ½ teaspoon pepper, and 1 tablespoon fresh thyme leaves to a large stock pot over medium heat and simmer.
When vegetables are done roasting, let cool slightly. Separate mushrooms from other roasted vegetables (if not already separated).
Retrieve 2 cups of the white beans, and 1 cup of broth from the stock pot, add to a blender along with the roasted onions, garlic and herbs. Cover and blend until smooth.
Add pureed bean mixture back to stock pot, whisking in until smooth. Add roasted mushrooms to soup. Salt and pepper to taste.
Warm over low heat until ready to serve.?*Dried herbs may be substituted for fresh. The rule of thumb is one part dried, to three parts fresh.
Big Flavors Rating: 4 Stars