This post may contain affiliate links, which won't change your price but will share some commission.
I had intended to make mushroom tacos a few weeks ago, but didn't have everything I needed on hand. So I thought burrito bowls would be fun. That's what I thought these were going to be back when I made them a whole month ago. Yeah... things have been hectic and I just now got around to typing this recipe up.
Long story short, Dino basically forbade me to call these burrito bowls because they didn't meet enough of his burrito criteria. He has eaten more burritos than me, so I gave up and it took me quite some time to figure out just what to call these beauties.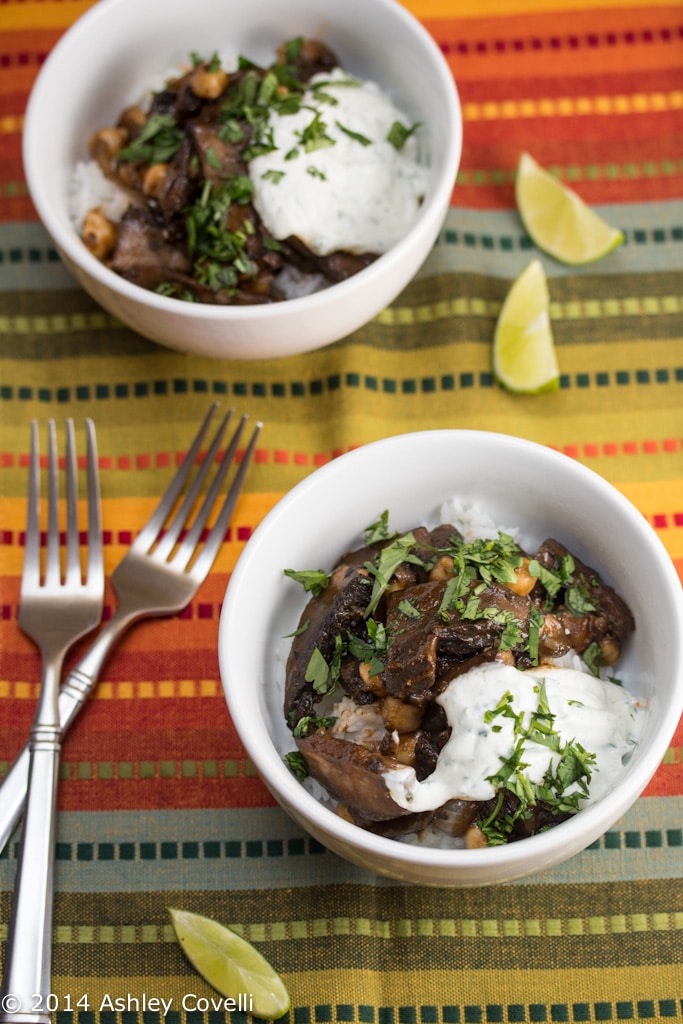 The flavor is really great here - nice and rich, meaty mushrooms and chickpeas are satisfying, even for the most serious meat-eaters. Well, maybe not Ron Swanson, but other than that...
The tomato sauce and spices from the marinade glaze the veggies really nicely, and the cooling yogurt sauce on top adds a great contrast to the rest of the dish. I served this over jasmine rice, but it would be great over quinoa, as a taco filling or even on top of a salad.
So, even though it's not a burrito of any sort, it certainly was delicious, and apparently unlike anything either of us have eaten before. And we've eaten all sorts of interesting things, so that's saying something!
Tomato-Glazed Portobello and Chickpeas with Cilantro-Lime Yogurt Sauce
Big Flavors from a Tiny Kitchen - Ashley Covelli
Serves 4
4 large portobello mushroom caps, halved then cut into ¼-inch thick slices
3 cloves garlic, minced
2 teaspoons dried oregano
2 tablespoons red wine vinegar
4 tablespoons extra-virgin olive oil
Kosher salt and freshly cracked black pepper, to taste
2 tablespoons vegetable oil
1 small yellow onion, diced
1 (15.5-ounce) can chickpeas, rinsed and drained
1 (8-ounce) can no salt added tomato sauce
For Cilantro-Lime Yogurt Sauce:
½ cup plain Greek yogurt (I used Stonyfield 0% Fat)
1 lime, zested, plus 1 tablespoon juice
1 tablespoon cilantro, finely chopped
Kosher salt and freshly ground black pepper, to taste
Steamed jasmine rice, lime wedges and chopped cilantro, for serving
Place mushrooms, garlic, oregano, vinegar, olive oil, salt and pepper in a large bowl or freezer bag and toss to coat. Close and refrigerate for 2 hours.
Meanwhile, mix ingredients for sauce together in a small bowl and refrigerate until ready to serve.
In a large Dutch oven (preferably cast iron), heat vegetable oil over moderate heat. Add the mushrooms and onion and cook, stirring occasionally, until tender. Add chickpeas and tomato sauce and stir to combine. Continue cooking until the chickpeas are heated through and the tomato sauce has reduced down a bit to just glaze everything. Taste for seasoning and adjust with more salt and pepper if desired.
Serve mushrooms and chickpeas over steamed rice, top with a dollop of yogurt sauce and garnish with cilantro. Squeeze a lime wedge over each serving for extra tanginess, if desired.
Big Flavors Rating: 4 Stars