This post may contain affiliate links, which won't change your price but will share some commission.
I've had this cookbook for a long time and I think this is the first dish I've made from it. The pork was really tender and the sauce was just like sweet and sour sauces that we've had out at restaurants. The only change I made was to add a little oil to the pan, because the pork was sticking. This is an easy and healthy alternative to ordering take-out!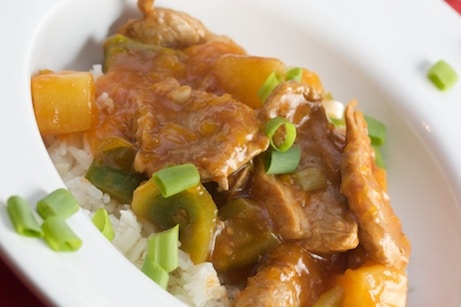 Sweet-and-Sour Pork
The New Holly Clegg Trim & Terrific Cookbook
Makes 6 servings
1 ½ pounds lean boneless pork tenderloin, trimmed of fat, sliced into thin slices
1 (8-ounce) can tomato sauce
¼ cup rice wine vinegar
2 tablespoons light brown sugar
1 tablespoon low-sodium soy sauce
¼ teaspoon minced garlic
⅛ teaspoon cayenne pepper
1 (20-ounce) can pineapple chunks with juice
1 green bell pepper, seeded and cut into 1-inch pieces
½ cup chopped green onions (scallions)
1 (11-ounce) can mandarin orange segments, drained
2 tablespoons cornstarch
3 cups cooked rice
In a non-stick skillet, cook the pork over medium-high heat for 3 to 5 minutes, or until browned, stirring frequently. Add the tomato sauce, vinegar, brown sugar, soy sauce, garlic and cayenne pepper, and bring to a boil. Cover, reduce the heat, and simmer for 10 minutes, or until the pork is tender.
Drain the pineapple, reserving the juice. To the pork mixture, add the pineapple, green pepper, green onion, and mandarin oranges; cover and simmer 5 minutes longer, or until the vegetables are crisp-tender.
Combine the cornstarch with the reserved pineapple juice, and stir into the pork mixture. Cook, stirring constantly, until thickened and boiling. To serve, spoon the pork mixture over the rice.
Nutritional information per serving:
Calories 366, Protein (g) 27, Carbohydrate (g) 52, Fat (g) 4, Calories from fat (%) 11, Saturated Fat (g) 1, Dietary Fiber (g) 2, Cholesterol (mg) 67, Sodium (mg) 339, Diabetic Exchanges: 3 lean meat, 1.5 starch, 1.5 fruit, 1 vegetable
MacGourmet Rating: 4 Stars