This post may contain affiliate links, which won't change your price but will share some commission.
This is the pizza that Dino made for our supper club - spicy and delicious! This doesn't make a super pretty pizza, but a little freshly chopped green onion on the top fixed that right up!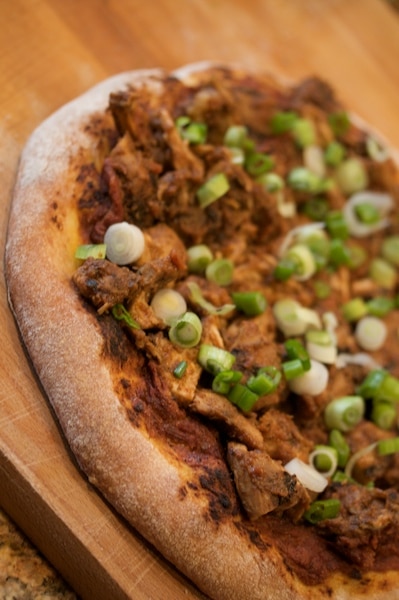 Jerk Chicken Spice Blend
Adapted from Suite101.com
1 Tbl. ground allspice
1 Tbl. ground thyme
1 ½ tsp. cayenne pepper
1 ½ tsp. ground black pepper
1 ½ tsp. ground sage
¾ tsp. ground nutmeg
¾ tsp. ground cinnamon
¾ tsp. minced ginger
2 Tbls. fresh garlic (crushed)
1 Tbls. brown sugar or molasses
¼ C. Soy sauce
¼ C. dark rum (optional, but encouraged)
¾ C. white vinegar
½ C. orange juice
Juice of 1 lime
2 Scotch bonnet peppers (I used 1 seeded jalapeno and 1 seeded cherry pepper)
3 green onions, diced
1 C. white onion, diced
1. Put all the ingredients in a blender and whiz until smooth.
2. Place chicken in a large freezer bag and pour in spice blend. Place in a bowl to make sure there isn't any leakage and refrigerate for at least 4 hours, but up to a day is preferable.
3. Preheat oven to 350 degrees or grill. If using an oven, place chicken skin side up on a roasting pan and roast until cooked through (about 45 minutes) flipping once halfway through the process. If using a grill, place chicken skin-side down and grill until skin becomes crisp. Flip and finishing cooking thoroughly. Don't be afraid to blacken the chicken with this recipe.
Notes
I split the marinade into two parts- one half was used to marinate the chicken overnight. I took the other half and added a small can of tomato paste to make a pizza sauce to spread on the dough. If I were to ever try this again I would probably leave out the tomato paste as it seemed to add more acidity to the jerk sauce which was already quite acidic from the vinegar, orange juice and peppers.