This post may contain affiliate links, which won't change your price but will share some commission.
It's been so hot outside lately, and I thought gazpacho would be a great idea to go with dinner. This is a really interesting take on gazpacho - the strawberries really make it different. This was cool and refreshing, and surprisingly a little spicy from the raw garlic. This is a great way to use up fruits and veggies during the summer.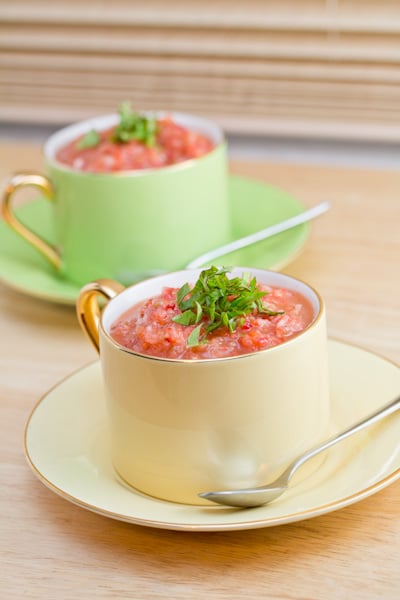 Strawberry Gazpacho "Amuse Bouche"
Ithica Farmers Market Cookbook: Local Folks, Local Foods, Farm-to-Table Recipes – Michael Turback
Makes 12-14 hors d'oeuvres
1 red bell pepper, seeded and chopped
½ green bell pepper, seeded and chopped
2 cucumbers, peeled, seeded and chopped
2 cloves garlic, peeled and minced
1 tomato peeled, seeded, and chopped (save the juice)
3 tablespoons red wine vinegar
2 table spoons extra-virgin olive oil
1 ½ pounds strawberries, hulled and coarsely chopped
Salt and pepper, to taste
Fresh basil leaves, finely chopped, for garnish
1. In a large bowl, combine the peppers, cucumbers, garlic and tomatoes with the vinegar, and olive oil. Cover and chill in refrigerator for several hours.
2. Transfer mixture to a food processor, and pulse until finely chopped. Add the strawberries, and pulse to combine. Season with salt and pepper.
3. To serve, spoon the soup into individual chilled espresso cups or small glasses on saucers, and sprinkle each serving with the basil.
Big Flavors Rating: 4 Stars