This post may contain affiliate links, which won't change your price but will share some commission.
Tender chicken thighs are basted with a sweet-and-spicy glaze and served over noodles for a fiery bowl of comfort food.
This was a super simple meal to put together, and it was a big hit at the dinner table. I used some homemade chicken stock which made it even tastier! It's a nice, quick weeknight meal that we'll definitely enjoy again.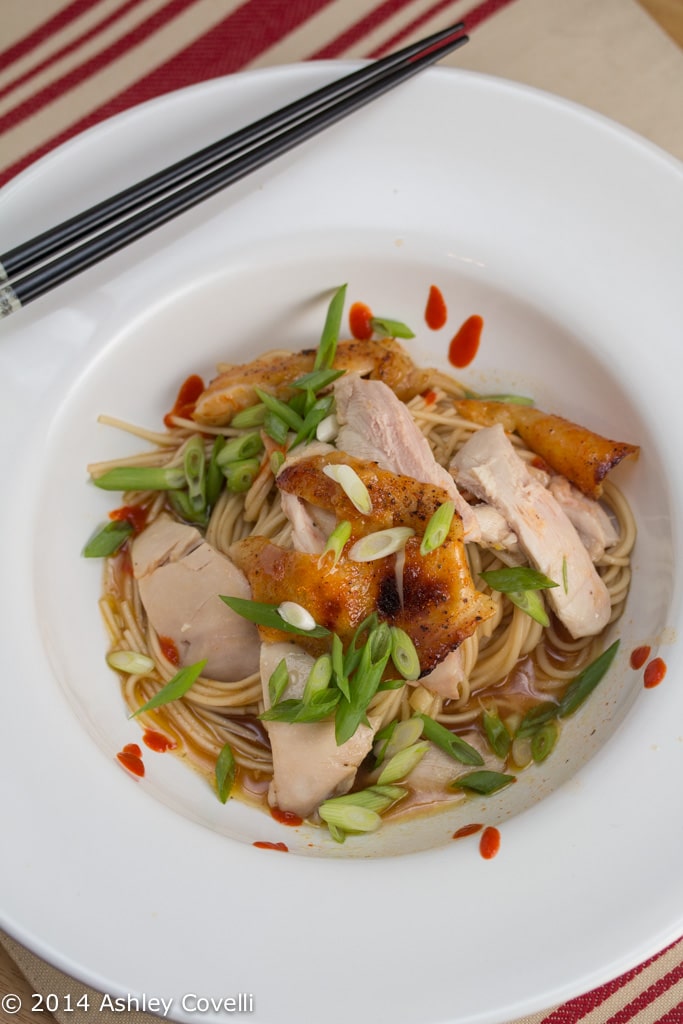 One note: the dried Chinese noodles are literally a package of noodles that say, "Chinese noodles". I'm sure you could substitute soba or spaghetti or rice noodles if you want. I wasn't aware that any were just called Chinese noodles until I saw them over by the Asian condiments at the grocery store. We really enjoyed the texture of them!
Sriracha Chicken Noodle Bowls
Rachael Ray
Makes: 4 servings
Prep: 10 mins
Cook: 30 mins
3 tablespoons fresh orange juice (from 1 small orange)
2 tablespoons honey
2 tablespoons sriracha, plus more for drizzling
4 bone-in, skin-on chicken thighs (about 1 ½ lbs.)
3 tablespoons EVOO
3 cloves garlic, minced
2 ¾ cups chicken or vegetable broth
1 10 ounce package dried Chinese noodles
2 teaspoons soy sauce
3 scallions, thinly sliced on an angle
Preheat the oven to 425 degrees . In a small bowl, whisk the orange juice, honey and 1 tbsp. sriracha for the glaze. Season the chicken with salt and pepper and place, skin side up, on a rack set over a foil-lined baking sheet. Bake, brushing with glaze every 5 minutes, until juices run clear when pierced with a knife, about 30 minutes.
Meanwhile, in a large skillet, heat the EVOO over medium. Add the garlic and stir until fragrant, about 3 minutes. Stir in the stock, noodles, soy sauce and remaining 1 tbsp. sriracha; bring to a boil. Reduce the heat to medium; cook until the noodles soften, about 5 minutes.
Cut the meat from the bones, then thinly slice. Divide the noodles among bowls and drizzle with sriracha. Top with the sliced chicken and scallions.
Big Flavors Rating: 4 Stars