This post may contain affiliate links, which won't change your price but will share some commission.
When I came across this soup recipe, I knew I needed to try it. I love hominy but have never used it with Mexican flavors. That plus the addition of shrimp and chipotle peppers really caught my attention.
The soup is fairly easy to put together. And you can make it ahead of time and just bring it back up to a simmer and add the shrimp for a few minutes right before serving it.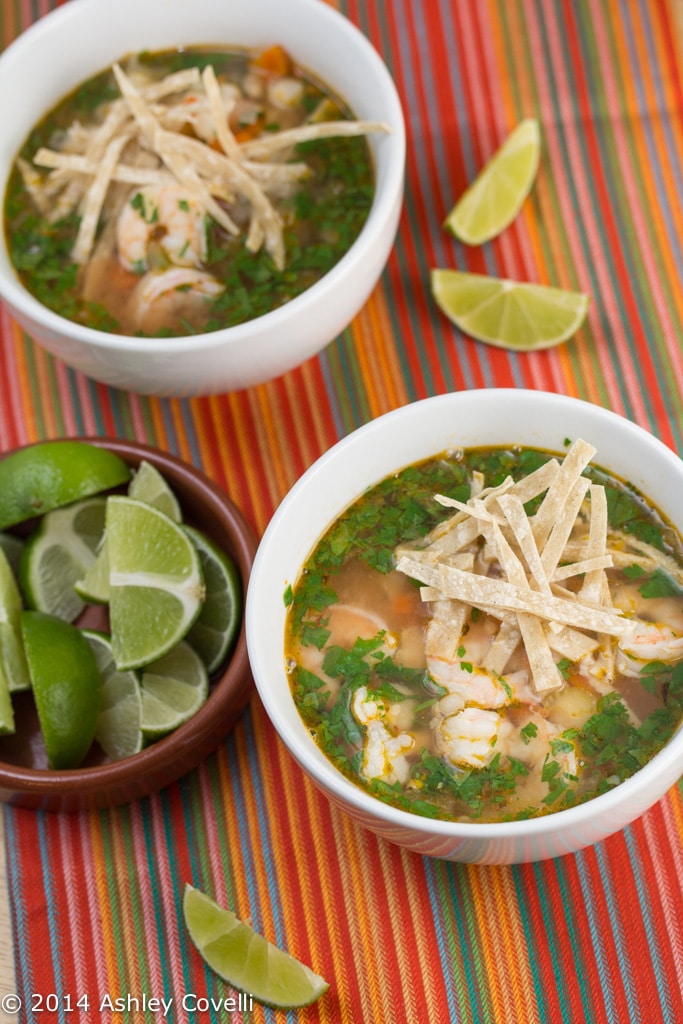 This soup is light and refreshing, yet it packs a spicy punch! I liked the idea of adding tortilla strips to the top of the soup, but mine were so crunchy - almost stale in texture. Maybe I let them dry for too long? I'm not quite sure. Next time, I'd probably leave them off.
Smoky Shrimp, Hominy and Tortilla Soup
Bon Appétit November 2000
Makes 10 servings
4 5-inch-diameter corn tortillas, halved, cut into thin strips
2 tablespoons olive oil
1 cup finely chopped onion
1 cup finely chopped carrot
½ cup finely chopped celery
6 garlic cloves, minced
½ teaspoon dried oregano
7 cups canned low-salt chicken broth
2 15-ounce cans golden hominy, drained
⅓ cup canned crushed tomatoes with added purée
2 teaspoons chopped canned chipotle chilies*
1 pound uncooked small shrimp, peeled, deveined
½ cup chopped fresh cilantro
Lime wedges
Spread corn tortilla strips in single layer on paper towel. Let tortilla strips stand at room temperature overnight to dry.
Heat olive oil in heavy large pot over medium heat. Add chopped onion, chopped carrot, chopped celery, minced garlic and dried oregano. Sauté until vegetables are crisp-tender, about 10 minutes. Add chicken broth, golden hominy, crushed tomatoes and chipotle chilies; bring to simmer. Reduce heat, cover and simmer 30 minutes. Season to taste with salt and pepper. (Soup can be prepared 3 days ahead. Cool slightly. Refrigerate soup uncovered until cold, then cover soup and refrigerate.)
Bring soup to simmer over medium heat. Add shrimp and cook until opaque in center, stirring occasionally, about 3 minutes. Stir in chopped fresh cilantro. Divide soup among 10 soup bowls. Top soup with dried tortilla strips, dividing equally. Serve soup, passing lime wedges separately.
*Chipotle chilies canned in a spicy tomato sauce, sometimes called adobo, are available at Latin American markets, specialty foods stores and some supermarkets
Big Flavors Rating: 4 Stars