This post may contain affiliate links, which won't change your price but will share some commission.
I don't use dried beans often enough. They're such a good bargain, and unlike canned beans, you can control the amount of sodium added. This meal was hearty enough to satisfy two omnivores, and the house smelled wonderful while dinner was cooking away all day. I used two 32-ounce containers of stock, which ended up being 8 cups instead of 10, and I think it was the perfect amount. This way, my slow cooker still had a little room at the top, and I didn't have to use a partial container. I waited until an hour before the beans were done to roast my potatoes, and made double (or maybe even triple) the amount of pickled onions, since we love onions with our black beans so much. The onions totally bring it all together. This proved to be a wonderful way to cook dried beans. They had tons of flavor from all of the spices, which I didn't completely expect. As a side note, my son was eating forkfuls of pickled onions out of the bowl. Weirdo. Ha!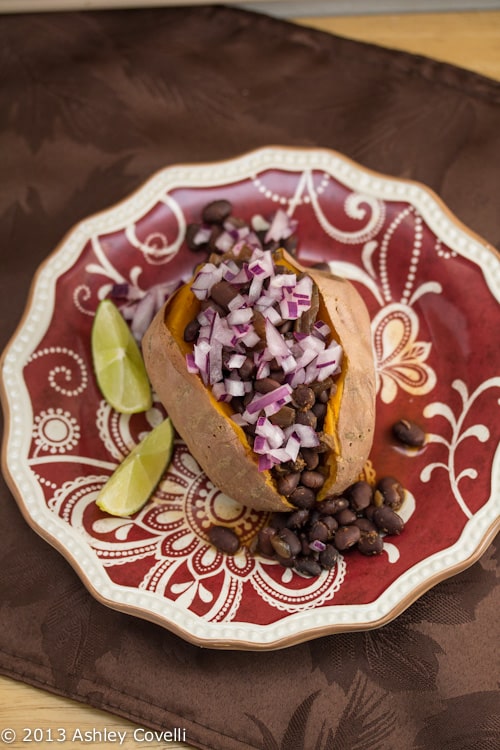 Slow Cooker Black Bean Ragout on Roasted Sweet Potatoes
Eats Well With Others (Adapted from The Smitten Kitchen Cookbook)

Yield: 6 servings
Serving Size: ⅙th of recipe
The ultimate set it and forget it meal, this slow cooker black bean ragout is hearty and delicious, especially served over roasted sweet potatoes!
For the bean ragout
1 large onion, finely chopped
3 garlic cloves, minced
1 tablespoon ground cumin
½ teaspoon dried oregano
2 teaspoon smoked paprika
1 lb dried black beans, soaked overnight
1 dried chile
2 tablespoon tomato paste
2 teaspoon salt
10 cups vegetable broth
1 tablespoon lime juice
4-6 sweet potatoes
For the lime-pickled red onions
2 tablespoon lime juice
¼ medium red onion, finely diced
salt
Heat oven to 400. Pierce sweet potatoes all over with a fork. Place on a parchment-lined baking sheet and roast until tender, 45-60 minutes.
Put the onion, garlic, cumin, oregano, paprika, black beans, chile, tomato paste, salt, and vegetable broth in a 6 quart slow cooker. Cover and cook on high for 6 hours.
To make the lime-pickled red onions, toss the red onion with the lime juice and a pinch of salt and let sit for 15 minutes.
Cut a slit in the center of the sweet potatoes and fill with the black beans. Garnish with lime-pickled red onions and serve.
Big Flavors Rating: 4 Stars