This post may contain affiliate links, which won't change your price but will share some commission.
This post was created in partnership with Stonyfield. As always, all opinions are 100% my own.
I was really excited to hear that Stonyfield teamed up with a bunch of my favorite brands for a Rock the Lunchbox campaign. They asked us to have our kids to draw their dream lunch, and then we needed to transform that dream into a (healthy) reality.
My two-year-old and I have been going on lots of outdoor adventures lately, and packing lunches to avoid the overpriced, less than healthy options that we sometimes come across has been key. And when he has his very own lunchbox, it feels even more special for him.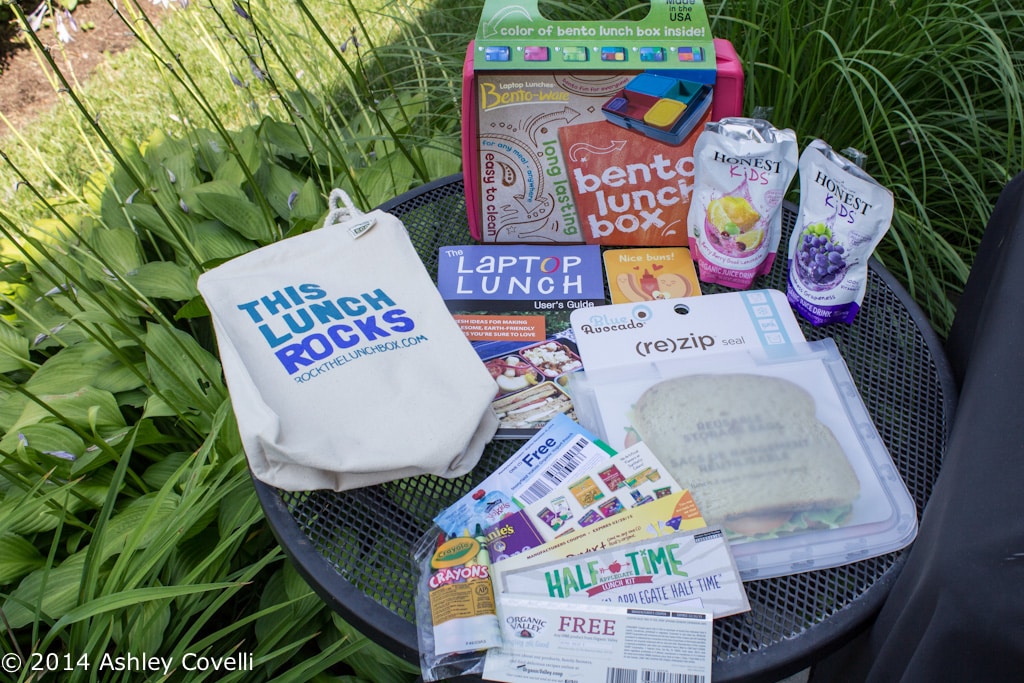 The assortment of goodies that arrived in my mailbox definitely rocked! I've had my eye on the Laptop Lunch site for quite some time so I was stoked when they sent over one of their Bento-ware lunch boxes.
There were also some really great (re)zip reusable storage bags from Blue Avocado which are the perfect thing to help people stop wasting plastic baggies (so many plastic baggies!). Some things just travel better in sandwich bags, and these ones are durable and eco friendly.
I've been a big fan of Honest Tea for years, and was thrilled to receive some of their Honest Kids juices for my son to try out. There was also a reusable lunch tote from Eco Bags as well as coupons for goodies from Stonyfield, Annie's, Rudi's, Applegate and Organic Valley to help inspire me to pack some healthy choices in my his new lunch box.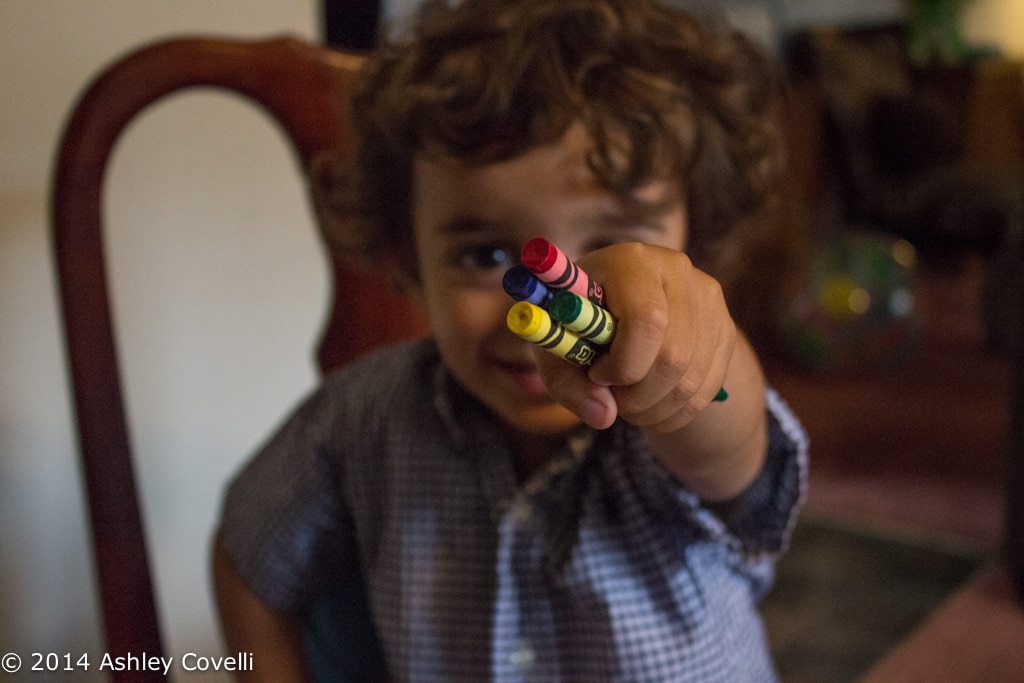 Ian was so excited to dive into his new pack of Crayola crayons - and he got right to work drawing up the lunch of his dreams.
When I asked him to draw his dream lunch, I figured I'd need to ask him to interpret his drawing for me (he is only 2, after all). What can I say, even in art school, analyzing abstract art was never my strong point.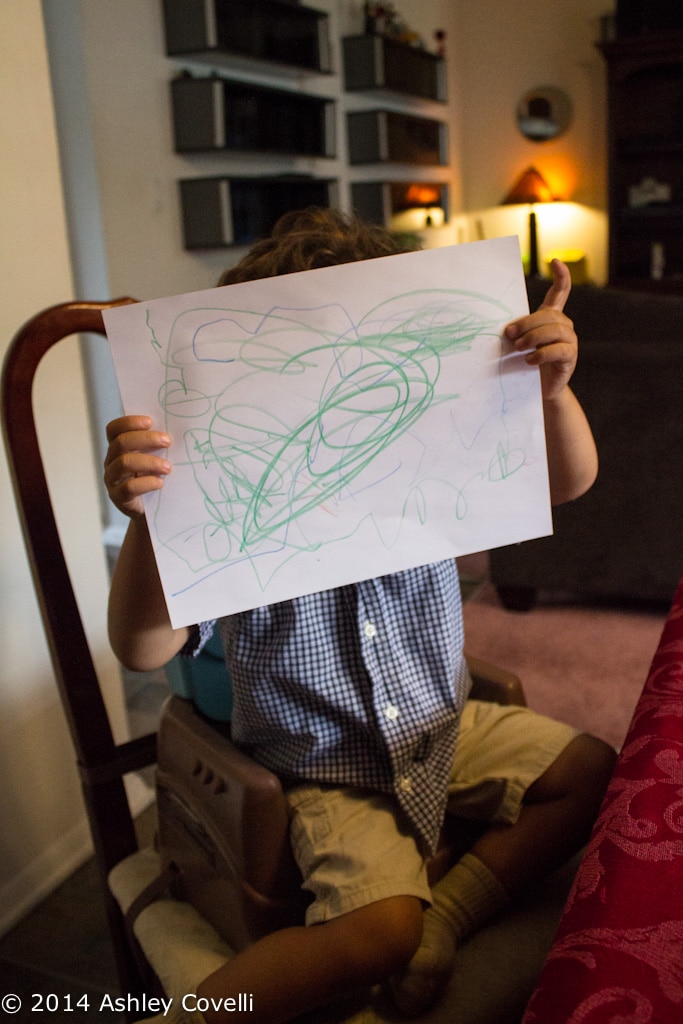 Blueberry muffins. All kinds of flavors. A really good muffin for the snake. A round muffin.
Yeah. Abstract is right! I decided not to take a trip to the pet store across the street to buy a snake to include in his lunchbox. I also determined that baking muffins in the middle of a heat wave didn't sound like a stellar idea either. But I did want to work with his ideas of blueberries, "all kids of flavors" and spirals/circles as a theme. I figure snakes are kind of spiral-y, and Ian loves spirals and things that look like wheels.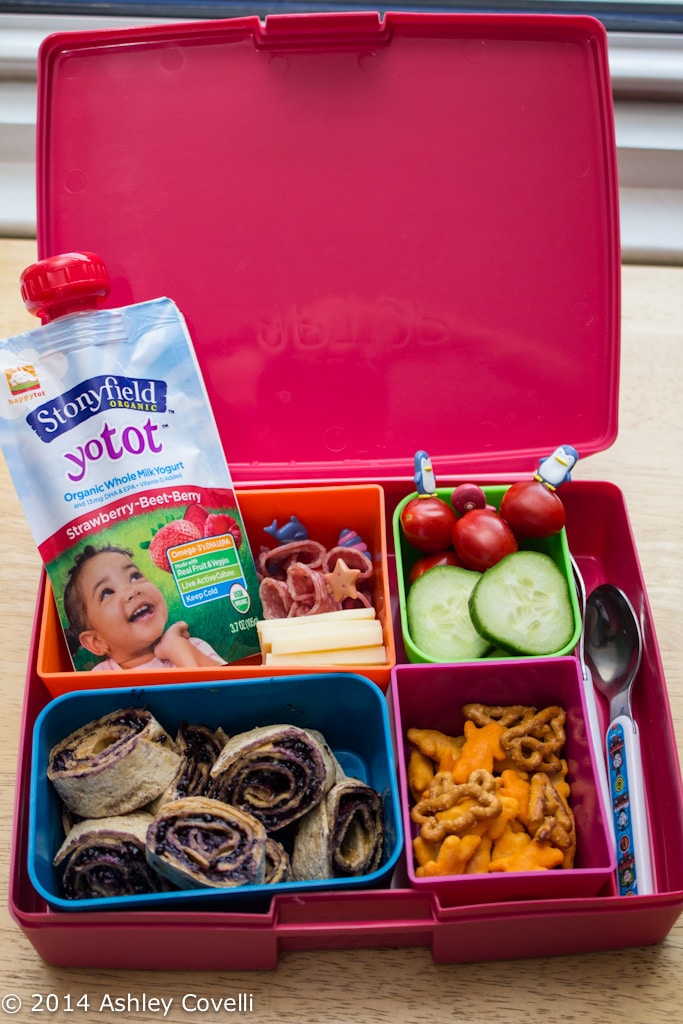 I decided that instead of blueberry muffins, I'd make a quick blueberry jam with chia seeds (recipe coming soon!) and make peanut butter & jelly spirals for him. I used a multigrain flatbread and cut it into several pieces. Sticking with the spiral theme, I rolled up a few pieces of Applegate Uncured Genoa Salami (a recent favorite in our lunches!) and skewered them with little animal picks that I picked up several years ago when I was on a bento lunch kick.
I also added some cucumber rounds, a few slices of cheddar cheese, skewered some grape tomatoes and poured in some of Annie's Cheddar Snack Mix. I gave him a Stonyfield YoTot Strawberry-Beet-Berry pouch so he'd have something nice and cold to go with everything, and lunch was ready to go!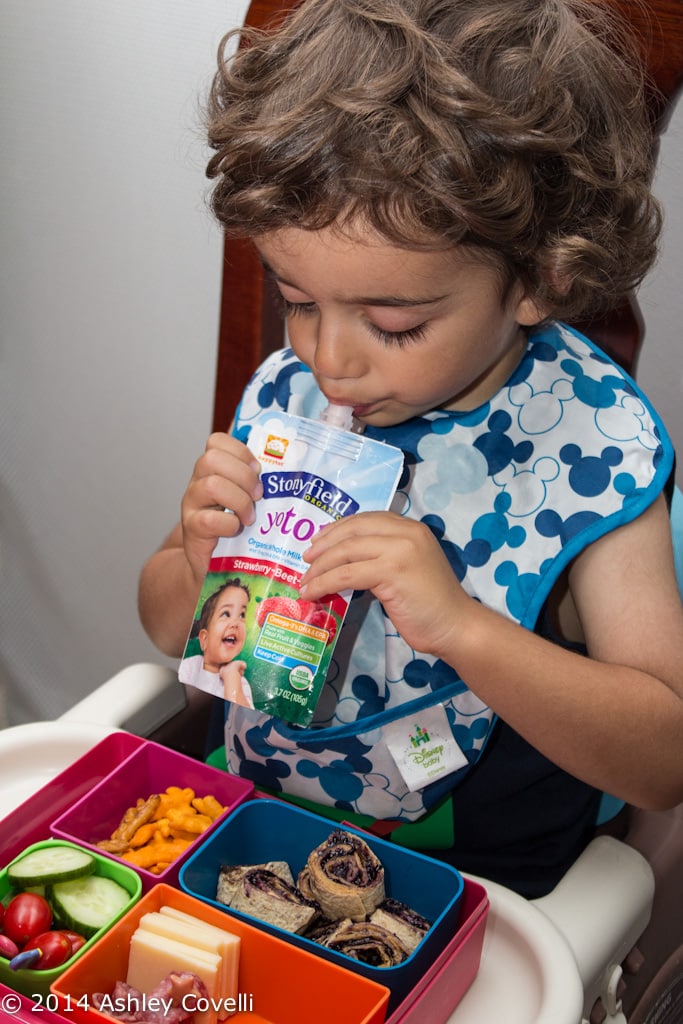 He was sooooo excited for his new lunchbox. He went right for the pouch and had a blast skewering the spirals with the food picks. I didn't even see him eat the tomatoes - they disappeared so quickly! And he loved picking out the little bunnies and pretzels in the snack mix to eat them one by one.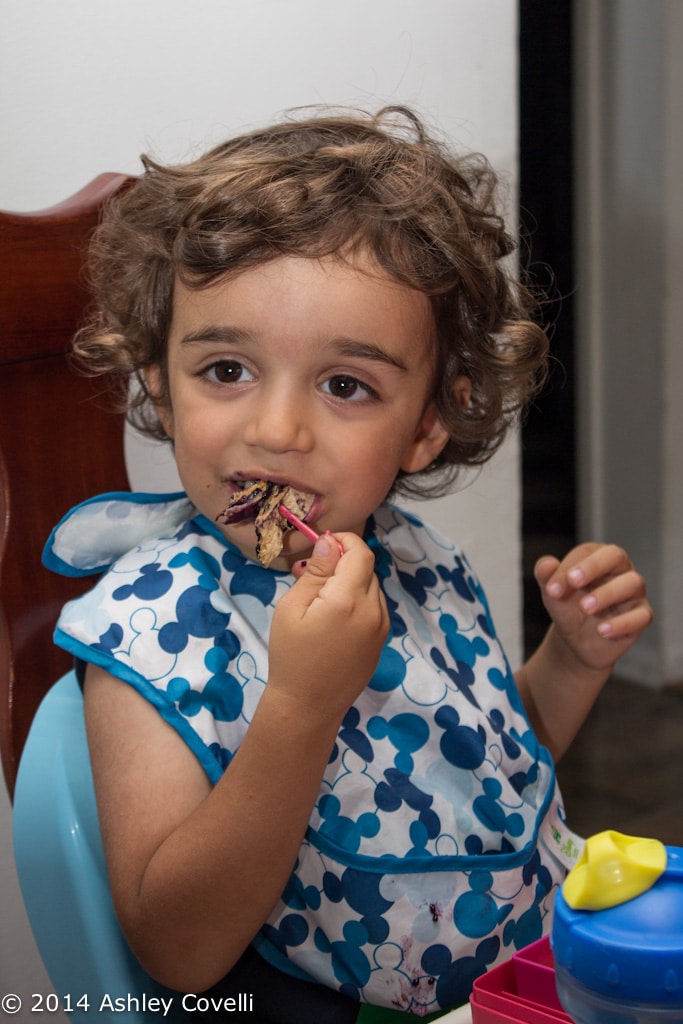 I knew this would be a lot of food for him for one lunch, so when he was full, I just snapped the lid back on and popped it in the fridge for him to finish the next day. As a bonus - he loves the alphabet and he was so happy to keep closing the lid to spell out L-A-P-T-O-P-L-U-N-C-H-E-S. Adorable!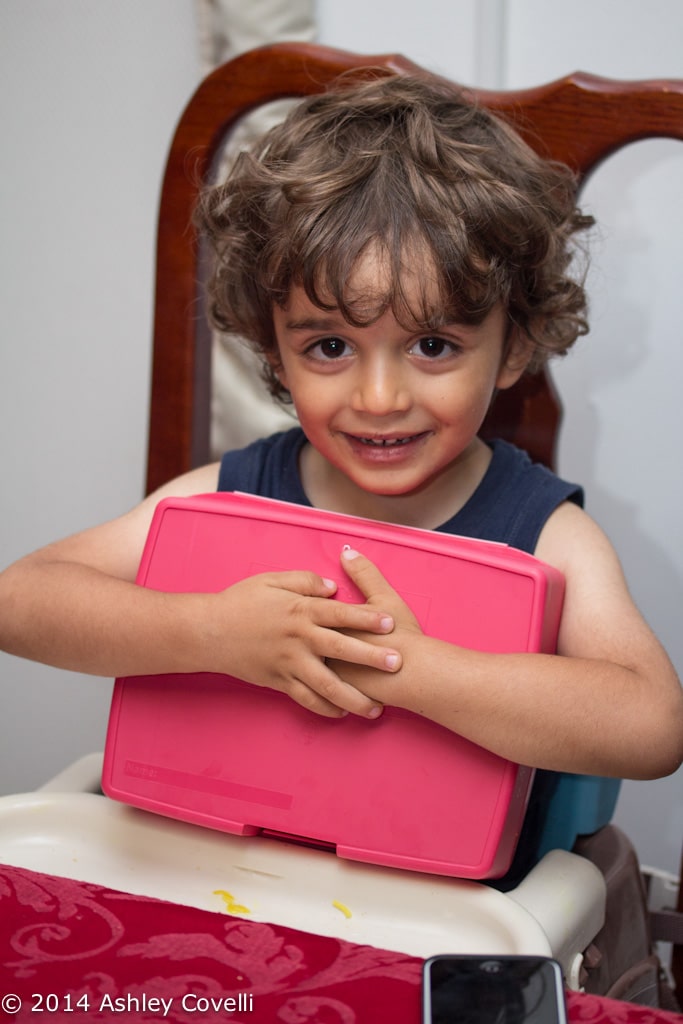 After he was done eating, I looked over and he was hugging the lunch box. Just hugging it and smiling from ear to ear. It totally melted my heart. I think I made his dream lunch a reality!
And now, for the giveaway! Do you want to win the same fantastic Rock the Lunchbox assortment for yourself or your little one? To enter to win, leave a comment below telling me your favorite healthy lunch item. The contest will close on Friday, August 15, 2014 at 12 noon (Eastern Standard Time). Winner will be chosen via random.org and will be contacted via email to get mailing information. U.S. residents only. Good luck, everyone!
UPDATE – The winner has been selected via random.org – CONGRATS to Ellyn!