This post may contain affiliate links, which won't change your price but will share some commission.
I saw this over on Joanne's blog last week and knew that I wanted to make it. What a wonderful combination of flavors! I had to check a few different stores before I was able to track down red lentils, but now I know where to get them. This was really fragrant and comforting to eat. I served it over basmati and seasoned it with a decent amount of kosher salt and freshly cracked black pepper, as well as a few extra squeezes of lime juice at the end. Yum!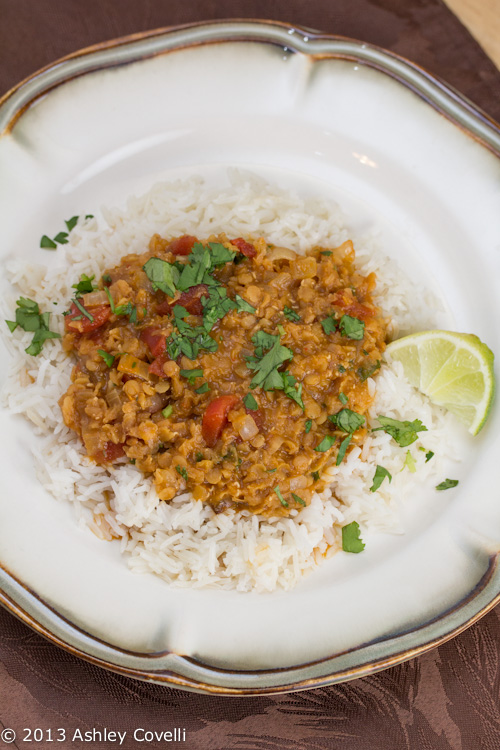 Red Lentil Dal with Charred Onions
Eats Well With Others (adapted from Cooking Light: The New Way to Cook Light)
Serves 4
Ingredients
1 tablespoon olive oil, divided
1 medium onion, cut into ¼-inch thick slices
1 teaspoon mustard seeds
½ teaspoon coriander seeds
½ teaspoon cumin seeds
¼ teaspoon ground cinnamon
⅛ teaspoon ground cardamom
1 small dried hot red chile pepper
1 tablespoon minced fresh ginger
1 garlic clove, minced
4 cups vegetable broth
1 cup dried red lentils
14 oz canned diced tomatoes
¼ cup chopped fresh cilantro
1 tablespoon fresh lime juice
Heat a large heavy skillet over medium-high heat. Add 1 teaspoon oil to the pan and swirl it to coat. Add onion to the pan and cook for 2 minutes or until charred. Carefully turn over the onion and cook 4 minutes. Remove from the heat. Coarsely chop and set aside.
Combine the mustard seeds, coriander seeds, and cumin seeds in a small skillet over medium heat. Cook for 1 ½ minutes or until fragrant, stirring frequently. Remove from the heat. Place these seeds, cinnamon, cardamom, and the chile in a spice or coffee grinder and pulse until ground.
Heat a medium pot over medium-high heat. Add remaining 2 teaspoon oil to the pan and swirl to coat. Add the ginger and garlic to the pot and saute 1 minute. Stir in the spice mixture and saute 1 minute, stirring constantly.
Add the broth, lentils, and tomatoes to the pan. Bring to a boil. Cover and reduce heat to simmer for 30 minutes, stirring occasionally. Uncover and add onion. Cook 10 minutes more. Stir in the cilantro and lime juice.
Big Flavors Rating: 4 Stars