This post may contain affiliate links, which won't change your price but will share some commission.
Ever since I made sweetened cashew cream a while back, I knew it would be possible to make a luxurious cream-free spin on Alfredo sauce. This was very good news for my lactose-intolerant husband!
This was a big hit at the dinner table. It's hard to believe that a "cream" sauce this rich is totally dairy-free!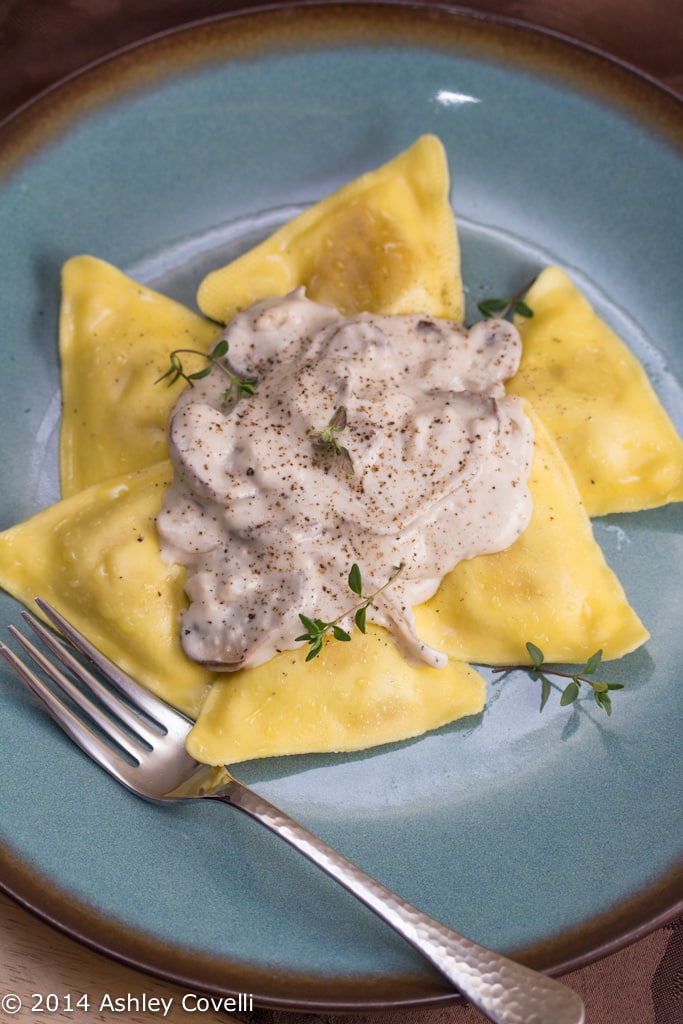 I actually made a different version of this recipe with spinach and cheese ravioli over a month ago, but didn't take good enough notes in the kitchen to write up the recipe. So here is the new and improved version!
This time around, I served it with some butternut squash triangoli. We preferred this sauce with the spinach filling, since the squash added more sweetness to the already slightly sweet cashews. It would be great over fettuccine as an "Alfredo" as well. Yum!
Mushroom and Thyme Cashew Cream Sauce
Big Flavors from a Tiny Kitchen - Ashley Covelli
1 cup raw cashews
2 cups water (plus more for soaking cashews)
2 tablespoons extra-virgin olive oil
10 ounces cremini mushrooms, halved and sliced
1 shallot, halved and sliced
2 cloves garlic, minced
1 teaspoon fresh thyme leaves, chopped (measure after chopping, start out with about twice as many leaves)
½ teaspoon kosher salt
¼ teaspoon freshly cracked black pepper
Fresh thyme sprigs, for garnish
Place cashews in a large bowl and cover with water by 1-2 inches. Let soak for 3-8 hours. Drain, then combine with 2 cups water and blend until very smooth (1 full minute in a Vitamix or other high-speed blender, longer if using a standard blender).
Heat oil in a large skillet over moderate heat. Add mushrooms, shallot, garlic, thyme, salt and pepper. Sauté until the mushrooms are tender. Pour in cashew cream and continue cooking until heated through and reduced a bit, 5-10 minutes more. Taste for seasoning and adjust if necessary.
Serve over your favorite pasta.
Big Flavors Rating: 4 Stars