This post may contain affiliate links, which won't change your price but will share some commission.
Have you ever had a rich, indulgent dessert that was actually healthy? What about one that was rich and creamy but didn't have any dairy? When I saw this recipe over at Chocolate Covered Katie, I was in awe. Could it really be that good? Had I stumbled across a way for my lactose intolerant husband to enjoy something rich and creamy without guilt? This stuff is amazing. I used ¾ c water and 1 ½ T raw blue agave syrup along with the vanilla and salt and it... was... AMAZING. I couldn't believe how rich it was! And you can even make a savory version of this to make cream sauces. It's been years since I've had fettuccine Alfredo, because of Dino's... condition, so I'm curious to try that out, too. This stuff just plain rocks. I highly recommend you make a batch, stat!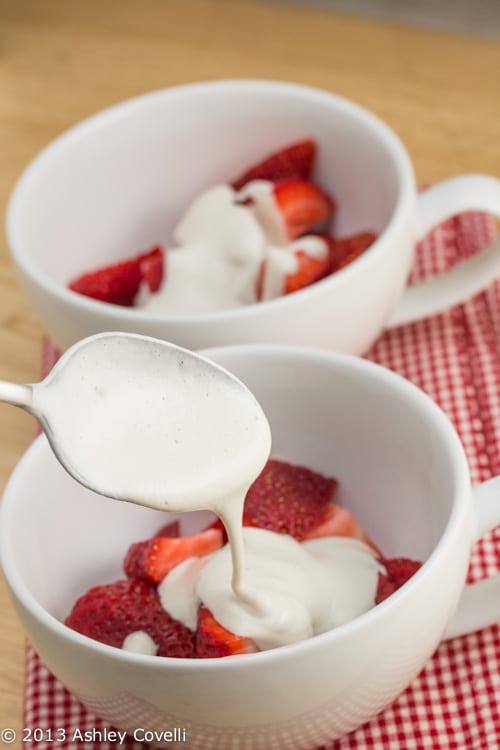 Cashew Cream
Chocolate Covered Katie
1 cup raw cashews or macadamia nuts (120g)
⅓ cup to ¾ cup water (depending on how thick you want your cream)
In a bowl, cover the cashews with water and let sit at least 3 hours (no longer than 8). Drain, then combine the drained cashews with the water and blend until very smooth (a full minute in a Vita-Mix, or much longer in a food processor, making sure to scrape down the sides occasionally). For a sweet cream, add pure vanilla extract, salt, and sweetener (if using ¾c water, add ⅛ teaspoon salt and ½ teaspoon vanilla. Also add 1-2 tablespoon sugar or maple syrup, or a pinch of stevia, or a few dates.) For a savory vegan cream, add a little salt and perhaps some lemon juice, miso, fresh or dried herbs, etc. This recipe lasts 3-4 days in the fridge, or it can be frozen. Makes up to 1 ½ cups.
Big Flavors Rating: 5 Stars