This post may contain affiliate links, which won't change your price but will share some commission.
I picked up some veggies from the Farmers' Market and wanted to make a nice side dish, along with some garlic and tomatoes from my garden. This turned out beautifully! The mix of veggies was just perfect, and the acidity from the tomatoes and vinegar really tied it all together. The butter added creaminess and the fresh dill paired really well with it. I was reluctant to call it a ratatouille because it seems like there is no real clear definition on what exactly that is, but as far as I can tell, they all contain onions. My dish didn't, and we agreed that it really didn't need any. I'll definitely make this again - it was fresh and beautiful!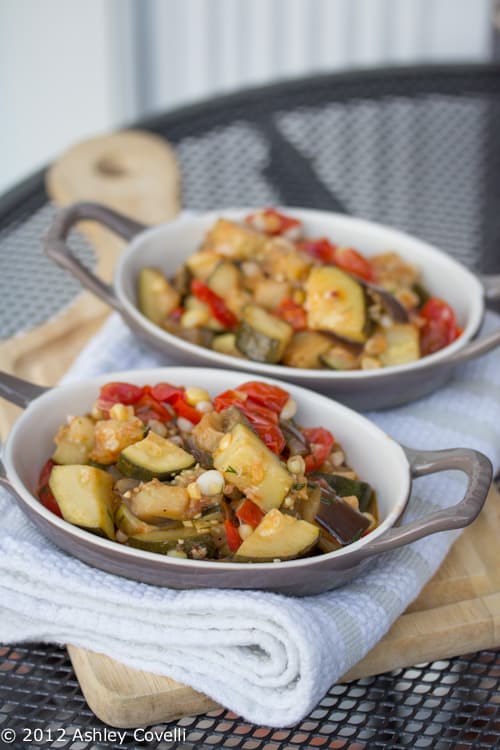 Ratatouille-ish Sauté with Fresh Summer Veggies
Ashley Covelli
extra-virgin olive oil
3 cloves garlic, minced
pinch of red pepper flakes
1 baby eggplant, cut into large dice
1 green zucchini, cut into large dice
¾ cup cherry or grape tomatoes, halved
kernels from 2 ears of corn
1 T white wine vinegar
1 T Lemon-Dill Compound Butter
Heat the olive oil in a large skillet on medium heat. Add garlic and red pepper flakes and heat until fragrant. Stir in eggplant and zucchini and season with salt and pepper. Sauté until brown and tender. Add the tomatoes, corn and vinegar and stir to get all of the browned bits off of the bottom of the pan. Cover the skillet and let the flavors meld together for a few minutes. Once the tomatoes have softened, add in the compound butter and stir until melted. Season to taste with salt and pepper and serve.
Big Flavors Rating: 5 Stars