This post may contain affiliate links, which won't change your price but will share some commission.
A few weeks ago, I cooked way more quinoa than we needed for dinner so that I could stash some in the freezer for future use on a busy day. Well, I had one doozy of a day, and I was glad to have it already cooked and waiting to be reheated. I pinned this burrito bowl recipe on Pinterest a while back, and figured it was just the dish to use the pre-made quinoa. I skipped the first step and just defrosted it in the microwave, heated it and then stirred in the lime juice, cilantro and some salt. Perfecto! The rest of the prep was pretty easy. The black beans had a lot of flavor, and I made a nice Raw Sweet Corn and Tomato Salsa to go on top. I also sprinkled on a Mexican cheese blend, tossed a few lime wedges on top, a few dashes of hot sauce, some chopped romaine, a dollop of sour cream and some chunks of avocado. It was wonderful! Lots of great Mexican flavor, and nice and healthy. Depending on the toppings you choose, this can be a vegan meal, too. It was a nice and colorful way to end an otherwise dreary day.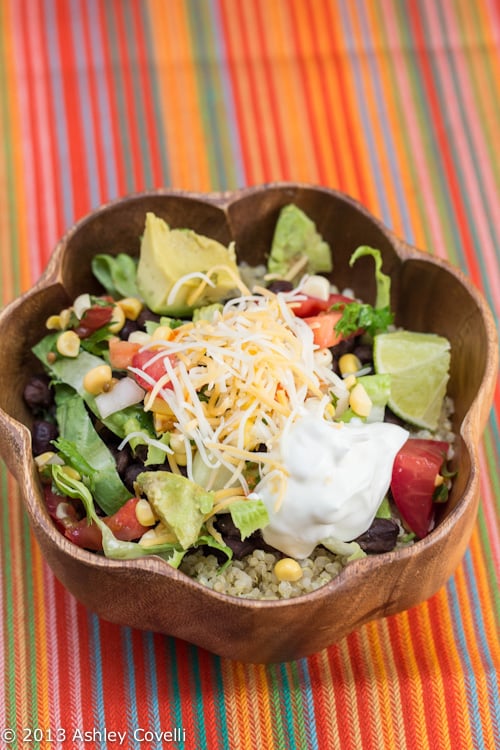 Quinoa Black Bean Burrito Bowls
The Shiksa in the Kitchen
Servings: 4
Kosher Key: Pareve or Dairy
1 cup quinoa
1 tablespoon olive oil
¼ cup minced onion
1 clove garlic, minced
2 cans (15 oz each) black beans, rinsed and drained
¼ cup chopped fresh cilantro
¼ teaspoon chili powder (mild)
Pinch of cayenne pepper (spicy)
¼ cup fresh lime juice
1 cup shredded lettuce
Salt
OPTIONAL TOPPING INGREDIENTS:
Grated cheddar or jack cheese
Sour cream or Greek yogurt
Pico de gallo or salsa
Diced seeded tomatoes
Hot sauce or sriracha
Sliced avocado
Guacamole
Corn
Rinse the quinoa thoroughly in a mesh strainer or sieve, drain. Pour quinoa into a saucepan along with 2 cups of water. Bring the quinoa to a boil, then reduce heat to a low simmer. Cover the pot. Let the quinoa simmer for about 20 minutes till it becomes tender and all the liquid has been absorbed. Keep a close eye to make sure the quinoa doesn't burn.
While quinoa is cooking, heat 1 tablespoon of oil in another saucepan over medium heat. Pour minced onion into the saucepan and saute for a few minutes till it softens and begins to turn brown. Add the minced garlic to the pot and let it saute for 1-2 minutes longer till aromatic.
Add the black beans to the pot of onions along with ½ cup water, 2 tablespoon of chopped fresh cilantro, chili powder and cayenne pepper. Bring the beans to a boil, then reduce heat to medium low. Let the beans simmer for 15 minutes till the liquid is mostly evaporated. Stir in 2 tablespoon of fresh lime juice. Season with salt to taste.
When the quinoa is fully cooked, remove from heat and fluff with a fork. Use the fork to mix in 2 tablespoon of chopped cilantro and 2 tablespoon fresh lime juice. Season with salt to taste.
Assemble your burrito bowls. Divide the cilantro lime quinoa between four bowls.Top each portion of quinoa with ¼ cup of shredded lettuce. Top each portion of lettuce with simmered black beans. Top the black beans with your choice of Optional Topping Ingredients (ideas listed above). Serve warm.
Big Flavors Rating: 4 Stars