This post may contain affiliate links, which won't change your price but will share some commission.
Carrots, bell peppers and turmeric make this a colorful curry.
I'm a big fan of all types of curries, so I was excited to find a quick and easy weeknight version.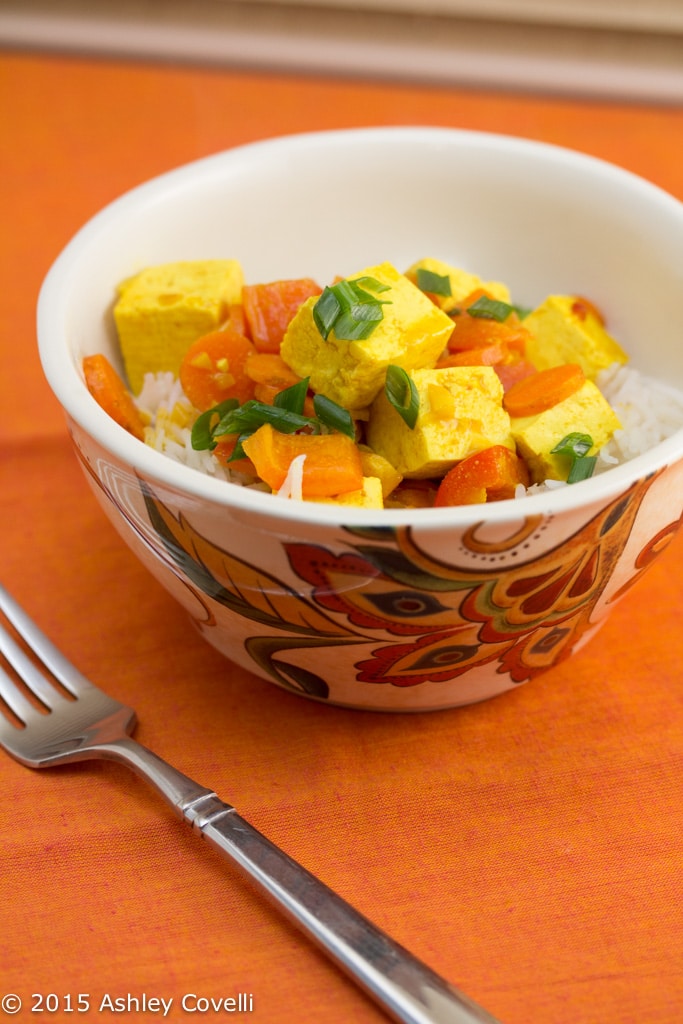 This curry has potential, but unfortunately didn't pack much flavor as written. I also find that sometimes when tofu is just cut up and added to dishes, it doesn't really shine, so I think that pan-frying the tofu first would be a good thing. It would also add some really nice texture.
I think if the spices were amped up in this recipe, it would have worked better for us. It got great reviews over on Epicurious, so it's definitely right for some people. We just weren't too fond of it.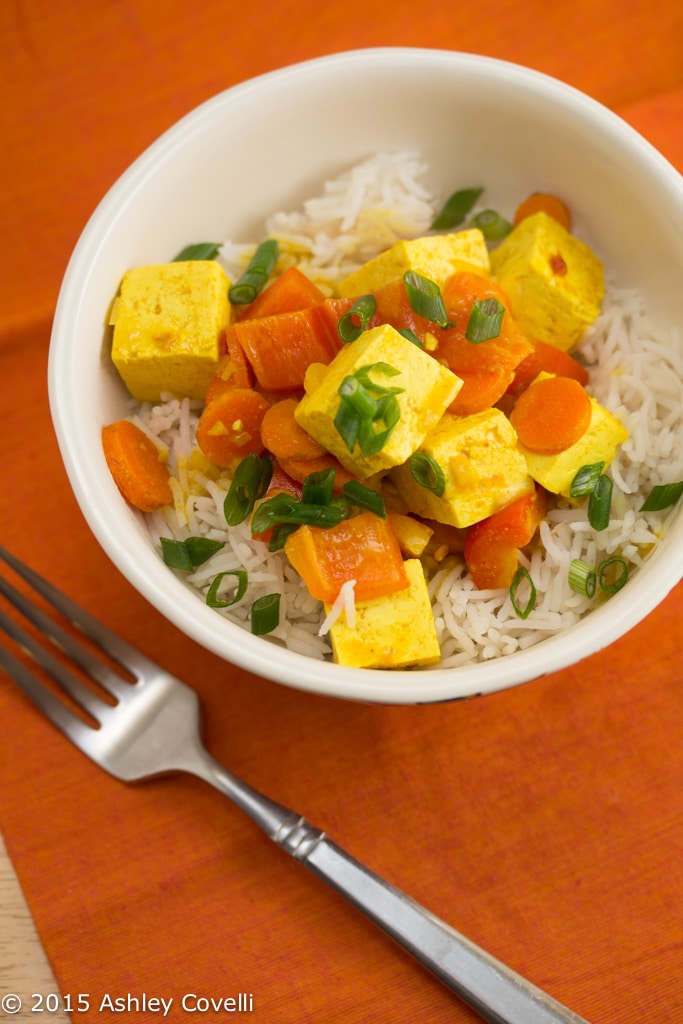 1 ½ tablespoons olive oil
½ cup finely chopped shallots
2 tablespoons finely grated peeled ginger
4 garlic cloves, finely chopped
¼ cup organic peanut butter
2 teaspoons turmeric
1 teaspoon ground cumin
1 teaspoon hot chili paste (such as sambal oelek)*
1 cup water
1 13 ½-to 14-ounce can organic light coconut milk
3 kaffir lime leaves or 3 tablespoons fresh lime juice and 1 ½ teaspoons finely grated lime peel
1 tablespoon (firmly packed) golden brown sugar
2 14-ounce packages organic firm tofu, drained, cut into 1-inch cubes
1 ½ cups ¼- to ⅓-inch-thick slices peeled carrots (about 3 medium)
1 large red bell pepper, cut into ¾-inch pieces
Heat oil in heavy large skillet over medium-high heat. Add shallots, ginger, and garlic; cook until shallots are tender, about 6 minutes. Add peanut butter, turmeric, cumin, and chili paste; stir until fragrant, 1 to 2 minutes. Whisk in 1 cup water, then coconut milk, lime leaves, and brown sugar; bring to simmer. Season sauce with salt. Add tofu, carrots, and bell pepper; simmer over medium heat until carrots are tender, adjusting heat to medium-low if beginning to boil and occasionally stirring gently, about 20 minutes. Season to taste with salt. DO AHEAD: Can be made 3 days ahead. Cool slightly, cover, and chill. Rewarm over medium heat before serving.
* Available in the Asian foods section of many supermarkets and at Asian markets.
Head to Epicurious for the full recipe