This post may contain affiliate links, which won't change your price but will share some commission.
I had a piece of pork tenderloin leftover from when I made Spiced Pork with Bourbon Reduction Sauce, and I needed to use it up, but didn't want to spend a lot of time in the kitchen. I decided to use a similar method this time around, where you rub a spice blend on the tenderloin and then slice it into pieces and quickly fry it. I also had a bunch of kale to use, so I wilted it down in the same pan after I took the pork out, and it turned out really tasty! I served it with some mini bell peppers that I roasted simply with some olive oil, salt and pepper. The flavors went together really well, and the smokiness from the spice rub was wonderful!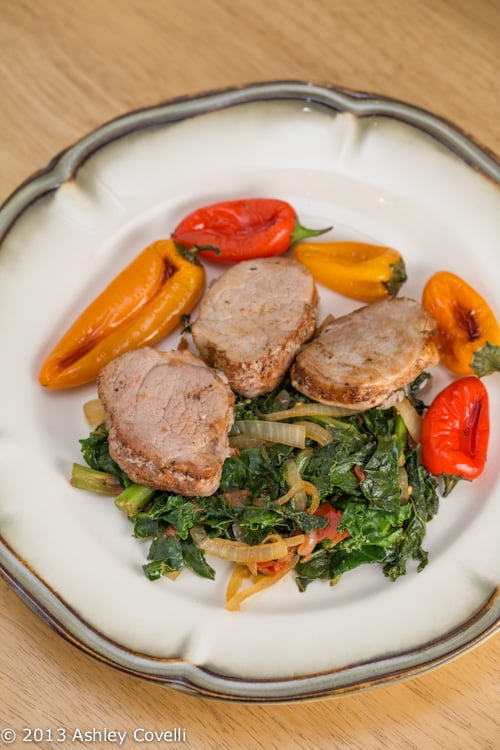 I took 1 pound of pork tenderloin and rubbed Penzeys BBQ 3001 all over the outside. I then sliced it crosswise into 12 medallions. I sprayed a large, non-stick with some extra-virgin olive oil and when the pan was hot, I seared the pork for a few minutes on each side, until it was cooked through but still beautifully moist. I removed the pork to a plate and covered it so the pork would stay warm while I cooked the kale.
I put about a tablespoon of extra-virgin olive oil in the pan and added ½ of a large onion that I had thinly sliced, along with a clove of garlic that I had minced. I added 2 small chopped tomatoes and stirred it all together, seasoning it with kosher salt and freshly cracked black pepper. Once the onions were soft and the tomatoes were starting to melt down, I added a couple big handfuls of chopped kale and stirred it around until it was coated with the tomato and onion mixture. I added a good splash of apple cider vinegar, a few dashes of Worcestershire sauce and seasoned it with some more salt and pepper. I let this sauté, stirring occasionally, until the kale had cooked down and was nice and tender.
I put a pile of kale on each plate, topped it with a few pork medallions and placed several roasted mini bell peppers on the side.
Big Flavors Rating: 4 Stars