This post may contain affiliate links, which won't change your price but will share some commission.
Earlier this summer, one of our neighbors went back to his hometown in Israel to visit his family. He brought back some zahatar for me to enjoy. I hadn't used the green type before - only the reddish brown, sumac studded za'atar.
He recommended pouring some olive oil in a dish, mixing in some of the zahatar and dipping bread in it. It was delicious that way, but since I have a big bag of it now, I wanted to try out some other dishes incorporating this green spice blend.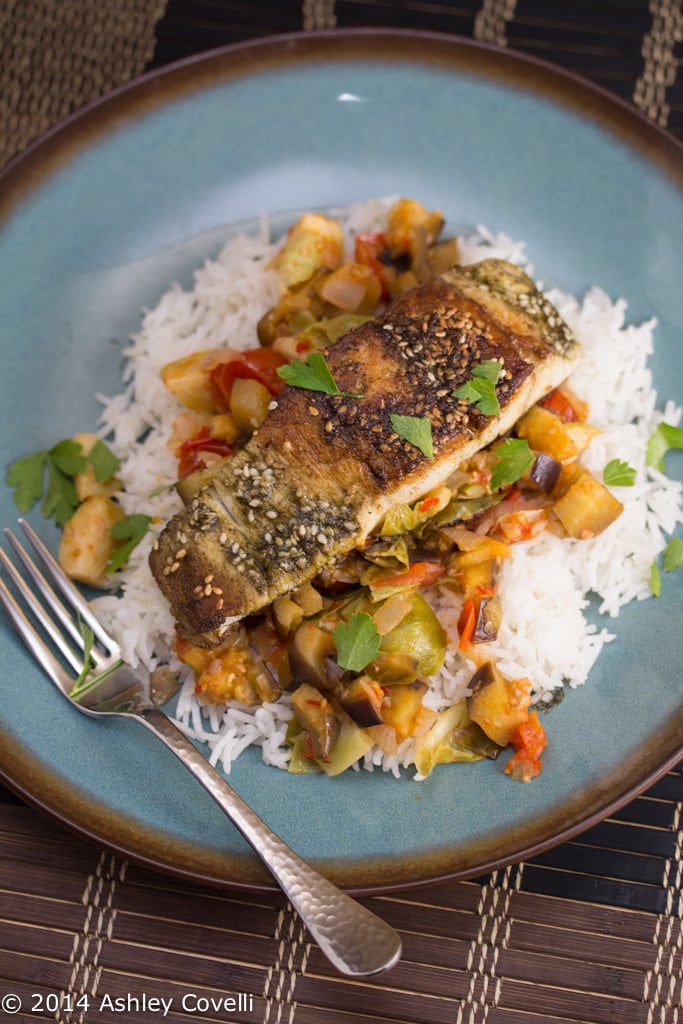 I had some Barramundi in the freezer, so I decided to thaw it out and slather a zahatar-oil mixture over the fish and let it marinate quickly while making some spicy, glazed vegetables. I used the veggies I had on hand at the time, and it was a fantastic combination! It worked out really beautifully underneath the fish.
You can take the veggies out of the pan after they're cooked give it a quick wipe and cook the fish right in that same pan if you wish. I served this over steamed jasmine rice and it worked out really well.
Pan-Fried Barramundi with Zahatar Over Harissa Glazed Vegetables
Big Flavors from a Tiny Kitchen - Ashley Covelli
Serves 4
For the Barramundi:
4 Barramundi fillets (⅓ pound each)
2 tablespoons zahatar
4 tablespoons extra-virgin olive oil, divided
¼ teaspoon freshly cracked black pepper
For the Vegetables:
2 tablespoons extra-virgin olive oil
2 cloves garlic, minced
3 cups Japanese eggplant, diced
1 pint grape tomatoes, halved
1 small red onion, diced (about ⅓ cup)
2 cups Brussels sprouts, trimmed and quartered
½ teaspoon kosher salt
1 tablespoon spicy Harissa
1 tablespoon red wine vinegar
Pat fish dry. In a small bowl, mix zahatar with 2 tablespoons oil. Spread ¼ of mixture on the flesh-side of each piece of fish. Let sit for 15-30 minutes.
Heat 2 tablespoons olive oil in a large, non-stick skillet over moderate heat. Add garlic and stir until fragrant (about 30 seconds). Add eggplant, tomatoes, onion, Brussels sprouts and salt. Sauté, stirring occasionally, until the tomatoes are soft.
Add harissa and red wine vinegar, stirring to combine. Reduce the heat to medium-low and simmer until the veggies are tender, about 10 minutes.
Heat remaining 2 tablespoons oil in a large, non-stick skillet over medium high heat. Place fillets, skin-side down, into pan and cook for 4 minutes. Flip fish and continue cooking until fish is cooked through and flakes easily with a fork.
Serve fish on top of glazed vegetables. Enjoy!
Big Flavors Rating: 4 Stars