This post may contain affiliate links, which won't change your price but will share some commission.
I picked up some frozen Barramundi fillets at Trader Joe's a while back. I wanted to make something simple and fresh for dinner, so I grabbed some herbs from my garden, a lemon, some garlic and got in the kitchen!
This meal comes together really quickly. You can make the lemon-herb oil while the fish cooks. Any combination of fresh herbs would work here - I picked parsley and chives, but I think basil or dill would also be wonderful choices.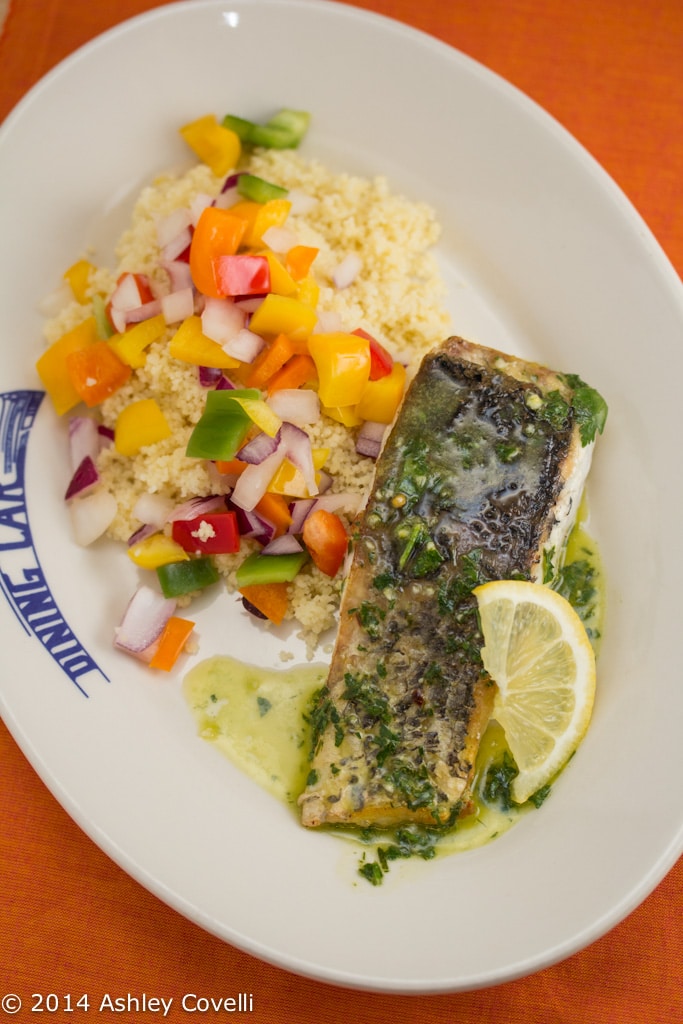 Barramundi tastes best when it's cooked through and flakes easily with a fork. This meal was simple and delicious. I paired it with some couscous topped with Brazilian Pepper and Onion Vinaigrette that I had leftover from the weekend.
Pan-Fried Barramundi with Lemon-Herb Oil
Big Flavors from a Tiny Kitchen - Ashley Covelli
Serves 4
4 Barramundi fillets, about ⅓ pound each
2 tablespoons extra-virgin olive oil
½ teaspoon sea salt
¼ teaspoon freshly cracked black pepper
For Lemon-Herb Oil:
2 tablespoons fresh chives, roughly chopped
½ cup fresh flat-leaf parsley, roughly chopped
Zest of 1 lemon (about 1 teaspoon)
2 tablespoons freshly squeezed lemon juice
2 cloves garlic, roughly chopped
½ teaspoon sea salt
Pinch of red pepper flakes
¼ cup extra-virgin olive oil
Heat oil in a large, non-stick skillet over medium-high heat. Pat fish dry and season with salt and pepper. Place in skillet, skin-side down. Cook for 4 minutes, and then flip and continue cooking until fish is fully cooked and flakes easily with a fork.
Meanwhile, combine chives, parsley, lemon zest and juice, garlic, salt and pepper flakes in the bowl of a food processor. Turn processor on and stream in oil. Mix until well combined, scraping down the sides of the bowl with a spatula if necessary.
To serve, drizzle 1 tablespoon of sauce over each fillet. Enjoy!
Big Flavors Rating: 5 Stars