This post may contain affiliate links, which won't change your price but will share some commission.
Fresh tarragon and Old Bay Seasoning boost the flavor of this light and fresh New England classic.
I had never tried a shrimp (or lobster) roll before I moved to the East Coast. There's something so beautifully simple about succulent seafood dressed lightly with mayo and seasonings that makes a perfect sandwich.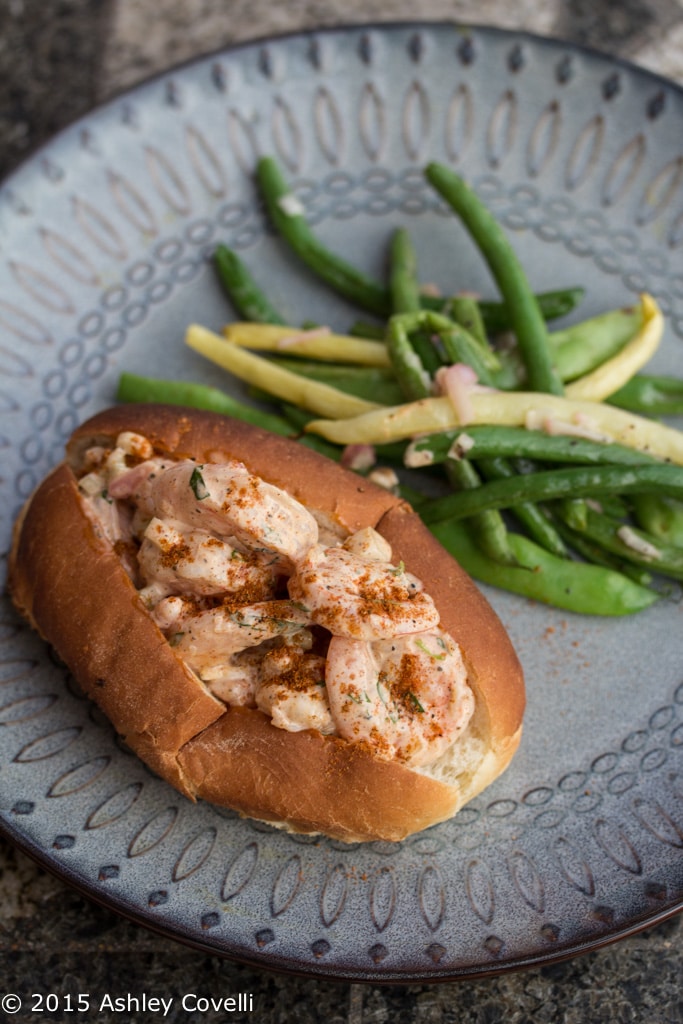 Old Bay Seasoning is hugely popular in New England. You'll find it in both seafood and non-seafood dishes throughout the area. It adds a very unique flavor to the dishes it appears in.
The top-sliced hot dog buns are another key to making this authentic. If you can't find them, feel free to substitute with regular hot dog buns.
These shrimp rolls were super easy and oh.so.delicious. The shrimp was super tender and the dressing packed a ton of flavor. The bean salad was a great accompaniment - I appreciated having something so light and fresh alongside this sandwich since it's usually served with chips.
I could eat one of these sandwiches any day of the week!
Just a note – the recipes from Blue Apron call for "1 bunch" of herbs, and that correlates to the size of the "bunch" they send if you're using their service (which I'm absolutely in love with!). I'd say their bunches are about 1-2 tablespoons. When it calls for a "large bunch", it's usually about twice that amount.
8 Ounces Shrimp
2 Top-Sliced Hot Dog Buns
3 Ounces Green Beans
3 Ounces Yellow Wax Beans
1 Lemon
1 Stalk Celery
1 Bunch Tarragon
2 Teaspoons Dijon Mustard
2 Teaspoons Old Bay Seasoning
1 Mini Bottle Tabasco Hot Sauce
1 Shallot
¼ Cup Mayonnaise
See Blue Apron for the full recipe.