This post may contain affiliate links, which won't change your price but will share some commission.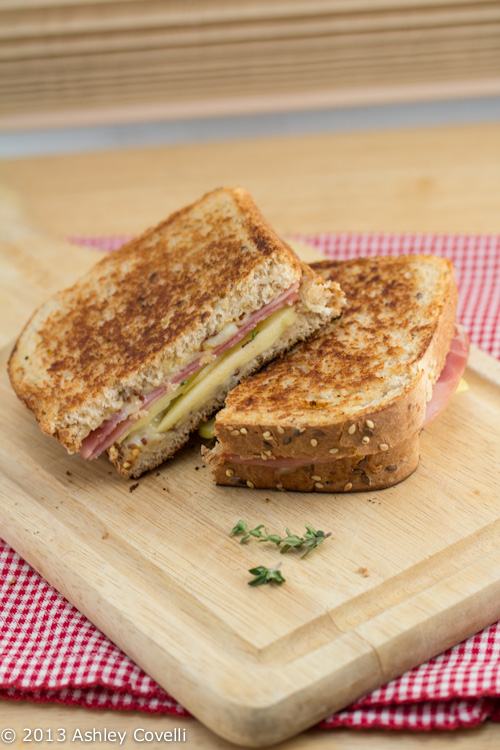 I knew that this month was National Grilled Cheese month, but on Wednesday, I was talking with a cheesemonger in Chelsea Market, and she told me that Friday was THE day. What perfect timing! I bought a few things from Lucy's Whey, but wasn't able to get any cheese since I planned to be out for several hours still. I did get some goat milk caramels from Big Picture Farm (wow!!) and a new cheese knife (but this one is different from the four one I already have... don't judge). They have a fantastic selection of artisanal cheeses and all sorts of goodies to serve with said cheeses - it's amazing how much they packed into such a tiny space! They had grilled cheese sandwiches, too. Yum. This is just a little peek at the amazing assortment they had: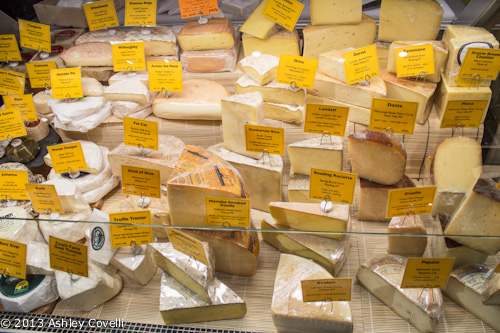 Anyway, let's talk about the awesome grilled cheese sandwich that I made for lunch to celebrate this wonderful holiday. In a small, non-stick skillet, I fried 2 pieces of black forest ham. While they were browning, I lightly buttered the outside of 2 pieces of multigrain bread. I flipped the bread over and spread a thin layer of coarse ground mustard on the insides. I grated a nice pile of gruyere cheese onto both sides, on top of the mustard. I added some thinly sliced green apple on one side and sprinkled the leaves from 2 sprigs of thyme over top. I put the fried ham on the other piece of bread, on top of the cheese. I put the sandwich together and grilled it in the same skillet until the cheese was nice and melted and the bread was golden brown and crispy.
Big Flavors Rating: 4 Stars