This post may contain affiliate links, which won't change your price but will share some commission.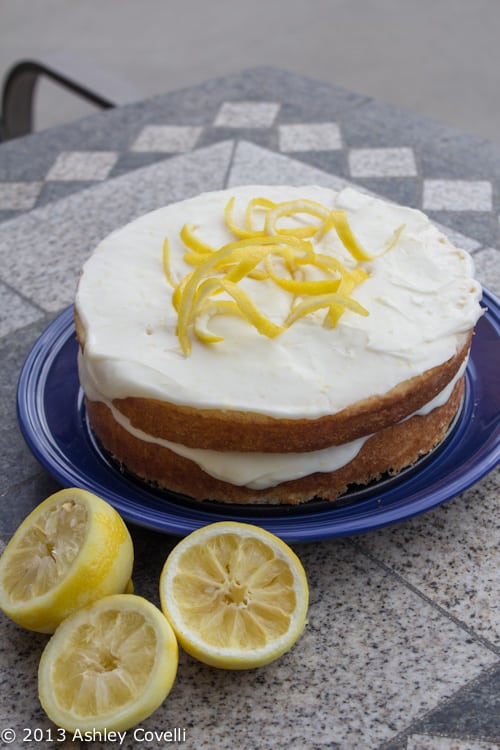 I wanted to make a special dessert for my husband's birthday this year, and I figured it was the perfect excuse to finally try out making a layer cake!
I asked some fellow food lovers if they had any recommendations for a light(ish) layer cake, since we had been eating a bit heavy lately, and my friend Terri from A Girl in the South chimed in with something that sounded perfect - this lemon layer cake.
I liked that I wouldn't have to get too fussy about frosting the sides, just let it ooze a bit out between layers. Helloooo, rustic beauty!
This cake was pretty simple to put together, and it is jam-packed with bright lemon flavor. It's also really tasty right out of the fridge.
We found the lemon icing to be very sweet, so next time I'd probably use a little less. But we aren't typically big icing fans in my house.
If you've been following me on Instagram, you may have seen the awesome selection of kitchen goodies that ProCook sent me a few weeks ago.
One of the things that made making this cake easier were these Non-Stick Loose Bottom 8-inch Cake Pans.
The bottom of the pan slides out really easily, and the cake didn't stick to the sides at all. This recipe called for wax paper rounds at the bottom of each pan (I used parchment), but I'm also curious to see how these would work without any extra barrier between the cake and the pan.
In this particular instance, you need to remove the cake from the pan while it's still hot, which was a little tricky with the loose bottom - be careful not to burn yourself!
ProCook is a family-owned specialist cookware and kitchenware retailer that has expanded from its British roots and is now opening stores in the US. They have a pretty big selection, and the prices are great. I'll be sure to report back on the other goodies - I have some big plans in store for putting them to work in my tiny kitchen 🙂
*Note: I received promotional items, but all opinions are 100% my own.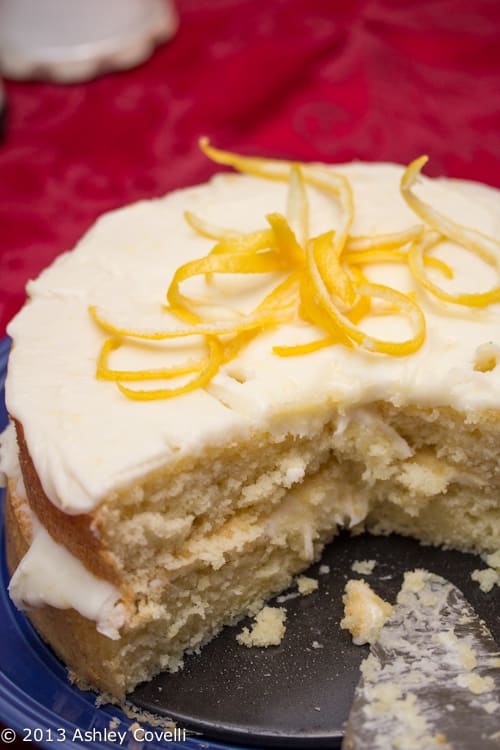 Nathan's Lemon Cake
Cooking Light - May 2008
This is a namesake because Nathan Coulon's mom baked it for his birthday every year. We've adapted this lemon cake recipe to trim the fat and calories, and it's still a moist, lemony treat.
Yield: 16 servings (serving size: 1 slice)
Cake:
Cooking spray
2 tablespoons all-purpose flour
2 cups all-purpose flour (about 9 ounces)
1 teaspoon baking powder
½ teaspoon baking soda
½ teaspoon salt
1 ½ cups granulated sugar
½ cup unsalted butter, softened
3 large eggs
1 cup nonfat buttermilk
2 tablespoons finely grated lemon rind
2 tablespoons fresh lemon juice
Icing:
3 cups powdered sugar
¼ cup unsalted butter, melted
1 tablespoon lemon rind
¼ cup fresh lemon juice
Lemon rind strips (optional)
1. Preheat oven to 350°.
2. To prepare cake, coat 2 (8-inch) round cake pans with cooking spray; line bottoms of pans with wax paper. Coat wax paper with cooking spray. Dust pans with 2 tablespoons flour, and set aside.
3. Lightly spoon 2 cups flour into dry measuring cups, and level with a knife. Combine 2 cups flour, baking powder, baking soda, and salt, stirring with a whisk.
4. Place granulated sugar and ½ cup butter in a large bowl; beat with a mixer at medium speed until well blended (about 5 minutes). Add eggs, one at a time, beating well after each addition. Add flour mixture and nonfat buttermilk alternately to sugar mixture, beginning and ending with the flour mixture. Beat in 2 tablespoons lemon rind and 2 tablespoons lemon juice.
5. Pour batter into prepared pans; sharply tap pans once on counter to remove air bubbles. Bake at 350° for 32 minutes or until a wooden pick inserted in center comes out clean. Cool in pans 10 minutes on a wire rack; remove from pans. Cool completely on wire rack; remove wax paper from cake layers.
6. To prepare icing, combine powdered sugar and the remaining ingredients (except lemon rind strips) in a large bowl; stir with a whisk until smooth. Place 1 cake layer on a plate; spread half of icing on top of cake. Top with remaining cake layer. Spread remaining half of icing over top of cake. Garnish with lemon rind strips, if desired. Store cake loosely covered in the refrigerator.
Amount per serving
Calories: 317
Calories from fat: 27%
Fat: 9.5g
Saturated fat: 5.6g
Monounsaturated fat: 2.6g
Polyunsaturated fat: 0.5g
Protein: 3.6g
Carbohydrate: 55.7g
Fiber: 0.6g
Cholesterol: 56mg
Iron: 1mg
Sodium: 165mg
Calcium: 52mg
Big Flavors Rating: 4 Stars